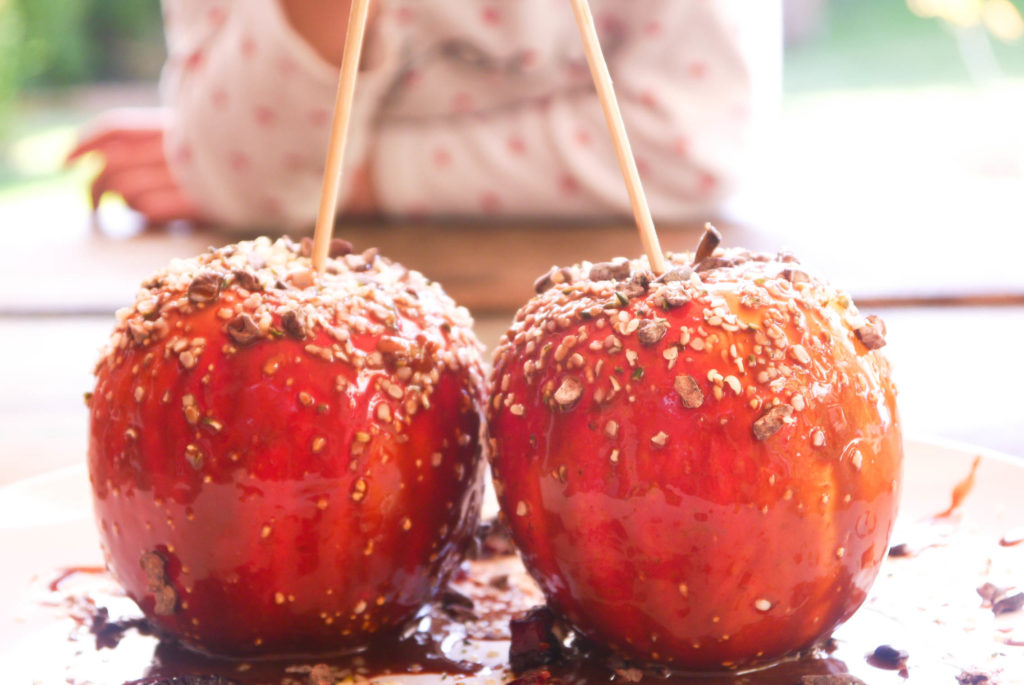 With Halloween coming up and lots of treats to navigate, why not make your own healthy treats. With a little love, some whole food ingredients and some creativity, you can make your favorite treats with less sugar and a whole lot more whole food goodness.
As with recipe testing. The first trial isn't always super successful. The taste was great and although it worked well enough pairing-wise, it didn't quite quite hold up to traditional caramel sauce for "candy apples". My first trial is shown directly below. My girls were still delighted with the turn-out, and all the decor with the crunchy bits, sticks and the gold bow. And the puddle it left below turned into a yummy "fudge" treat!
Caramel Take One
The caramel for this Caramel Apple treat was made with PaleoPro collagen powder, Cocomels, and Light Coconut milk. It was thin the flavor is so good. This truly let the Pink Lady (apple) flavor shine through. Topped with Manitoba Harvest Hemp seeds and cocoa nibs, it was an easy treat to dream up (and make reality). But a new improved dream was born, and well these were a good second to my final "first place" version.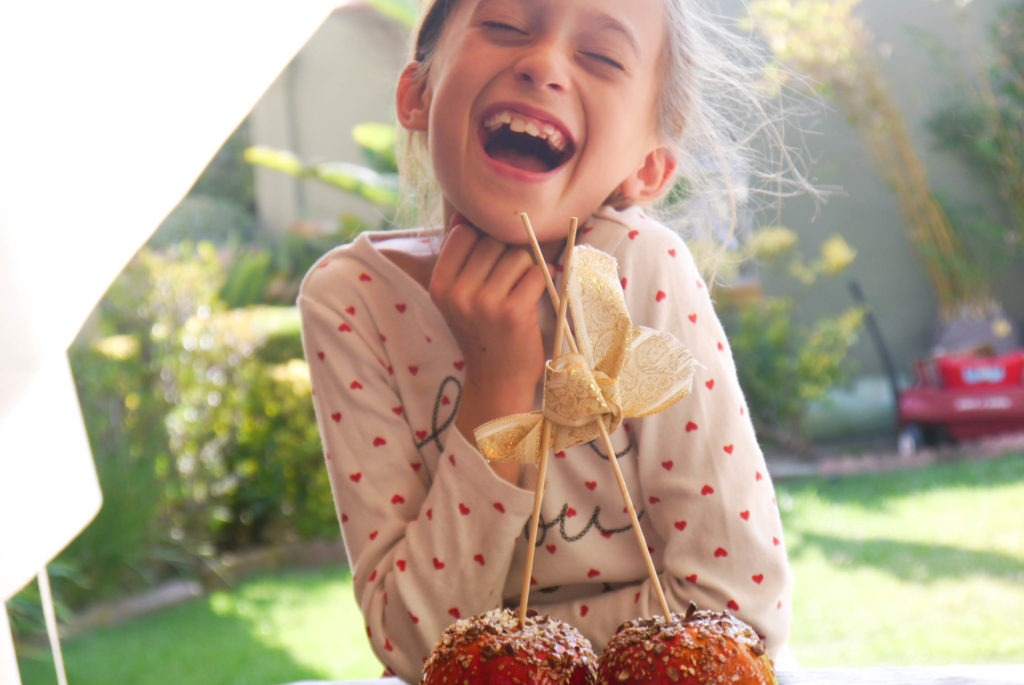 Caramel Take Two for my Caramel Apples
How I improved and thickened the sauce for a more gooey caramel appeal:
Since fist batch was thin, I set ahead to make another with an added scoop of PaleoPro and 1/2 tbsp coconut oil. It worked. Check it out. The recipe for my caramel sauce made with cocomels and PaleoPro is below. And I'm super excited to share that nutritionally, it's got 6g of Protein per serving and is only 70 calories!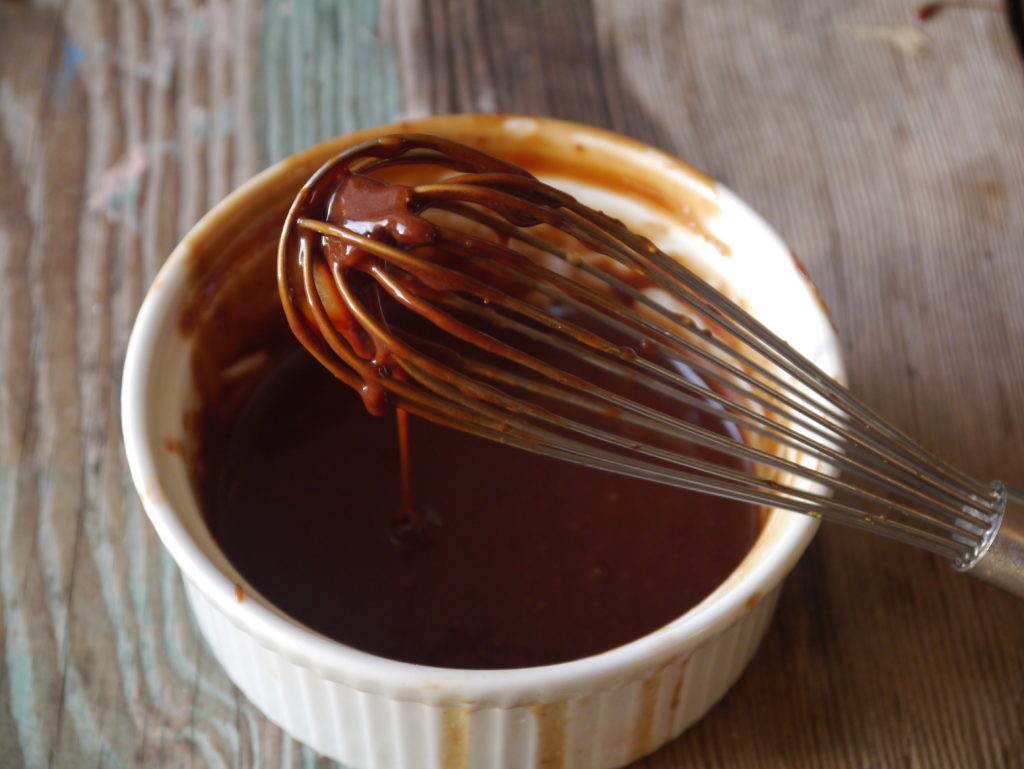 This stuff is messy but oh so gooey good! Yum! The recipe below is for my Caramel sauce made with Collagen Powder, Caramels, Coconut Oil and Lite Coconut Milk.
Once caramel is melted complete, creamy and thick in consistency (no stray hardened caramel bits), pour over washed/dried apple (top with your favorite toppings) and refrigerate! 🙂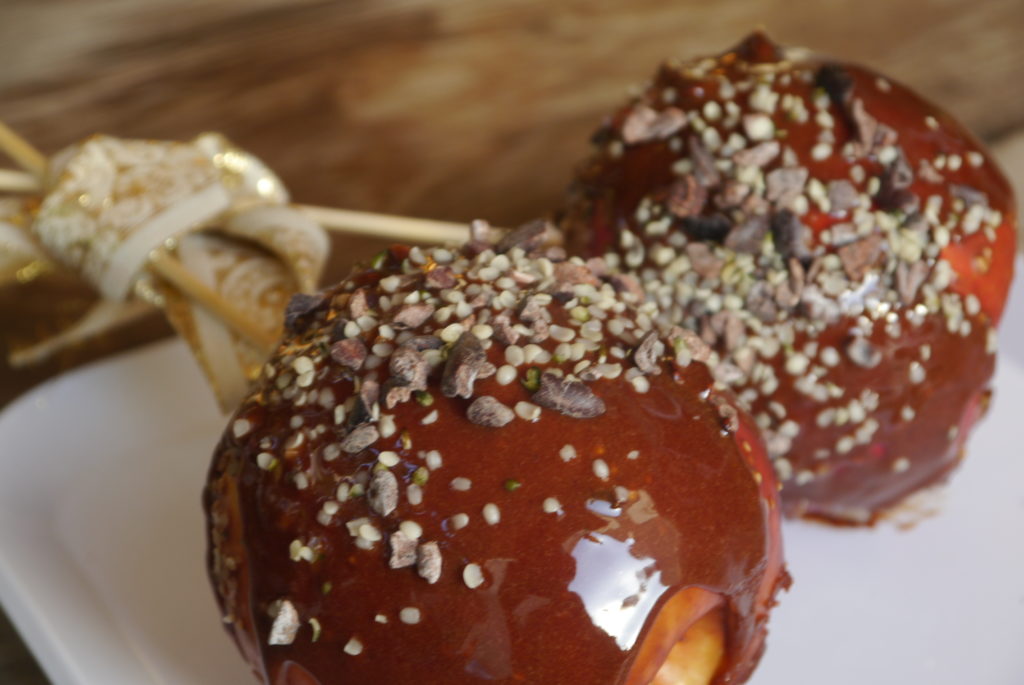 Caramel Sauce
Ingredients
40g Caramel candy (I used 14 Cocomel Bites)
¼ cup Light Coconut Milk
2 Scoop of Collagen Powder (I used PaleoPro Aztec Vanilla, 65 cal per scoop)
½ Tablespoon Coconut oil
Instructions
Melt caramels in microwave, for about 30 seconds till completely melted but not boiling*.
Whisk in coconut milk, collagen powder and coconut oil until well blended.
Microwave again for another 20-30 seconds (stirring after 15 seconds) until mixture hot and smooth (very hot, may see some bubbling), but don't overheat.
Whisk and pour immediately onto rinsed/dried apples when bubbles disappear and added optional toppings.
Refrigerate to set.
Notes
*Important: If melted caramel too hot, it will start to re harden when adding coconut milk. So just heat until melted and whisk in milk, powder, coconut oil right away.

Makes approximately ½ cup. It's enough to coat 3 large apples or 6 small. Recommended serving ½ large caramel apple or 1 small caramel apple.

One small caramel apple approximately 150 calories total (without toppings). : )
Nutrition Information
Serving size:
1.5 tablespoons
Calories:
70
Fat:
4g
Carbohydrates:
4g
Sugar:
3g
Fiber:
1g
Protein:
6g
Cholesterol:
0mg
With a simple homemade treat like this, you can count on sweet satisfaction without all the junk (
Bonus! – It's got 6g protein and whole food goodness of sweet, crisp apples
). It's simple to make and easy to assemble.  Not only did I have eager taste testers, my kids had fun pouring the sauce onto the apples and coating it with nut/seeds. Check out my
Instagram
for some fun pics!