I have just returned from Florida taping a talk show segment on healthy snacks. I was delighted to share two of my favorite snacks from Pure Foods: Trail Chips and Chicpea & Lentille cheese puffs. I can't wait to show you some clips and the actual segment – It airs in September. But since it's still some time away, I'll have to keep you posted. : )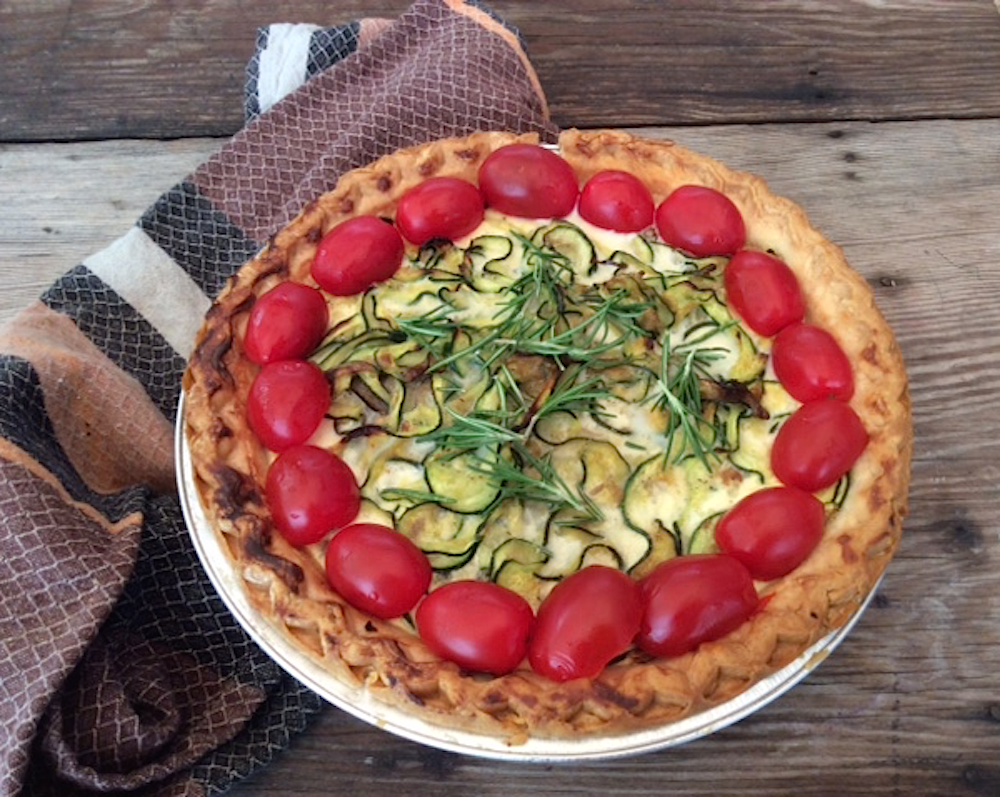 Fortunate to have the rest of the week to chill, I've decided to spend today baking (with the air conditioner on of course! – It's LA). I took my time arranging the ingredients. To my surprise, it couldn't have been easier making oodles of noodles out of my fresh zucchini. I used my Spiralizer and turned my ordinary zucchini into ribbons of deliciousness.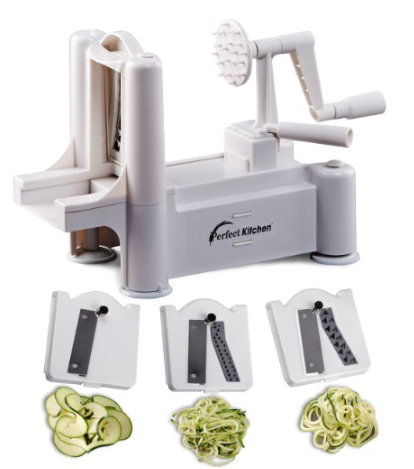 The Recipe Redux's July Theme: Get Your Fruits and Veggies in Shape
With produce galore, now's a great time to enjoy lots of fruits and vegetables. Show us how you're serving the bounty of gardens and orchards in shapes like ribbons, noodles, cut-outs, or other creative cuts.
Zucchini Ribbon Quiche
This Zucchini Ribbon Quiche has lot's of great layers — each seasoned for ultimate flavor.  I learned awhile ago from a sponsored Pistachio Grower's event at Mozza that seasoning each ingredient is key to a great salad. So I took this methodology to my baking. I seasoned the pie crust with a mustard wash (simply brushed a thin layer evenly onto the crust). Then added a layer of fresh mozzarella. I seasoned one batch of zucchini and eggplant with onions. My next layer of zucchini ribbons was seasoned with garlic. Then poured my egg base, seasoned with salt & pepper,  all over.
Here's the recipe:

Zucchini Ribbon Quiche
Ingredients
4 medium zucchini, spiralized into ribbons (noodles)
1 small thin eggplant (Japanese), Spiralized
1 large white onion
4 tsp olive oil
2-3 large garlic cloves, minced
2 tsp dijon mustard
5 oz fresh mozzarella cheese, sliced
2 eggs
½ cup half & half
salt & pepper to taste
1 pie shell, frozen
Instructions
Preheat oven to 375ºF.
Saute onions with 2 tsp olive oil in pan until translucent.
Add 2 cups zucchini ribbons and eggplant noodles and continue heating until just soft.
Add a couple Tbsp low sodium broth to keep from sticking to pan (if necessary)
Remove from heat, drain well, set aside.
Heat garlic in 2 tsp of olive oil until slightly browned.
Add remaining zucchini ribbons and heat until just soft.
Remove from heat, set aside.
Take a frozen pie crust and brush a thin layer of dijon mustard.
Layer fresh mozzarella cheese on top.
Add layer of the zucchini, eggplant and onion mixture.
Top with layer of zucchini and garlic mixture.
In a bowl combine eggs, half & half and salt & pepper to taste until well-blended.
Add egg/cream mixture and distribute all over veggies, evenly.
Bake for 35 minutes until crust golden and quiche set.
---
Ok, I couldn't set this post without sending a pic from my shoot in Florida. Will post clips closer to the date. So stay tuned for actual segment which airs in September! I can't wait to see the final footage. Keep you all posted! 🙂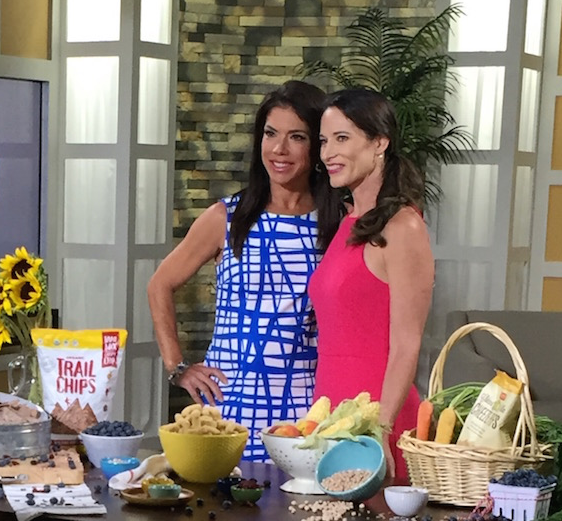 ---
Back to a Zoodlelicious Quiche
Okay, I'm ready to serve up my Zucchini Ribbon Quiche for dinner. Kids want it right now!!! They've been waiting…. My mouth is watering. The tomatoes are fresh and sweet and the rosemary garnish smells oh so good topping off the savory flavor combination (enhanced with the light layer of dijon).
Mmmmm…. want some?!