I'm enjoying my Veggie Spiralizer so much, I've been mixing up my zoodles in different ways. Recently I made yet another bowlful of zucchini noodles and decided to dress it up with a Thai-inspired sauce.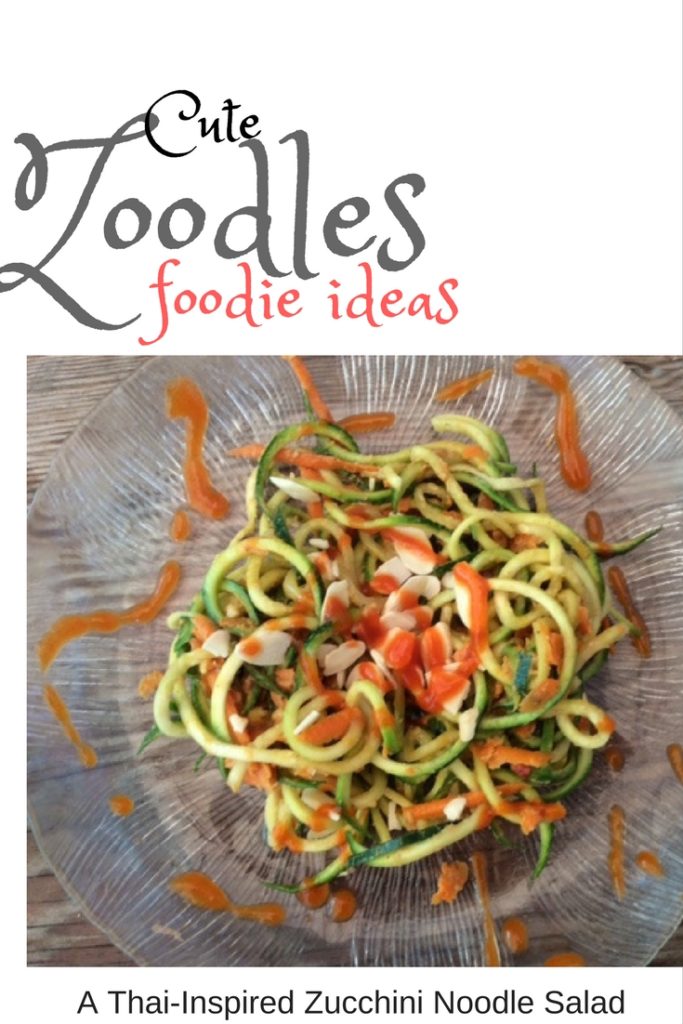 I call this Thai-inspired because much of the "fast food" I eat comes from my local Thai town in Hollywood where you'll see Thai women prepping, chopping and sorting veggies in a table just outside the kitchen kitty-corner to your seating. The food is so delicious and authentic. And it is so well flavored with seasoning and spice.
Zucchini Noodles with Chili-Almond-Miso Paste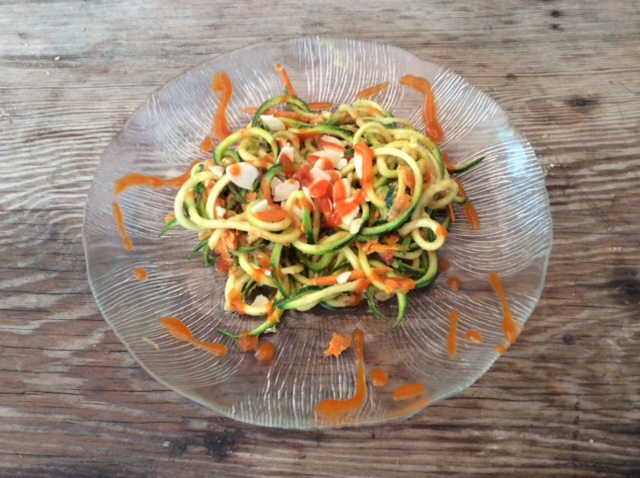 On most Thai dishes, I tend to go mild but still get a nice spicy warmth in the spicier options like the Green or Red Curries. With my latest recipe, I've mixed up the nuttiness and tang of the Pad Thai with the spiciness of a curry.
I basically blended nut butter with soy sauce, olive oil and chili garlic paste to come up with a Thai-inspired flavorful meal.
Here's the recipe:
Zucchini Noodles with Chili-Almond-Miso Paste
Ingredients
2 Tbsp peanut butter or almond butter
1 tsp soy sauce - low sodium
1 tsp olive oil
¼ Tsp siriracha or chili garlic sauce
¼ tsp miso paste
2 Tbsp water
2 pinches lecithin
4 Medium garlic cloves minced, roasted preferred
1 small carrot for garnish.
2 medium zucchini spiraled into thin ribbon shaped "pasta"
Instructions
Mix all ingredient into a pot on stove.
Heat and whisk on stove til thick.
Let cool.
Serve over zucchini noodles.
Garnish with shredded carrots.
Optional: top with sliced almonds and drizzle sriracha sauce on top.
Notes
Be sure to add the miso sauce just when you are ready to eat, because the water content in the zucchini can water the sauce down if it sits for a while.
Hope you Enjoy!