The holiday's are here! You wanna look (and feel) your best, and maybe show off your fit physique. Rather than a 3-5 day juice cleanse; concentrate on greens, drink plenty of water and keep it simple. If you are hosting, your fridge is probably crammed with all the ingredients, and pre-fixings for your Thanksgiving meal (from cran & beet relishes to mushroom or corn soufflés).
See what you already have stocked up and make your meals based on these ingredients. For example: You will likely have eggs for baked dishes/treats, parsley and other fresh herbs for seasoning, maybe some dark leafy greens such as heart-y kale to saute, mushrooms for a mushroom soufflé or stuffing…. Whatever that includes, be sure to pack in plenty of greens.
Here are some quick and easy healthy dishes you can prepare before your feast, including this easy, delicious Pesto you can serve over pasta.
Parsley Basil Lemon Pesto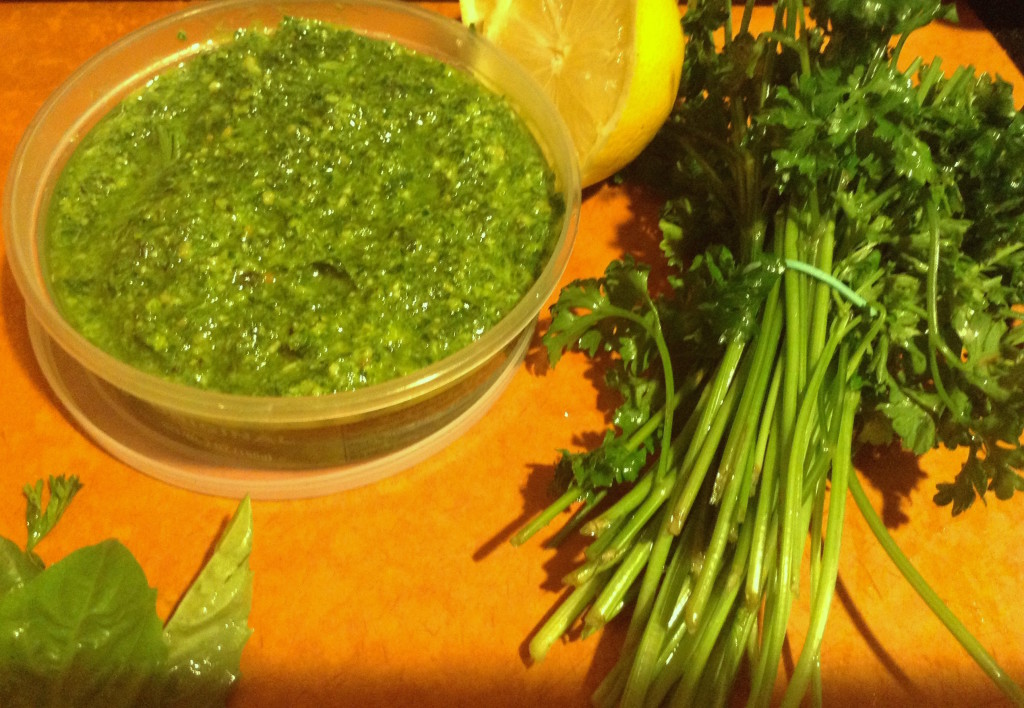 Plate up a bowl of pasta (use half the amount of pasta and toss in steamed broccoli), mix in pesto and enjoy a pesto-licious dish with plenty of greens.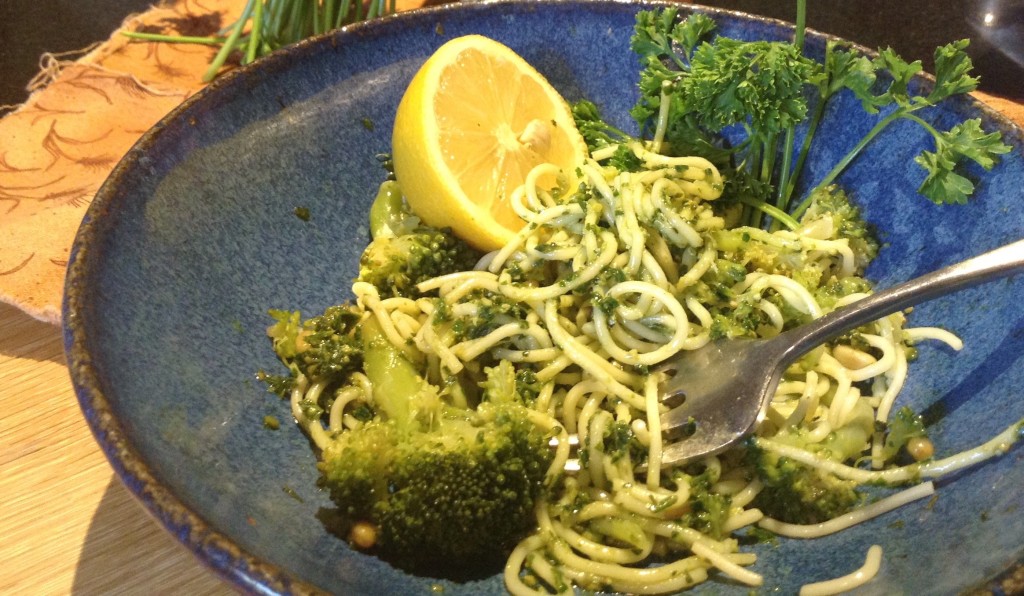 These are just a few ideas based on what I generally have in my kitchen.
Tips & Short Cuts
I look to what I already have in stock and make the best use of it. For example, I have mushrooms (for a mushroom soufle) – kale for a sautéed kale dish, eggs for the cakes/casseroles and other baked eats/treats, fresh parsley (along with rosemary, sage and thyme) for Thanksgiving seasonings and, of course, bread for stuffing.
I supplement with items that don't take up too much room in my refridgerator or panty such as smoked salmon, avocados, black beans, rice and pasta.
I prepare items that I can quickly manage such as eggs because I don't want to spend a lot of time cooking for now when I'm busy prepping and cooking up whatever I can in advance for Thanksgiving. Note: Pesto is simple because you can simply toss all ingredients in food processor and blend.
I use most efficient space to prepare my dinners (i.e. stove top, toaster oven or even portable grill) to clean space contained and make for easy prep/clean up.
Q: Do you have any simple, healthy meal suggestions to add? I welcome your ideas.