Disclaimer: I did receive packages of Manitoba Harvest hemp seeds. Although I was compensated with product, I was not paid for this post.
Have you heard of "Trick (her) Treats"? I've coined this term to describe healthier options (such as these) that satisfy the sweet-tooth (both looks, texture and taste). Halloween is traditionally filled with unhealthy treats! These days, nutritionists, moms and culinary experts are finding ways to make treating, more of a healthy endeavor. Being a mom, dietitian/nutritionist and recipe developer, I've come up with a festive treat that's quite a bit healthier. In fact, it's got not only the goodness of pumpkin seeds, hemp seeds, and cranberries, too… But you won't believe this — the frosting is made with black beans!
Hence my Trick (her) Treats for Healthy Eaters!
No refined white sugars, this treat is sweetened with maple syrup (not a lot for the amount this recipe makes) and a bit of Swerve (Erythritol) granulated – this is a zero-calorie sweetener which doesn't require much to add in sweetness. In fact, I mostly used it to dust these cookies for added beauty.
I've been toying with treats that really aren't full of sugar (and junk), but look and taste as decadent as a cookie or cupcake. Why? Because baking is fun! And it's nice to treat your kids with a little "sweet treat" once in a while, especially when there's a holiday or celebration in tow. And with Halloween around the corner, Thanksgiving short after….and before you know it — Christmas!! It's a good idea to have some healthy treat recipes to keep on file for the upcoming potluck or celebration.
Chocolate Frosted "Cookie" Crisps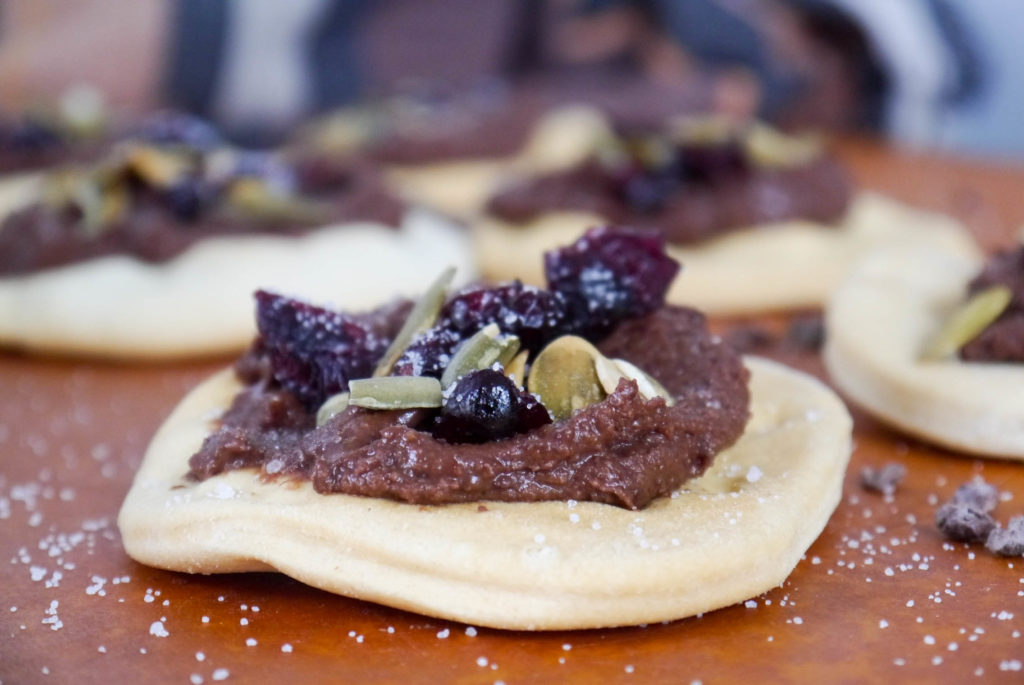 The genius to these cookies is that there is no cookie base (that means no additional (NO EXCESS) sugars, salts, fats in this treat). It's a water-cracker topped with the sweet chocolate frosting, coated with crunchy pumpkin seeds, delicate shelled hemp and chewy, sweet-tart cranberries. So you get a sweetness on top of a crisp cracker and lots of good tasty, texture. Now the toppings can be interchangeable. So feel free to mix it up with your favorites. If you prefer chopped peanuts, cocoa nibs and/or sliced almonds, then use those instead (or chose whatever nut/seed/fruit combo you prefer). I had just received a package of Manitoba Harvest shelled hemp seeds and I always have dried cranberries on stock. And since pumpkin is in the air (It's fall!), I had recently bought a package of toasted pumpkin seeds from Trader Joe's.
At the end of this post is the recipe is for my Chocolate (don't tell 'em it's got Black Beans) Frosting*. But the assembly for the whole Chocolate Frosted "Cookie" Crisp is as follows (with nutritional info):
• 1 crisp water cracker (approx. 3″ – this one weighs 12g)
• 2 Tablespoons my Chocolate BB Frosting*
• 1 tsp of seeds or cocoa nibs (I used pumpkin seeds)
• 1 tsp nuts or seeds (I used Manitoba Harvest raw shelled hemp seeds)
• 1 tsp dried fruit (I used cranberries)
Nutritional Info: 170 cal, 8g fat, 3g fiber, 5g sugar, 5g protein (And each fully assembled "Cookie" Crisp as shown below has only got 17g Net Carbs!)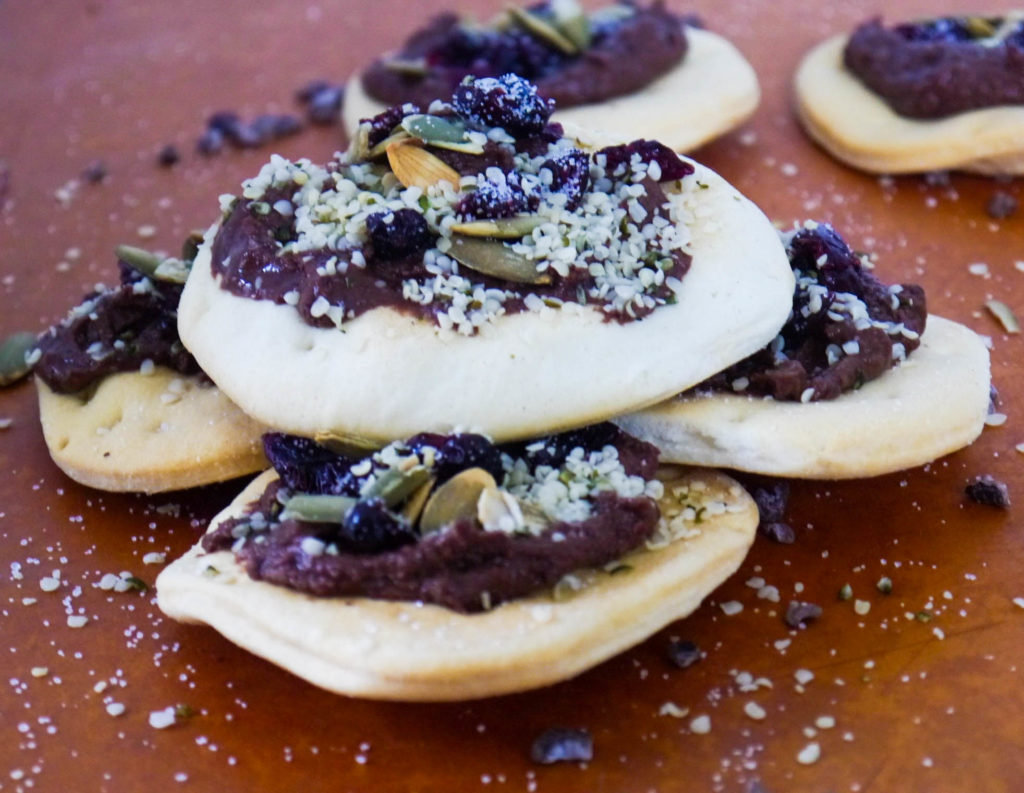 *Here's the Recipe for the Chocolate BB Frosting:

Chocolate (don't tell 'em it's got Black Beans) Frosting
This low carb, low sugar frosting is made with the goodness of black beans. Although it's sweetened with maple syrup and no-calorie sweetener, but per volume, not that much. Each serving has just 6.5g Net Carbs (Total Carbs - Fiber), and only 3g sugar!
Ingredients
1 can black beans, drained
¼ cup cocoa powder, unsweetened
3 heaping Tablespoons Peanut Butter (or your choice of nut or seed butter)
6 Tablespoons maple syrup
2 Tablespoons Swerve (no calorie sweetener with Erythritol)
4 Tablespoons coconut flour (to thicken)
Instructions
In a food processor, combine all ingredients, except coconut flour.
Blend until smooth.
Add in coconut flour to thicken.
Notes
Serving suggestions:
• to frost healthier cakes, cupcakes
• as a variation topping for "ant on log" instead of PB
• over crisp water crackers (as shown in pic)
• on top graham cracker
Nutrition Information
Serving size:
2 Tbsp
Calories:
75
Fat:
4g
Carbohydrates:
8
Sugar:
3g
Fiber:
2g
Protein:
2g