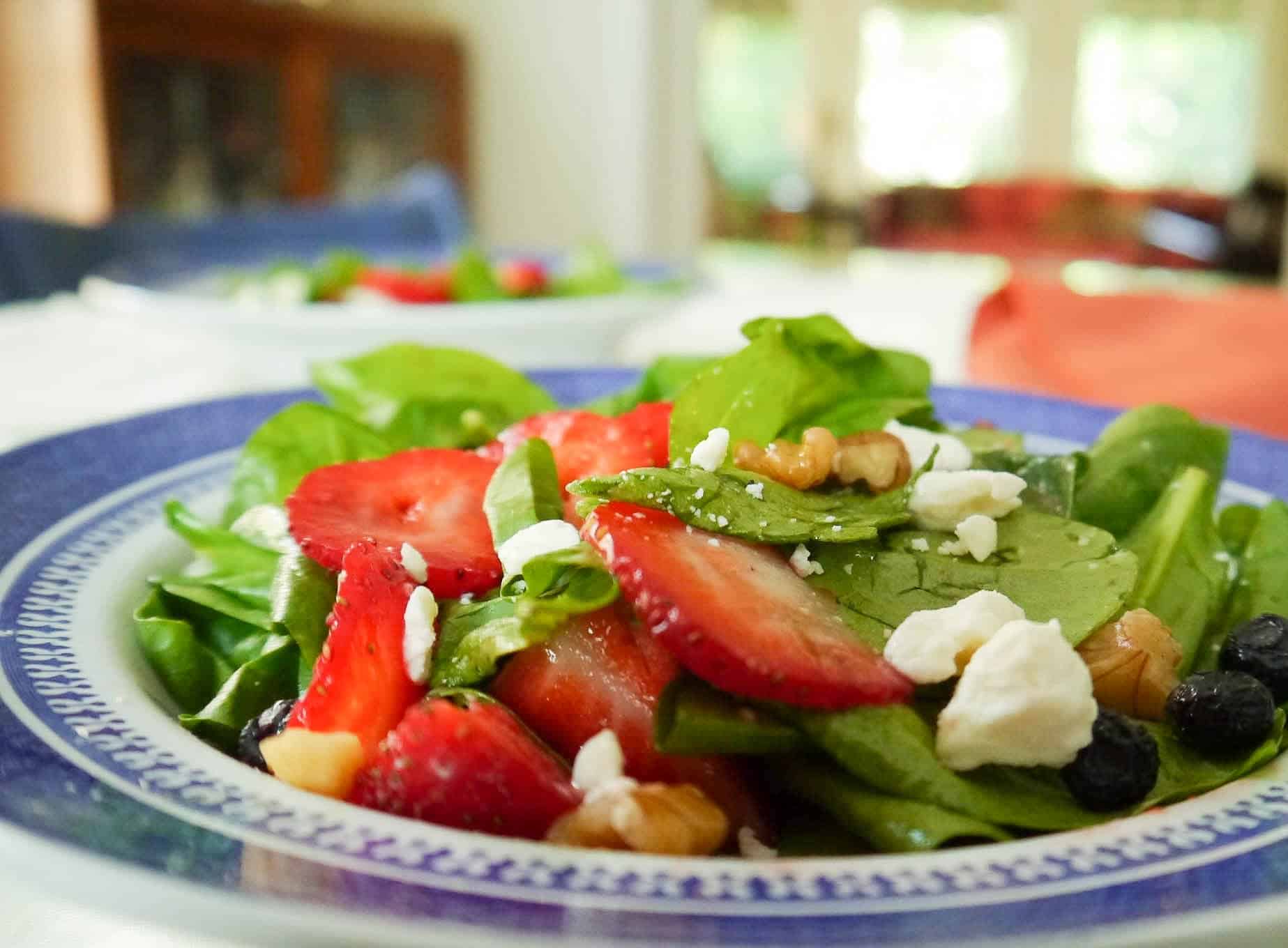 Hi folks! Last weekend, I volunteered to make a couple salads for an event at my hubby's church. I was told there would be about 50 people in attendance. Usually I can toss up a salad or dish that serves maybe 8. So a big party was a bit of a challenge for me. But I did the math, and bought just enough fixings to make it all work.
Great thing is that I have plenty to photograph today. Every time I make a dish, it's an excuse to use my digital camera. If I didn't mention before, I'm taking a digital photography class. Still a newbie at it all, figuring out the old LUMIX camera my hubby gave to me and getting more comfortable with the settings/adjustments for exposure, detail, etc. Not as easy as I thought. So these images kill two birds with one stone, practice shots and blog pics. Why not?!
Strawberry Spinach Salad with Lemon Dijon Vinaigrette
I actually made 3 salads: Asian-inspired Slaw with Sesame Vinaigrette, Strawberry Spinach Salad, and lastly a Cruciferous Slaw with Raspberry Vinaigrette (same greens as the Asian-inspired Slaw and same fixings as the Strawberry Spinach Salad – walnuts, cranberries, feta). All homemade dressings, except the raspberry vinaigrette. My favorite is the salad I'm featuring today because I absolutely love the combo of strawberries, feta and walnuts. And it was photogenic enough. lol!
The salad is easy to make, you just have to remember THREE important things:
1) Make sure the spinach is as dry as it can be so it doesn't wilt and so the dressing sticks (you can actually use less dressing that way because it distributes better).
2) Don't add dressing until ready to serve to keep it fresh. Because spinach has a tendency to wilt, I like to keep those variables to a minimum.
3) Reserve some extra cheese, nuts, cranberries and sliced strawberries to top it off once salad is tossed because often those yummy addin's sink down to the bottom. It just gives it a nice fresh, colorful (and more camera-ready) look.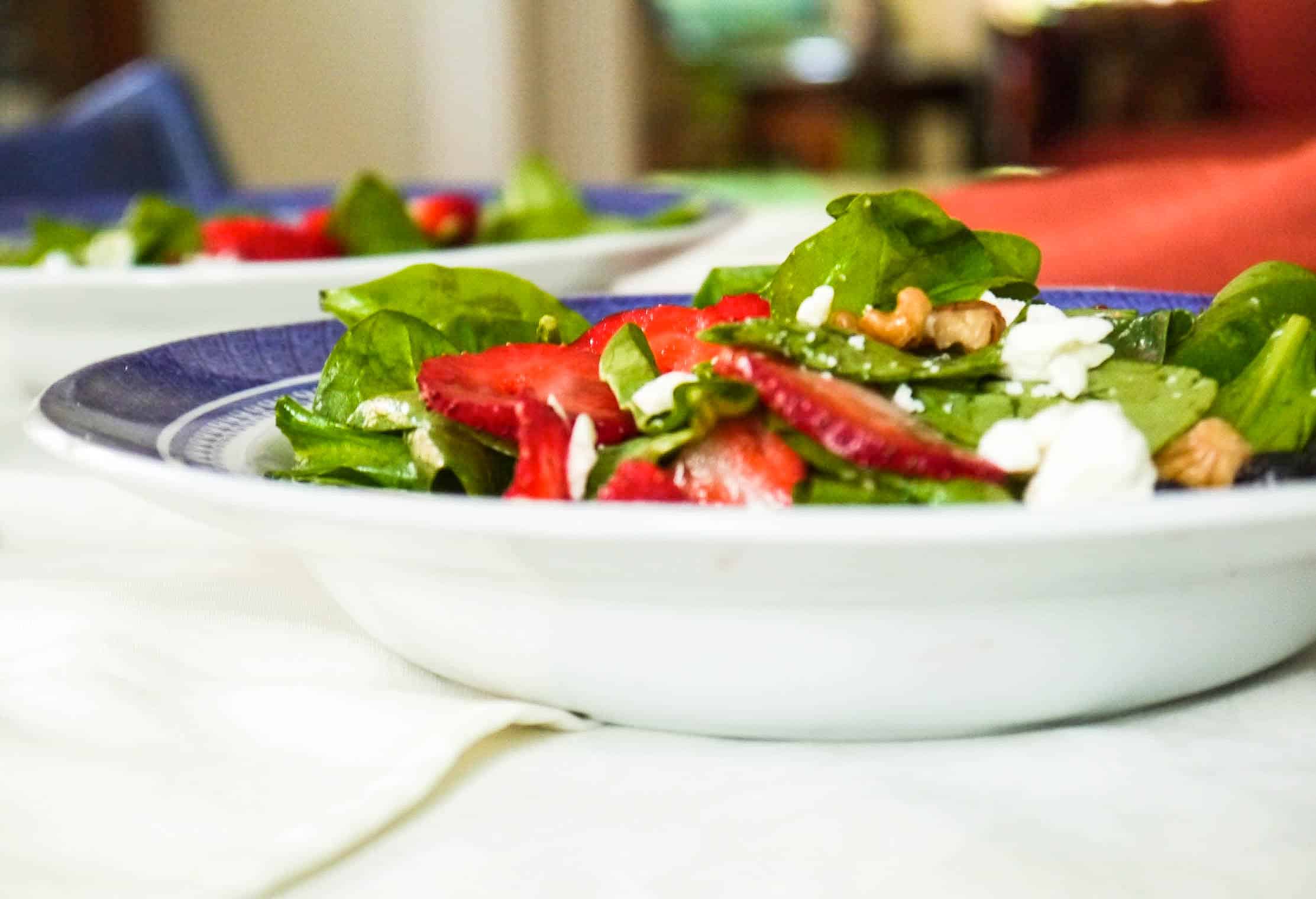 Strawberry Spinach Salad with Lemon Dijon Vinaigrette
Ingredients
6 cups Spinach, rinsed, pat-dried
½ cup walnuts
½ cup feta cheese
⅓ cup dried cranberries
1½ cups strawberries, sliced
½ cup olive oil, mild
1½ Tbsp Dijon mustard
1 lemon, squeezed (juice)
¼ cup apple cider vinegar
1-2 tsp Swerve confectioner sweetener
1 tsp honey
Instructions
Whisk oil with dijon, lemon juice, vinegar, swerve and honey; Set aside.
Toss Spinach, walnuts, cranberries, feta and strawberries; reserving a little of each ingredient (sans spinach) for final presentation.
Drizzle ¼ - ⅓ dressing into salad; toss.
Garnish with remaining ingredient reserves.
Seal and refrigerate remaining dressing.

Lemon Dijon Vinaigrette
The Dijon Vinaigrette can dress a variety of salad combos. It was lovely with my combo of strawberries, spinach, feta and walnut. And with plenty of dressing leftover, I can top a variety of other salads. I think it would be divine in egg salad (just swap the mayo out and use this instead). For just the dijon vinaigrette, here's the recipe:
1/2 cup olive oil
1 1/2 Tbsp Dijon Mustard
Juice of one medium Lemon
1/4 cup apple cider vinegar
1-2 tsp Swerve confectioner sweetener (or your choice 0-calorie sweetener)*
1 tsp honey
Whisk olive oil, dijon, lemon juice, apple cider vinegar, Swerve and honey until well combined.
*Note: You can omit the Swerve 0-calorie sweetener all together and add a touch more honey to taste (up to 1 tsp more).