Hi all! Are you recovering from your Thanksgiving feast? Or did you stay well within your health/fitness plan? Yes, it is possible to enjoy some indulgent foods and still focus on staying fit. It's all about moderation, balance and fitting in exercise in your daily routine (even on those holiday breaks).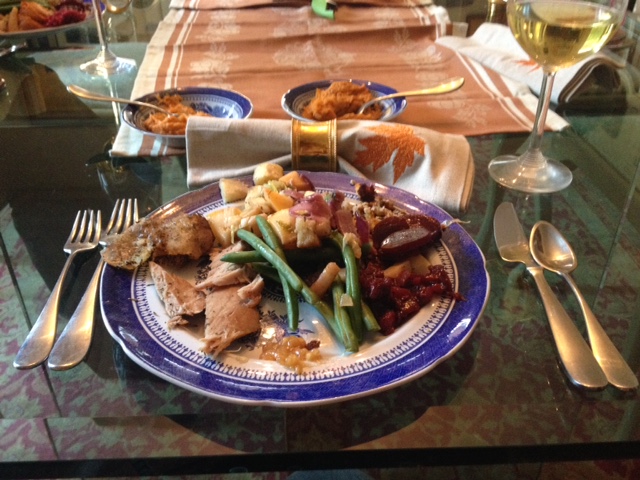 This was my lovely Thanksgiving meal. I stuck to 3 oz of roasted, turkey (removed the skin), 1/2 cup 3-bread-apple-sausage-stuffing, 1 cup roasted brussels sprouts & root veggie medley, 2 Tbsp homemade cranberry chutney and added 1/2 cup steamed green beans to my plate. It was so delicious (and I wasn't overstuffed).
We followed our meal by a walk up to the Griffith Observatory – roughly 2 1/2 miles round-trip with a nice incline. And yes, of course followed with a little dessert. My date-sweetened Cranberry Crumble was perfect for this occasion, not high in calories, low in added sugars, full of yummy taste and, might I add, quite fruit-full. But I opted for a little slice of Harvest Pie that my friend made and enjoyed every bit of the sweet tart apple-pear-cranberry medley.
Tools You Can Use for Staying Fit Through the Holidays:
Because my kids were off for a week-long Thanksgiving break, my schedule was a little different (to say the least). I had the help of some health/fitness tools and I think these are pretty darn good. I managed to fit in my own cardio workouts (Popsugar Fitness has some great youtube cardio workouts by Anna Renderer) early in the morning before everyone arose or in the late afternoons when my kids were occupied playing together peacefully (Thank goodness). As far as my meals, I've been keeping track through a great fitness program (got an app on my phone) called LoseIt. I've been looking for some good tools for my clients and I think this program makes tracking easy, accessible and even carries a variety of brands, including Arbonne, which has added a nutritional line to it's product base. I've tried Arbonne's Citrus Energy Fizz sticks and Digestion Plus.
And speaking of services and brands that I like and highly recommend, Silver Fern Brand has a line of nonGMO, gluten free, low sugar baking mixes to carry you through the holidays. I personally love Silver Fern Brand's PAKA Lemon Bars Mix. Now that Thanksgiving is over, there will be plenty of pre-Christmas/holiday gatherings to attend. And you can stay healthy and nutritionally-savvy, by sharing and enjoying your healthier baked treats at these potlucks and gatherings. In fact, Silver Fern Brand is offering 20% OFF during Silver Fern Brand's
**GREEN MONDAY Sale**: Click on the image below to start shopping!
Silver Fern Brand's Green Monday Offer: Dec 12th-18th – 20% off any order with MERRY.
Last Shipping Day for Christmas Delivery: December 18
Express Shipping available? Yes
Gift Card or e-Gift Card available? No
---
Got any recommendations for staying motivated this holiday season? Share your tips in the comments below.
Staying fit / motivated is easy when you have good tools to fuel your health and fitness routine. Have a wonderful Holiday season! And I hope you'll try some of my recommendations:
LoseIt Fitness app
Popsugar Cardio Workouts by Anna Renderer
Silver Fern Brand baking mixes and other healthy products
Arbonne nutritional products
Disclaimer: I was not paid or compensated in any way to highlight any of the products/tools I've mentioned in this post. These are simply what I use and definitely recommend  to help individuals stay on track with their nutrition/fitness goals.