Spring Time in Sonoma Fields
It's Spring Time! What could be more exciting than frolicking in the bright yellow mustard fields in Sonoma?!
Every Easter we have a tradition of sending our girls out to play in the endless Sonoma fields. My hubby photographs them running, jumping, hiding and seeking… a giggle-fest to say the least. This year was a little muddy. But that didn't stop them. Our subjects were quite rambunctious this year and this shot absolutely captured their inner bunny.
And speaking of fluffy cotton-tails….
Here's a fluffy pancake recipe, my girls absolutely love.  What they don't finish for breakfast, I save in ziplock baggie and freeze for a future breakfast or snack. They're great because they're made with the goodness of almonds and have a light sweetness that won't overdo your sugar budget. Honestly I don't even add syrup (they taste great on their own).
Light & Fluffy Pancakes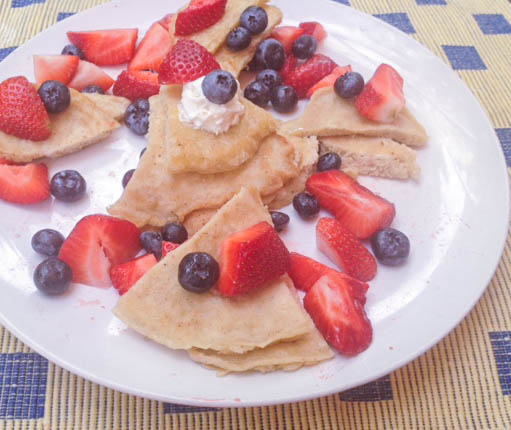 For a fun snack: Cut into snack sized-friendly triangles, these pancakes can beat afternoon munchies topped with Greek yogurt or light whipped cream cheese and fresh berries. And antioxidant-rich berries are a great way to enhance your Spring dishes.

Tasty Homemade 'Light & Fluffy' Pancakes
Ingredients
¼ cup almond meal
½ cup white flour
1 tsp brown sugar
1 tsp baking soda
½ cup water
1 egg
1 Tbsp oil
Instructions
Mix almond meal with white four, brown sugar and baking soda to create the dry base.
Add 1 egg, ½ cup water and 1 Tbsp oil (I use olive oil or grape seed oil)
Blend well.
Heat a Tbsp oil (or coat pan with cooking spray) in a non-stick skillet.
Pour batter into pan for approx 3" - 4" cakes.
Heat until you see bubbles.
Flip pancake.
When golden on both sides, remove from heat.