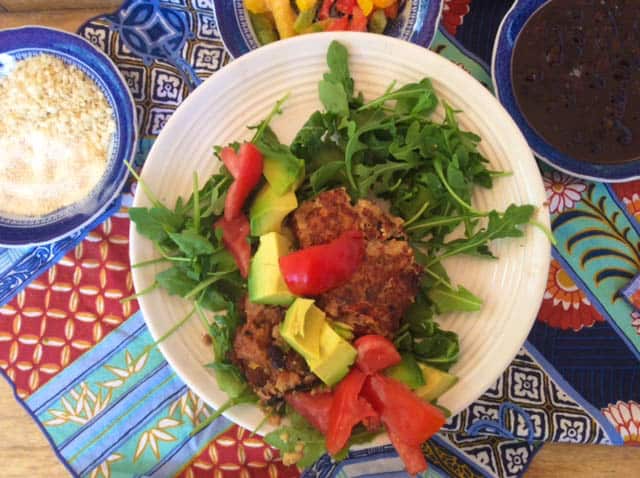 Disclaimer: By posting this recipe I am entering a recipe contest sponsored by the Sabra Hummus and I am eligible to win prizes associated with the contest. I was not compensated for my time.
It's National Hummus Day on May 13th, although I could enjoy hummus all year round. It's one thing to enjoy it as a dip or spread, quite another when considering developing a recipe. But I was up for the challenge and happy to do so!
I set out to create a recipe with Sabra hummus. I could have simply used it as a spread for a fancy sandwich or wrap. But I wanted to be more creative. I also wanted something with a lot of tang and kick of flavor. So I sampled each flavor while finding my inspiration. When I tasted Sabra's Supremely Spicy Hummus, I knew this would be the one. The spicy blend would be a perfect combo to the more bland combo black beans and veggies I had decided to use. And figured I could create a recipe with items I already had in stock.  I knew a veggie patty could work, but a crisp fritter would be even better. So I created my batter using Panko for extra texture, and cooked it in a skillet for a light golden crisp. (Bread crumbs would have sufficed, but I had Panko on hand and no day-old bread to work with.) And while I intended to use flour, I only had pancake mix on hand.
Black Bean Fritters made with Sabra's Supremely Spicy Hummus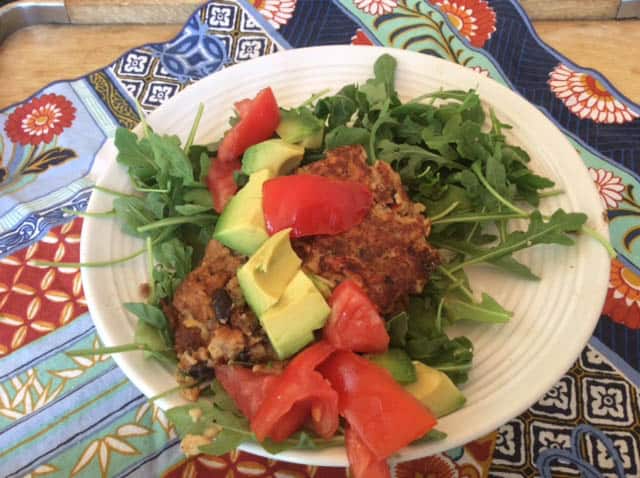 Crisp, golden and full of veggies, you can feel good about serving these delicious Spicy Sabra Hummus and Black Bean Fritters at your next party or gathering. That's because it contains two plant-based proteins: black beans and hummus (a chickpea based dip). Plant-based proteins are beneficial because they provide the benefit of both fiber and protein. They are also much lower in saturated fats. And whether you call this a veggie patty, savory pancake or fritter, I'm happy to share that it's got plenty of good nutrient value.  Each fritter contains 3g dietary fiber, 4g of protein and only 9g of net carbs. I used a minimal amount avocado oil to "fry" them – a healthy choice of fat. But could have just as well used the olive oil I have in stock. It's got plenty of great texture and flavor without excessive fat. And it makes a great Vegetarian appetizer.
Made with Wholesome Ingredients: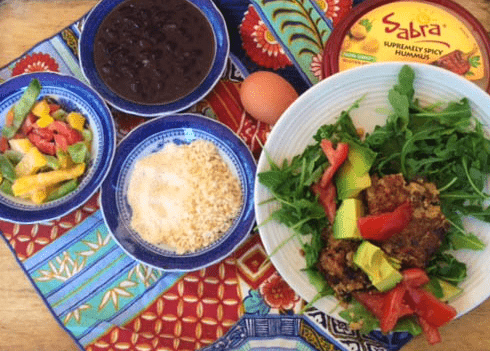 Ready to Serve: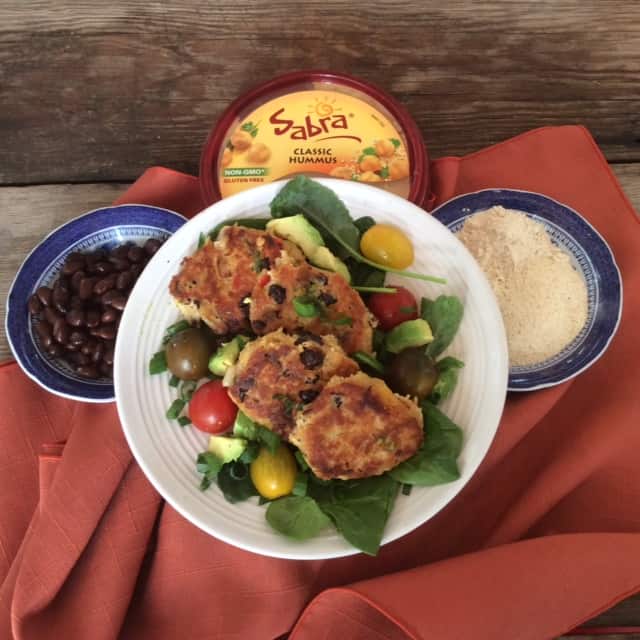 This dish was so simple to make. I made it again and again. Just 7 ingredients for the batter, all of which I generally keep in stock: Black Beans √ Cream of Wheat √ Frozen Bell Peppers √ Egg √ Pancake Mix √ Panko Crumbs √, and of course the Sabra Hummus √. I admit, I used up all the Supremely Spicy Hummus and even the other great flavors I received, except for the good ole Classic. And so when my kids requested these for dinner tonight, I made this batch with Sabra Classic Hummus. Still good and tasty, just not as much of a kick. These crisp golden fritters are a winner with my family. In fact, my hubby came home (he'd already eaten) and he gobbled the rest up. He's mentioned at least 3x since my trial batch how much he enjoys these. I actually made two batches this evening, they were such a hit!
Here's the Recipe:
Spicy Sabra Hummus and Black Bean Fritters
Ingredients
½ cup black beans, canned, low sodium
3 Tbsp Cream of wheat, dry mix
½ cup Spicy Sabra Hummus
½ cup bell peppers, sliced, mixed, from frozen
1 large egg
2 Tbsp Pancake mix (or all-purpose flour)
½ cup Panko crumbs (or bread crumbs)
2 Tablespoons Avocado oil
Instructions
Make Cream of Wheat by adding ½ cup water to cream of wheat mix in a microwave-safe bowl, stirring, covering and heating for 1 minute.
Remove from microwave, stir and cover; let sit for a couple of minutes until thick.
In a bowl, mix drained beans, cream of wheat, Spicy Sabra Hummus, slightly defrosted bell peppers, egg and Pancake mix (or flour) until well combined.
Mix in Panko.
Heat a medium to large skillet with oil until bubbles just start to form and then use ice-cream scoop to add eight scoops of batter into pan.
When golden on one side, gently use a spatula to turn each griddle cake over and cook until golden on other side.
Transfer to a paper-towel lined platter and blot with paper towel.
Option: Serve over a bed of greens such as arugula and garnish with generous chunks of avocado and tomato chunks.
Notes
12g total Carbs, but only 9g Net Carbs
Nutrition Information
Serving size:
1 patty
Calories:
129
Fat:
7g
Carbohydrates:
12g
Fiber:
3g
Protein:
4g
Don't Forget: Natl. Hummus Day is May 13th!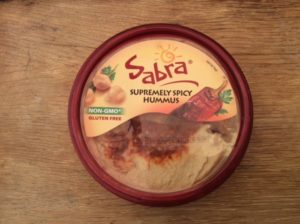 I'll be celebrating National Hummus Day with my Spicy Sabra and Black Bean Fritters. I hope you'll join me by enjoying your favorite variety of Sabra hummus — be it as a dip, sandwich spread or my tasty Spicy Sabra Hummus and Black Bean Fritters vegetarian appetizer. Because Sabra Hummus is a plant-based protein, it is a great choice for your meals and snacks. For more information about Sabra Hummus and its variety of flavors visit: www.sabra.com