I'm delighted to be a Siggi's Ambassador. From time to time you'll be seeing my posts with the delicious recipes provided / inspired by the Siggis yogurt folks. My latest breakfast was their Spiced Apple Overnight Oats. So easy to make.
Nutri-Savvy Approved Recipe!
To create this easy, overnight oats treat, I recycled a jam jar to mix ingredients and refrigerate. Then I took the jar on-the-go to enjoy after my yoga class. However, when you have time to enjoy it at home – it looks quite delectable in this plating below. I topped it with some chopped apples and my homemade granola.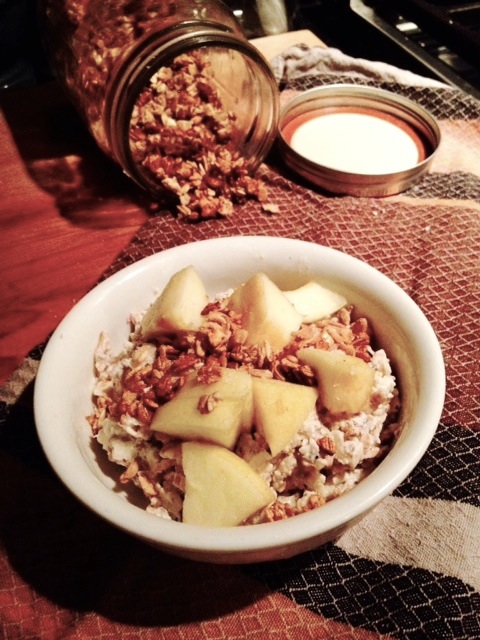 The Recipe: It's simple — and all whole foods. I simply mixed together 1/2 cup raw oats (I used a blend of oats, rye mixture…from the bulk bin), 1 tsp chia, 1/3 cup Siggi's non fat plain yogurt (if you live in my 'hood, just ask — I've got some Siggi's yogurt coupons for you), 1/3 cup grated apples, topped with some apple chunks and my own homemade granola (This time I substituted half the fat for protein-rich yogurt – still delish — STAY TUNED for my NEW Granola Base recipe).
Simply combine all the ingredients into a tupperware or jar, seal and refrigerate. Then take out next morning and enjoy a delightful breakfast or snack you can enjoy at home or take on-the-go!
ENJOY! : )