When it comes to kitchen gadgets, they're either extremely useful or they're gathering dust. If it can encourage you to enjoy more of nature's perfect produce, great! But if it's shoved in the back of your cupboard or cluttering up your counter space, it may be more trouble than it's worth. See just why the Microplane Slicer may be a gadget to keep. #AD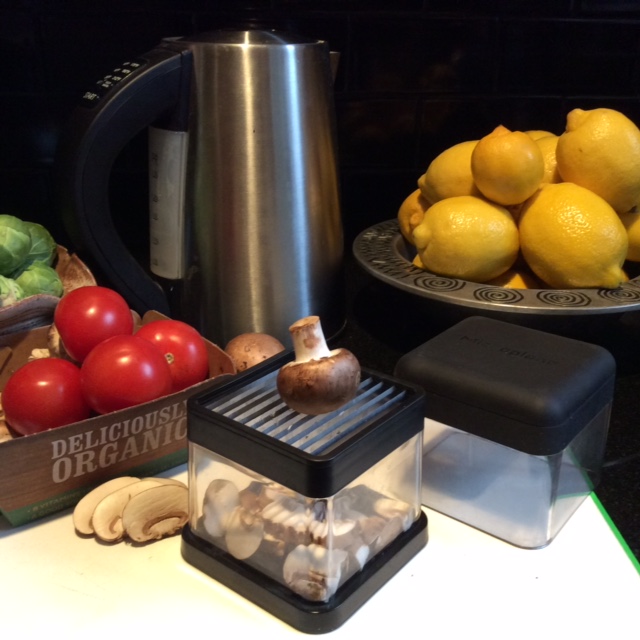 Review: Microplane Multi-purpose Food Slicer
by Lauren O'Connor, MS, RDN
It's not like I don't have enough gadgets. Honestly, I probably have more kitchen gadgets than I really need. Among my favorites (and quite useful) include my Nutri-Bullet, Cusinart Food Processor, and the smallest, simplest of all — my Mixed Pears Kitchen Scissors. I get weekly, if not daily, use from these. The ones that I store more often than I use include my Vitamix blender, Juicer (from the 80's – which still works BTW), Emile Henry Pizza Stone, Kitchenmade Mixer, Cusinart Waffle Maker (which just recently broke), George Foreman Grill, and my lovely, but heavy and space-consuming Cuisinart Gridder Deluxe — but these still have good purpose and I won't part with them, no matter how much dust they accrue throughout the year sitting in my well-packed cupboard.
So, did I really need to adopt another gadget? Not really, but this one proved to be a keeper. Here's why:
• It uniformly slices fruits and veggies to provide appeal to your finished dish. Whether it's a chopped salad, soup, fruit-filled dessert or casserole, nicely sliced produce can certain improve the appeal of a meal. If a gadget can make the task of chopping things up more interesting or efficient, it's a tool I want in my kitchen. Unlike, my chef friends, I don't necessarily enjoy chopping things up into perfect uniform pieces. I love the result it lends to for my meals and snacks, but if I had a magic wand to do it for me, I'd gladly forgo this task.
• It's small, compact and fits easily into any counter with its simple, yet elegant square design. That's a real plus I find in this kitchen gadget. Too many of the gadgets I've accumulated over the years simply take up too much space or have an awkward design that makes storage challenging. And what I love it that it doesn't require a cutting board. The food chops directly into the container. I can also use it as a Tupperware to store the cut-up produce for another day as it seals nicely enough to keep it fresh for the next day.
• It's sharp row of blades cuts through produce with ease. But you've gotta know how to work it. Okay, I have to admit, the first time I tried to slice with this device, I had a little trouble executing the cuts and my onions didn't get the clean-cut I desired. But I figured it out:
You have to have no more than 2 inch wide by 1 inch tall piece to start with (or something close to those specs)
One must apply solid even pressure with the palm of hand (no wimps here! — press it down like you mean it, just don't force it).
Some of the food may get stuck in the grates, but not to worry — included on the bottom is a removable plastic comb that releases residue from the grate.
Food should be at it's peak of ripeness – not over-ripe, under-ripe, soggy or mushy. The blade cuts best through firm (but not tough) produce. I generally strive to have food in it's ideal form, because food tastes best when it's fresh and in-season.
• It works on a variety of produce. I tried brussels sprouts, small vine-ripened tomatoes, mushrooms (These work the best! See how nicely it slices them in the picture at the top of this post.), hard-boiled eggs, apple chunks, onions, bell pepper, garlic, and at the request of my girls — a frozen banana which I sliced lengthwise and chopped into a 2″ wide piece.
Now, if you are a pro with the knife — a sous chef who can chop at great speed and fine-tuned accuracy — this may not be the product for you. But if you're like me, you'll probably be happy to own one. I like the uniform slicing, it's easy to clean, a no-brainer to store, and it can even serve as a Tupperware. However, I'm sticking to cutting up onions the short-cut way I've learned since my eyes sting and tear up at the very sight of an onion. It would be too much exposure for me to have to cut sizable chunks first before using the Microplane Slicer.
I recently used the  Microplane Slicer to slice apples for one of my newest holiday treats.  Check it out. It made a delicious variation of my Date-Sweetened Cranberry Crumble by adding sliced apples to the fruit mixture.
---
Disclaimer: While I was not monetarily compensated for this product review, I did receive the product to keep. Opinions are all my own.