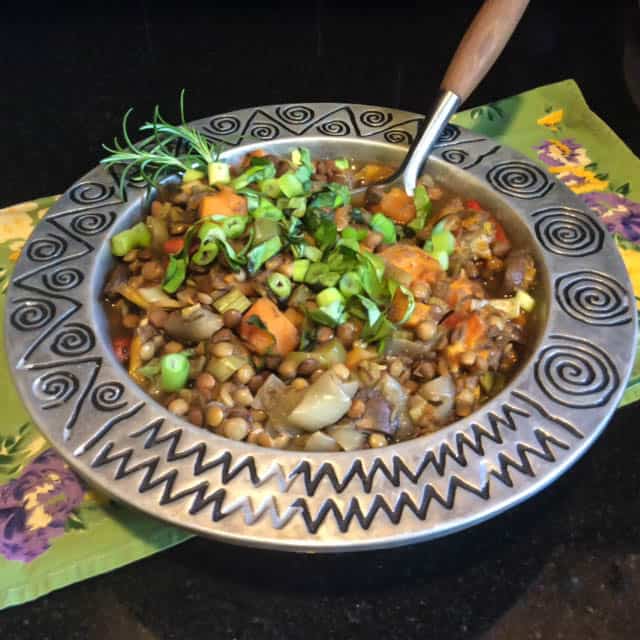 Hi folks! This month's Recipe Redux challenge was to make a dish on the spot based on what we had in our fridge/pantry.
"Cook with at least 3 ingredients that are actually in your refrigerator or pantry right now. Try not to go to the store to buy anything new. Give tips on how to make a healthy dish out of whatever you have on-hand."
So without any  planning, prep or stop at a grocery store for an item or two, I pulled out what I had in stock (lentils, chicken broth, frozen mixed colored bell peppers and a variety of dried spices/seasonings and a fresh rosemary sprig from my garden). Then I gathered what I knew I had to use up: a large onion, cubed butternut squash, celery, and the remainder of my green onion (because fresh veggies generally don't have a long shelf life).
To keep this dish quite healthy I kept the fat content low and the sodium in check. These days I'm working on keeping the sodium content low and keeping tabs on the total fat in my day as I already enjoy nuts/seeds and avocado regularly. While I'm not opposed to using oil for cooking or even butter for that matter, I just wanted to see how little or if I could get by without much if any in the cooking process. (And besides I was low on olive oil and had but 1/2 stick of butter left in my fridge. So I went sans on the added fat.)  I've experimented with combining dried seasoning and an acid to replicate the "salt factor" to bring out good flavor. And with the combo of seasonings I used, including garlic, a no-salt poultry seasoning (sage, thyme, marjoram and savoy), low sodium chicken broth and the acidic balsamic, I think it turned out great!
Serving Up Seasoned Lentils!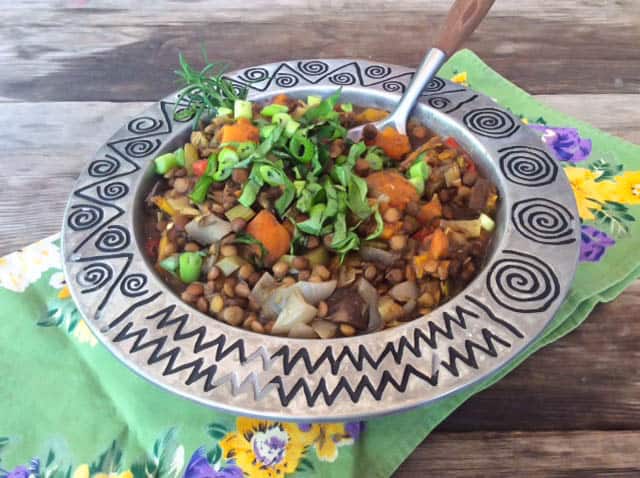 As you can see, this dish has plenty of veggies! In addition to the pulses (lentils), it has bell peppers, celery, mushrooms, butternut squash, basil leaves and the aromatics (onions: yellow and green). It's a fiber-rich dish which is satisfying alone, but is also great accompanied or served over Kasha (buckwheat groats) or simple steamed rice.
Here's my guide for creating a healthy meal from what you have on-hand:
Pick your protein (I've chosen to focus on the lentils for my dish).
Select your basic seasoning. Choose an aromatic such as green onion and/or something from your spice cabinet (I like to combine garlic with most everything. For dishes that include legumes, I think Indian spices such as Garham Masala or a no-salt poultry seasoning work great).
Gather up your veggies (2-3 different non-starchy veggies should suffice). I like to go with a color variety for visual appeal.
Balance your flavors. I find that egg dishes (such as veggie omelets) are quite simple and need little adjustment. However, lentils are quite bland on their own so instead of added salt, I went with something acidic (in this dish, it's the balsamic vinegar, but I could've gone with a lemony seasoning or stewed tomatoes). To balance out the acidic, I included a 'sweet' veggie (carrots would have worked fine, but I choose butternut squash because I had it on hand).
Keep your fats and starches in check. If you've already used oil to sauté, keep it minimal (i.e. a sprinkling of feta goat cheese would have enhanced this lentil dish to another level). If you don't already have a starchy veggie, plate it with 1/2 cup of your starch of choice (i.e.: steamed rice, roasted potato, Kasha…)
Optional: Serve it over Greens. I like to serve everything over a bed of greens, just to get in more leafy greens. Lately, I've been lovin' arugula. Sometimes I even drizzle a bit of balsamic over my greens before topping it with my meal.
Seasoned Lentils
Ingredients
1 cup dried lentils
2 cups water
½ cup low sodium chicken broth, divided
1 Tbsp poultry seasoning (sage, thyme, rosemary)*
1 sprig of rosemary
1 Tbsp balsamic vinegar
1 Tbsp garlic powder
1 cup celery, diced
1 cup bell peppers, sliced
4 cups butternut squash, diced, roasted**
1 cup sliced crimini mushrooms
2 Tbsp green onion, chopped
2 Tbsp basil, julienned
Optional: extra chopped green onion and basil and a sprig rosemary for garnish
Instructions
In a large non-stick pan, heat onions on low heat for about 10 minutes — adding in ¼ cup chicken broth 1 Tbsp at a time to keep it moist and prevent over-browning.
Add mushrooms and dried seasonings and keep on low heat until onions soft and translucent, stirring as necessary.
Add lentils, 2 cups of water and sprig of rosemary; continue on low for 2-3 minutes.
Add remaining chicken broth, frozen bell peppers, celery, green onions and basil; and continue to cook on low heat with lid until all water absorbed (about 15-20 minutes).
Mix in balsamic vinegar.
Turn off heat and add in 3 cups roasted butternut squash•
Puree remaining cup squash with ½ cup of water, then add to lentils for thickening.
Garnish with green onion and basil.
Notes
*Use a poultry seasoning that has NO salt.
**To roast butternut squash, heat oven to 400ºF. Pour butternut squash cubes into baking pan. Lightly spritz with cooking spray and toss to coat evenly. Cover with foil. Bake for 45 minutes to an hour until soft (or lightly browned if desired).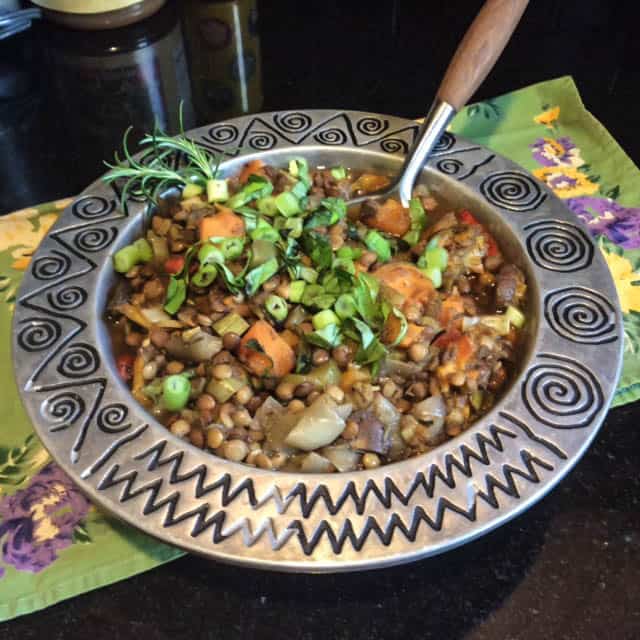 Voila! This dish came out great. I think it was mainly the cooking process, slow at low heat and no salt in the lentils – keeping them from getting mushy. I was roasting the squash to make ahead for the next day while preparing my dish, but  I decided to add it in as a substitute for carrots which I didn't have. It's sweet flavor really added to the balance of the lentil dish.
For more healthy, creative dishes, click on the Recipe Redux image below: