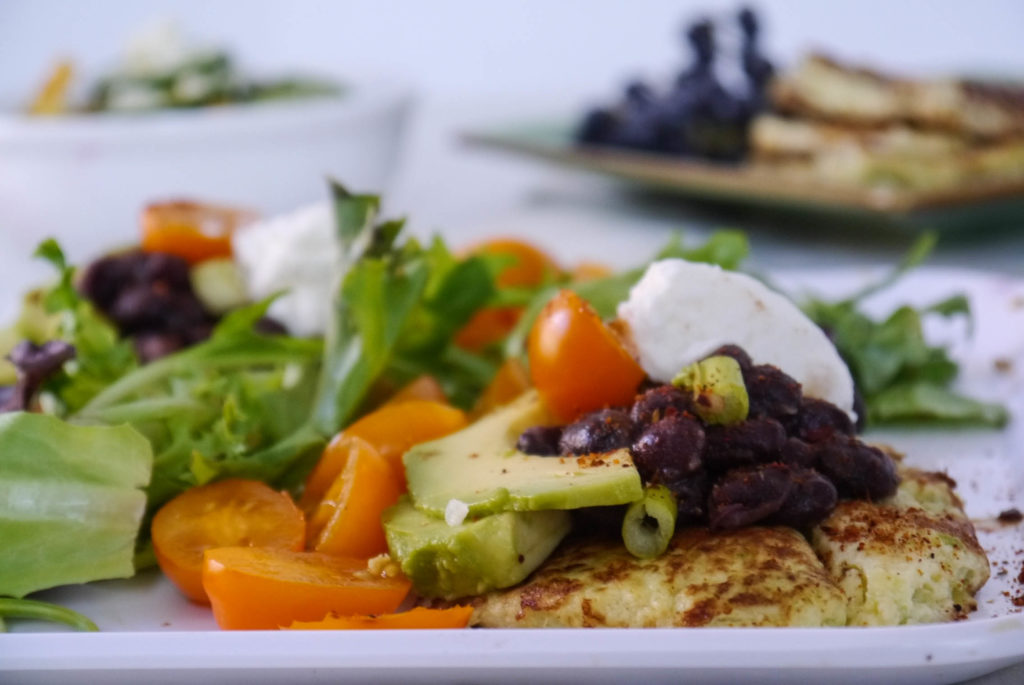 Who's up for a Savory Breakfast?!
I sure am! And if you, too, are looking for something veggie-licious, high in protein and breakfast-worthy; you've come to the right place. Because breakfast doesn't have to be sweet, overly starchy and it certainly can be more than just a muffin or quick bowl of cereal. This month's Recipe Redux challenge was to create a SAVORY BREAKFAST. And to me, this calls for a Brunch.
It's a Brunch-Worthy Spread!
When I originally thought up this dish, I thought of salad. Why? Because I included salad in practically every lunch or dinner; and both those meals are often (but not always) SAVORY. So keeping in mind the savory and holding onto my need to serve up with or over a bed of leafy greens, I gathered the ingredients I'd use in a salad. And I came up with not one, not two salads, but ostensibly THREE salads!! Although the third is in the form of a fluffy, light griddle cake (aka my Zucchini Soufflé). And the result you'll see became a brunch-worthy spread. This is definitely something I would enjoy, be it a morning repast or evening meal (or somewhere in between).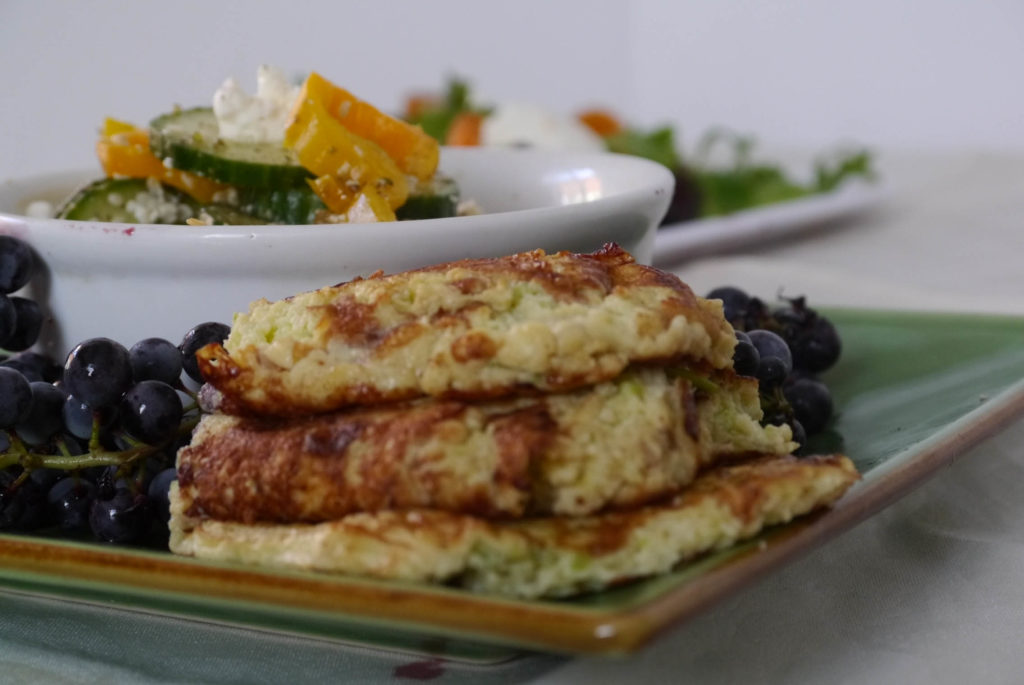 Armed with plenty of Zucchini, I decided to do something veggilicious with salad-worthy ingredients. So instead of an egg salad with chopped zucchini, I blended the zucchini and egg to start a batter for griddle cakes. They came out so creamy, light and fluffy – very much like a soufflé.
Serving it up was fun! I had lots Spring greens and a bowlful of grape tomatoes I needed to use while they were still fresh. And thought the sweet little grapes I picked from my friend's garden would be a nice addition to the spread. Honestly these soufflé-like pancakes go well with my spread: a side of grapes, a seasoned cucumber salad* and plated up with a bed of greens and chopped tomatoes. But you could take this brunch-worthy zucchini soufflé and serve it up with whatever you'd like. I think it would be great with soft-ripe figs and ricotta for a more sweet-savory appeal! 🙂
My Breakfast Soufflé All Dressed Up!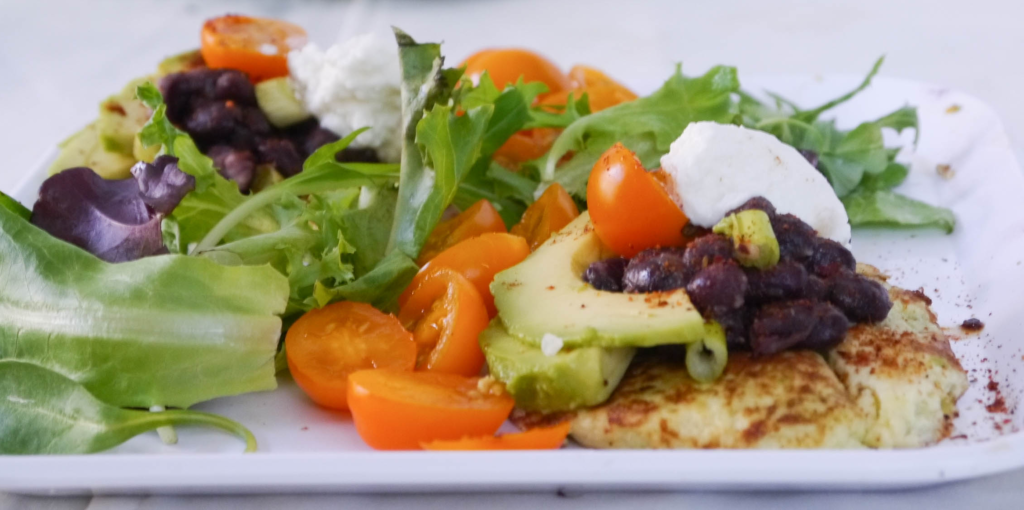 For a fun twist and some added fiber, healthy fat and some good old calcium, I garnished the zucchini soufflé griddle cakes with seasoned black beans, avocado and a small dollup of whole milk ricotta. It was delish!

Savory Zucchini Breakfast Soufflé
Cuisine:
Savory Breakfast
Ingredients
2 cups grated zucchini
3 eggs
¼ cup parmesan, grated
¼ cup white cheddar cheese, grated
¼ tsp nutmeg spice
⅛ tsp salt
1 scoop whey protein powder, unflavored
Instructions
In a food processor, process zucchini until nearly pureed.
Add eggs, cheese, nutmeg, salt and protein powder and blend until creamy - batter will be thin thus preparation will be similar to working up an omelet.
Heat non-stick skillet on medium with 1 tsp olive oil and scoop ¼ cup batter for each zucchini pancake (souffle); 1 to 2 at a time.
Carefully watch edges and use spatula to fold in eggy mixture into round shape and gently use spatula when eggy pancake is ready to be flipped.
Each cake should be golden brown on each side.
Nutrition Information
Serving size:
1 soufflé
Calories:
126
Fat:
7g
Saturated fat:
3g
Unsaturated fat:
3g
Carbohydrates:
4g
Sugar:
2g
Sodium:
225mg
Fiber:
1g
Protein:
12g
Cholesterol:
109mg