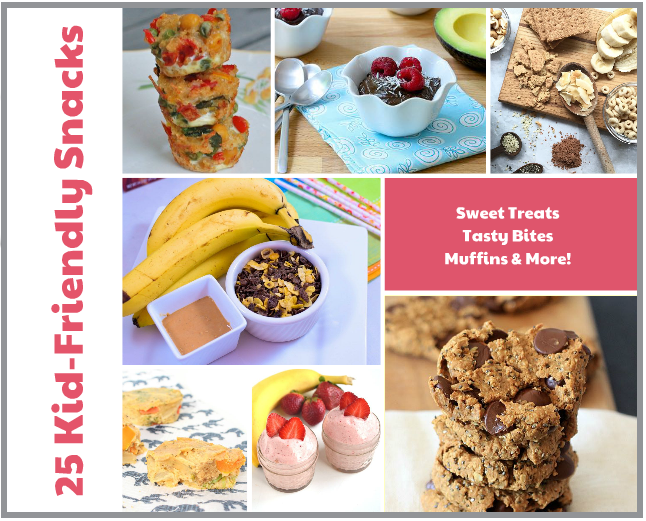 Whether you or your child craves fun-filled eats, here are some totally awesome treats! This Recipe Round-up of Kid-Friendly Snacks explores sweet, savory, crunchy and unique. From cookies and muffins to savory bites, you'll find many options that are "oh so right"!
 Check out these awesome recipes by my fellow dietitians!
These sweet treats will definitely satisfy your sweet-tooth. You'll see that they don't necessarily have to be bad-for-you to taste "oh so good"!
Sweet Treats
Banana Sushi — Emily Kyle Nutrition
Chocolate Mousse Filled Strawberries — Nutrition Starring YOU
Sweet Treat Cashew Cream — Triad to Wellness
Kiwi Pomegranate Cups — Prep Dish
Honey Crisp Apple Chips — Holley Grainger
---
I personally love the combo of nutty, dense & sweet. So if it's got nut butter and oats — I'm in. These breakfast bars and cookies are definitely my favorite kind of treats! 
Breakfast Bars & Cookies
Soft Baked Oatmeal Chocolate Chip Bars — Love & Zest
Ultimate Superfood Breakfast Bars — Hungry Hobby
Microwave Peanut Butter Chocolate Cookies — The Nutrition Twins
Oatmeal Peanut Butter Chia Chocolate Chip Oatmeal Breakfast Cookies — The Spicy RD
---
Who doesn't love a muffin! They're the perfect size to pack in cake-y goodness. But don't worry, these muffins are also filled with heart-y, healthy nutrient-love.
Muffins
Pumpkin Muffins with Vanilla Frosting — Kelly's Knack for Cooking (Vegan without the Frosting)
Cinnamon Spice Muffins — Amy Gorin Nutrition
Whole Wheat Meyer Lemon Ricotta Muffins — The Foodie Dietitian
Banana Mulberry Muffins (egg- and dairy-free — Delectable Dietetics
---
Smoothies are all the rage; and pudding and ice cream still have broad appeal when it comes to a refreshing treat!
Smoothies, Puddings & Ice Cream
Pudding Faces — Alice Henneman
Dreamsicle Chia Seed Pudding — Pantry Doctor
Avocado and Banana Frosty — Meal Makeover Moms
Berry Almond Cocoa Smoothie — Amy Gorin Nutrition
Peanut Butter & Banana Smoothie Bowls — Meal Makeover Moms
Cookie Dough Banana Ice Cream — Kristina DeMuth
3-Ingredient Strawberry Banana Icecream — The Nutritionist Reviews
Mango Banana Sorbet Bites (No Sugar Added) — Shaw's Simple Swaps
---
Snacks don't have to be sweet to be loved. These Bite sized, finger foods will please your child (or inner child), too! Check out a bit of nut-love as well as some savory eats!
Tasty Bites
Apple and Peanut Butter Snack Bites — Homemade Nutrition
Chickpea Quiche — Kristina DeMuth
Grilled Corn, Tomatoes and Avocado in Bread Cups — Food, Pleasure and Health
Veggie & Bean Quinoa Bites — Nutritioulicious
Stuffed Medjool Dates — Lone Star Nutrition
Popcorn Baggies — Prep Dish
---
We hope you enjoyed this Recipe Round-Up as much as we did. Well, we're stilling working our way through it! : )