It's been a summer filled with travel, my latest vacation was a family trip to Seattle. Although it was mostly sunny and hot, rain was predicted in the forecast on our second day. And I was sure to capture a Rainbow (and maybe some fish – lol!). Well it didn't rain, but I captured a "rainbow" of veggie-filled color in my travel-inspired recipe below.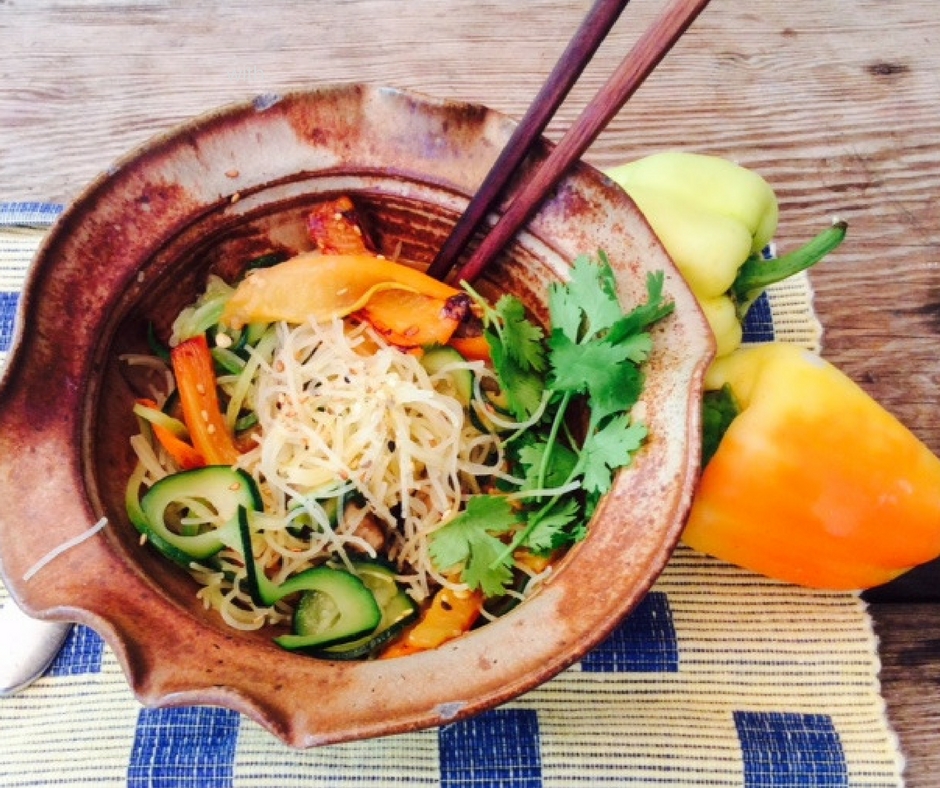 This month's Recipe Redux theme:
"A Vacation-Inspired Recipe – Start unpacking your favorite vacation memories. Think about a trip you took state-side or internationally and create a healthy recipe from an unforgettable meal you enjoyed. Or, create a recipe from a native ingredient you saw or tasted on your travels."
My Eve-Inspired Rainbow Veggie Noodle Bowl
Now this dish was inspired not only by one, but two of the dishes we ordered at Eve Restaurant. (This restaurant has a very Farm2Table 'food-itude' which I absolutely love!!!) One being my order — eve hot bowl — ancient grains, nuts & seeds, dandelion greens, seasonal vegetables, sesame vinaigrette and the other was their not noodles — summer squash noodle (not), hazelnuts, cherry-ginger, mint, shaved carrots. 
I took the inspiration for the dressing and use of "seasonal veggies" and sesame seeds from the ancient grains dish (eve hot bowl) and incorporated my own "not noodles" by Spiralizing my zucchini ("Zoodles") to add more texture (and because lately I've been obsessed with my veggie Spiralizer). I love incorporating rice noodles (vermicelli) into my dishes because they are so enjoyable to eat. Slurp! : ) Not to mention, I had already boiled then pan-fried these noodles on Monday to have a versatile 'grain dish' on hand to incorporate into my week's meals.
I recently received my latest FarmFreshToYou Box which included these beautiful Gypsy peppers and fresh cilantro (see above pic). So I incorporated these farm fresh veggies along with zucchini which is in peak season. Hence, my Farm2Table dish.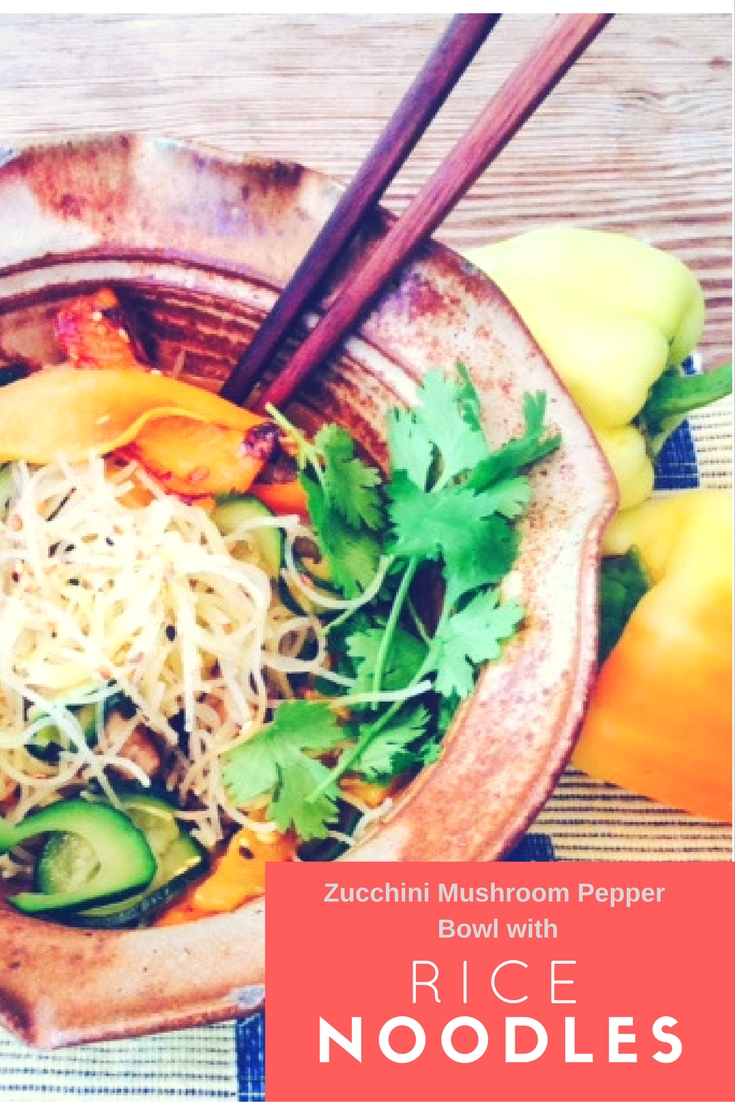 Here's the Recipe:

Rainbow Veggie Noodle Bowl
Ingredients
2 cups cooked rice noodles (boiled and lightly pan-fried)
2 cups Gypsy peppers, chopped
2 cups mushrooms, sliced
1½ Tablespoons olive oil
2-3 cloves garlic, minced
4 cups fresh zucchini (spiralized into noodles)
3 Tablespoons of seasoned rice vinegar
1 teaspoon of soy sauce
1 Tablespoon of olive oil
1 Tablespoon of Tahini
⅓ cup of water
sesame seeds (to garnish)
fresh cilantro (to garnish)
Instructions
Heat olive oil in skillet. Add minced garlic and cook in oil until soft and slightly brown.
Mix in peppers and coat well with oil/garlic and heat until they start to soft (but still al dente).
Add mushrooms and coat well into mixture.
Heat until peppers soft and mushrooms slightly browned.
Set aside.
Set 4 bowls up for plating.
Place 1 cup of spiraled zucchini noodles into each.
Evenly divide vegetable mixture on top of zucchini noodles (approx. 1 cup for each bowl).
Add ½ cup rice noodles to each.
In a blender or mini high speed food processor, blend seasoned rice vinegar, soy sauce, Tahini paste, water and 1 Tablespoon of mild olive oil (or vegetable oil).
Drizzle about 2 Tablespoons of Dressing into each bowl.
Serve with a sprinkling of sesame seeds and garnish with fresh cilantro.
Notes
You can always add low sodium veggie broth (a little at a time) to keep veggies from sticking to pan.
What's great about this recipe is that you can top it with a protein of your choice. When I put together a veggie bowl, I like to add whatever easily accessible protein I may have (i.e.: poached salmon from night before). Other options include a serving of chopped chicken, diced tofu, lean organic beef slices or mild beans (such as white beans or Cannellini).