This

Ra

in

bow

–

lic

io

us

 Quinoa, Corn & Red Bean Salad is a satisfying dish. It's a great way to get in plenty of protein, fiber and antioxidant nutrients. Try this simple tossed salad (with minimal dressing and maximum taste)!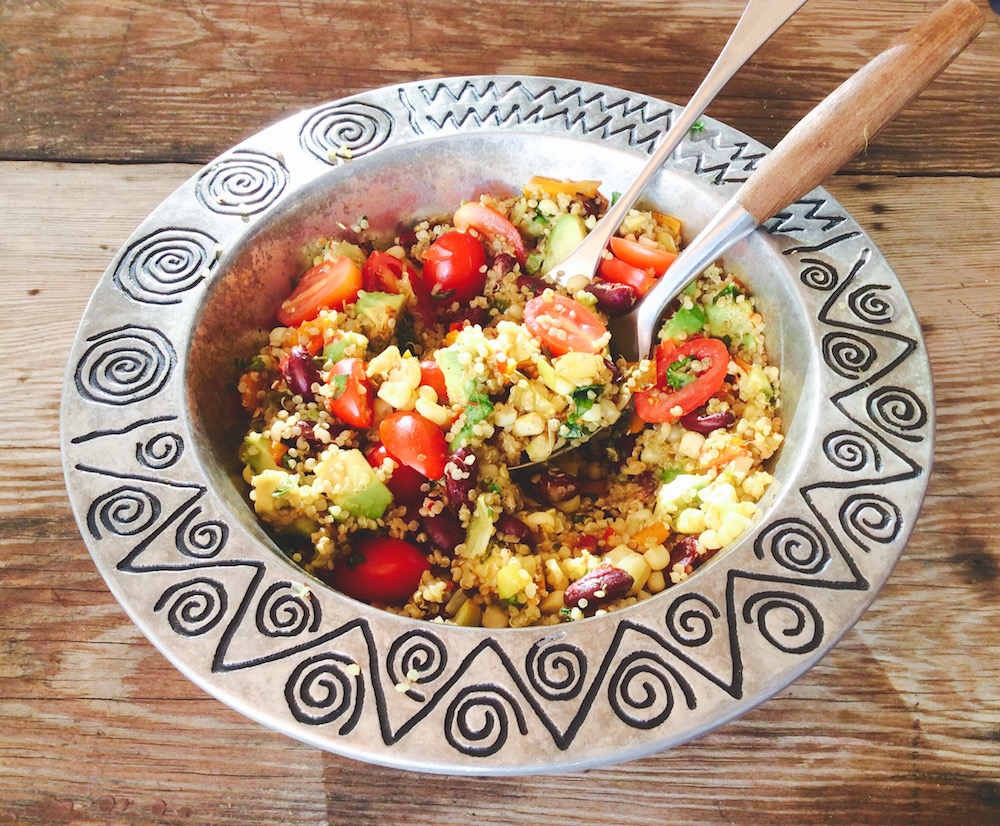 Quality Fresh Ingredients Makes This a Delightful Quinoa Salad
I believe recipes are just as good as the quality of their ingredients. So at the end of each week, I survey my fridge and pantry to see what needs to be eaten now (and what can wait). I want to be sure I use my weekly groceries before they pass their prime. Because fresh fruits and veggies don't have the longest shelf-life, it's best to eat them while they are still at their peak. That way you'll get the best flavor and optimal texture.
My inventory:
My avocado was perfectly ripe and wouldn't last more than another day (or two). The corn was sweet and still retained its good texture the next day. (Yes, I had leftover ears). And my tomatoes were still pretty good, but I had quite a bounty of them. And I had just enough mini bell peppers. So I chopped up my fruit & veggies. I drained and rinsed a can of low sodium kidney beans (Note: While I didn't actually use 'red beans' which are smaller, from what I understand, kidney and red beans are somewhat similar.) Then I started preparing my quinoa in my "rice maker." (It's awesome, because I just add 1 part grains + 2 parts water, close the lid and press start. Then it automatically heats until all the water fully absorbed. Never too long or too short.)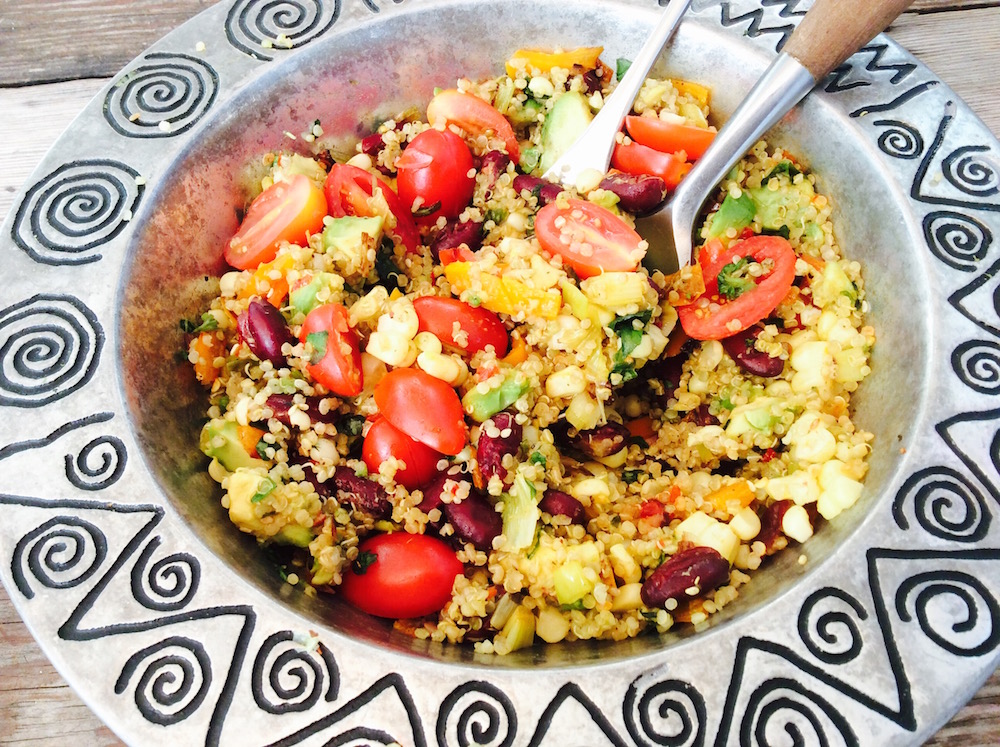 Note: A quinoa salad can be made with many different types of ingredients. To get in more satisfying protein, add beans and legumes, tofu, chicken or your choice of lean protein. Lightly sautéed onions and/or garlic with bell peppers and finely chopped broccoli are also good choices. This quinoa salad has lightly sautéed  green onions and finely chopped bell peppers mixed in. I simply seasoned it all with lemon juice and my favorite dried seasoning — Zaatar (dried lemon essence, thyme and sesame seeds). And voila! It was super satisfying and oh so good!
Here's the recipe!

Quinoa, Corn & Red Bean Salad
Ingredients
2 cups cooked quinoa
½ cup cooked, corn
½ cup bell peppers, finely chopped
¼ cup green onion, chopped
½ cup cherry tomatoes, chopped
½ medium avocado, chopped
1 cup red beans, cooked (or kidney beans, low sodium, canned)
2 tsp olive oil
Lemon juice to taste
Salt and pepper or your favorite seasoning to taste (I use Zaatar)
Instructions
Lightly sauté onions in olive oil.
Add bell pepper and cook over low heat until soft.
Set aside.
Add room temperature quinoa to a bowl.
Slice corn kernels off cooled cob and add to the mix.
Add beans, onion and bell pepper mixture and gently toss.
Season with lemon juice and spices.
Enjoy!