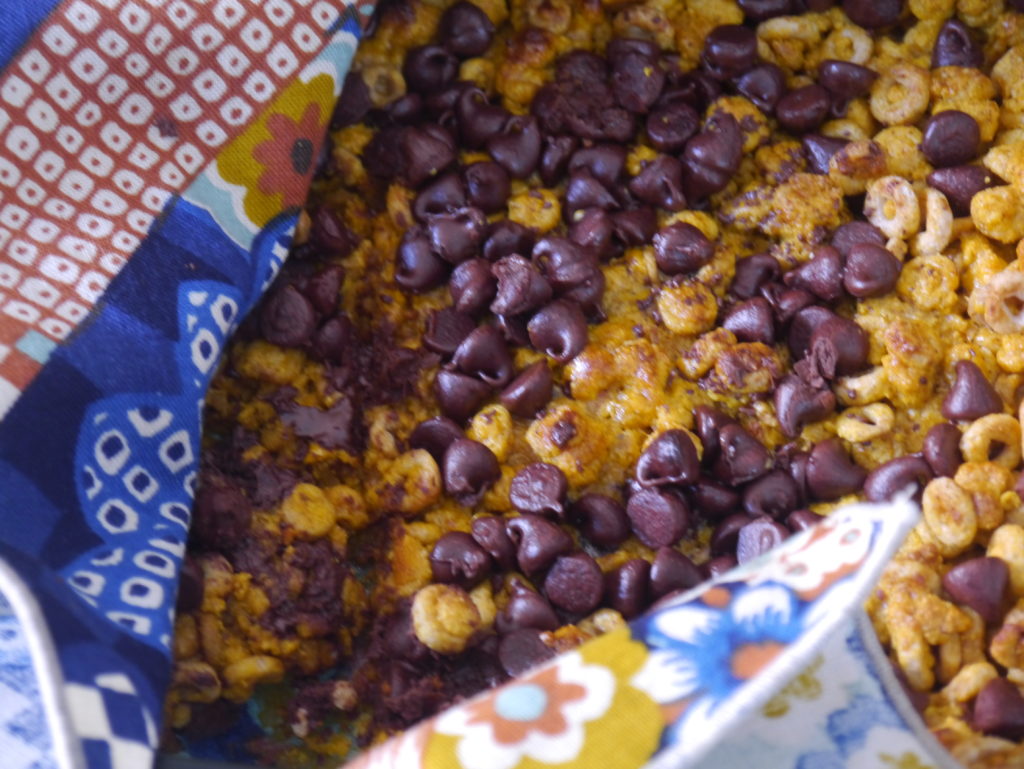 Disclaimer: Although I wasn't paid, I did receive a variety PaleoPro protein powder/collagen products. This post is solely my opinion and not influenced in any way. 
I've been on a mission lately, to see what I can do with Protein Powder besides blending a drink mix and I've been thinking about Cereal bars. Why? Because I've got a lot of Cherrios in stock and thought it would be fun to bake with, perhaps a fun, Fall treat.
I received a variety of Protein Powder blends from PaleoPro. One of which is Pumpkin Spice! And couldn't think of anything better than to create a pumpkin spiced treat. So I blended up my batter using 2 scoops of the protein powder, almond meal, honey and Red Palm oil, then did something my kids would have loved – put on plastic gloves and incorporated the Cherrios right in. Yep, mixed with my hands! Felt like a kid again. And when I tasted this treat, I really did feel like a kid!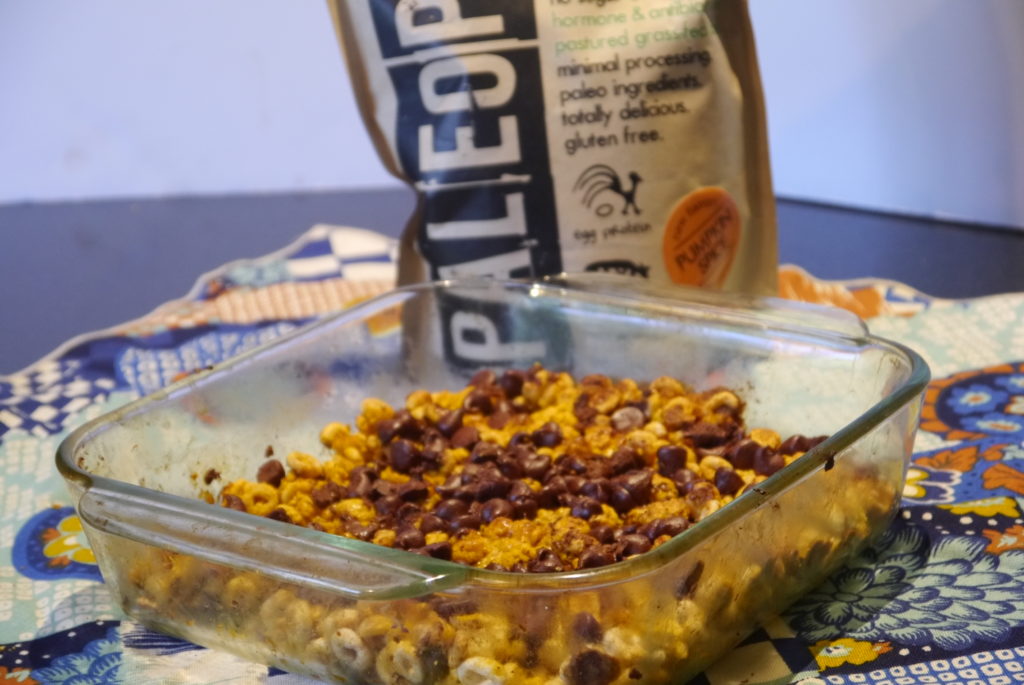 PaleoPro Pumpkin Spice protein powder has 26g protein per serving. It contains no sugar, no whey, no soy. It is hormone & antibiotic free. It contains only 2 minimally processed ingredients — egg protein and grass-fed beef protein (that's it!) — and is gluten-free. I recently enjoyed it in a morning latte whipped up with my nut milk, but it was fun to get a little creative with it (and sneak in some more protein) into this homemade snack/treat!
What I love about PaleoPro products is that they have a nice flavor, and plenty of sweet, so when I added it to my baking mix, I didn't need to add much of a sweetener (or at all). I might choose a non-flavored variety such as their Naked Plain Collagen Powder (has 16g protein per 65 calorie scoop!) if it's something I don't want to add any additional flavor or sweetness (such as a basic latte). The reason I incorporated honey into the mix was to help bind the mixture. But I could have easily made a batch of cookies using the base batter that I used for these Cherrios bars. Maybe for my next treat!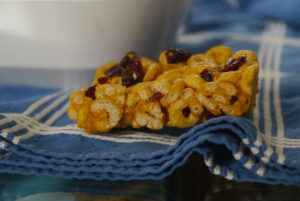 Pumpkin Spiced Cereal Bars
Ingredients
3 cups Cherrios
1 cup almond meal
2 scoops PaleoPro Pumpkin Spice Protein Powder
3 tablespoons honey
4 tablespoons Red Palm Oil (or coconut oil)
2 lightly whisked egg whites (no peaks)
½ cup chocolate chips (or dried cranberries)
Instructions
Grease a 8" glass baking dish.
Preheat oven to 350ºF.
Blend almond meal, PaleoPro Pumpkin Spiced Protein Powder, honey and oil.
Mix in egg whites.
Incorporate Cherrios (can use gloves and mix with your hands).
Pack into greased baking dish.
Sprinkle chocolate chips on top.
Bake for 15 minutes or until starts to set.
Remove and cool completely before cutting into squares.
Nutrition Information
Calories:
245
Fat:
14g
Sugar:
12g
Fiber:
3g
Protein:
11g
It's fun to mix things up. I generally would have used Cranberries instead of chocolate chips, but I had just enough chocolate chips on hand. And well, why not?! The combo of Chocolate + Pumpkin Spice actually worked! My hubby liked it. And my kids?: Well check out these smiling faces. They even asked for seconds!