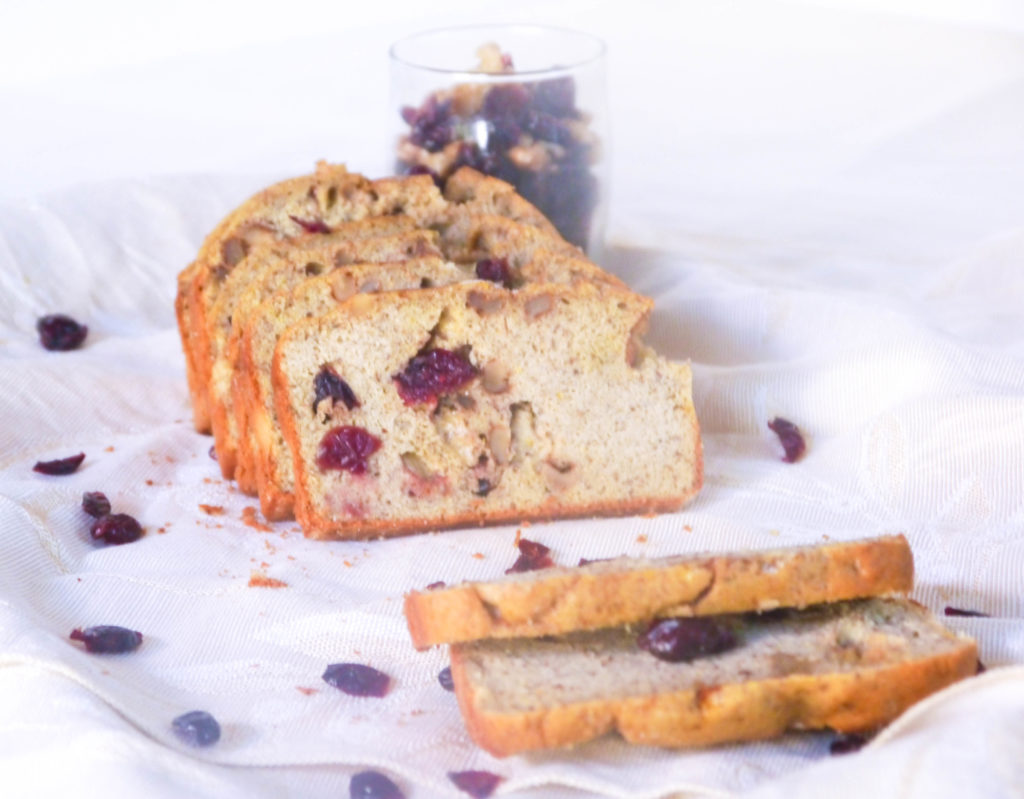 I love having something grab-n-go for the morning that isn't loaded with sugars or processed with a laundry list of additives. This Pumpkin Spice Cranberry Bread is just my bag, especially this holiday season with a blend of aromatic spices that really speak to the Fall season. And when we are rushed out the door on a school day, it's a perfect way to get my kids nourished and ready for the day.
What makes this cranberry bread so special is that it's made with whole-food goodness – including almond meal, eggs, and flax meal. (And get this – there isn't any flour, no wheat!). It's definitely Paleo-friendly, but any one can enjoy! With the addition of protein powder and milk, there's also plenty of protein. And there's just enough cranberry and Swerve (erythritol) for a little sweetness without it becoming a dessert (unless of course you'd like it to be).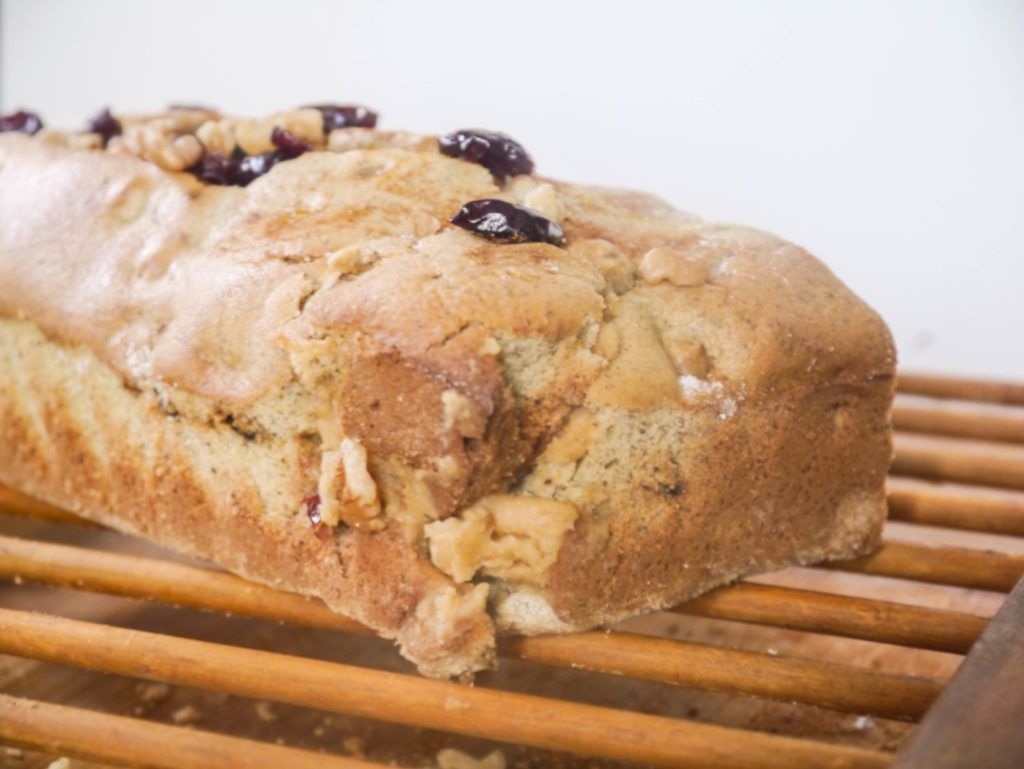 I love taking it out fresh from the oven. The sweet pumpkin pie spice aroma fills my kitchen with dreams of "pumpkin, spice and everything nice." But I'm patient to let it cool so I get those clean even slices. Each loaf makes about 16 thin slices which perfectly chop through the walnuts and expose the sweet, tangy red, cranberries baked in.
This bread needs no embellishment. Just look how pretty the walnut, cranberry pieces adorn the nice crumb to this bread. But I would suggest a light spread of whipped cream cheese or butter. And if you'd like more of a dessert, try my Vanilla Bean Frosting. It's deliciously sweet but not a junky treat.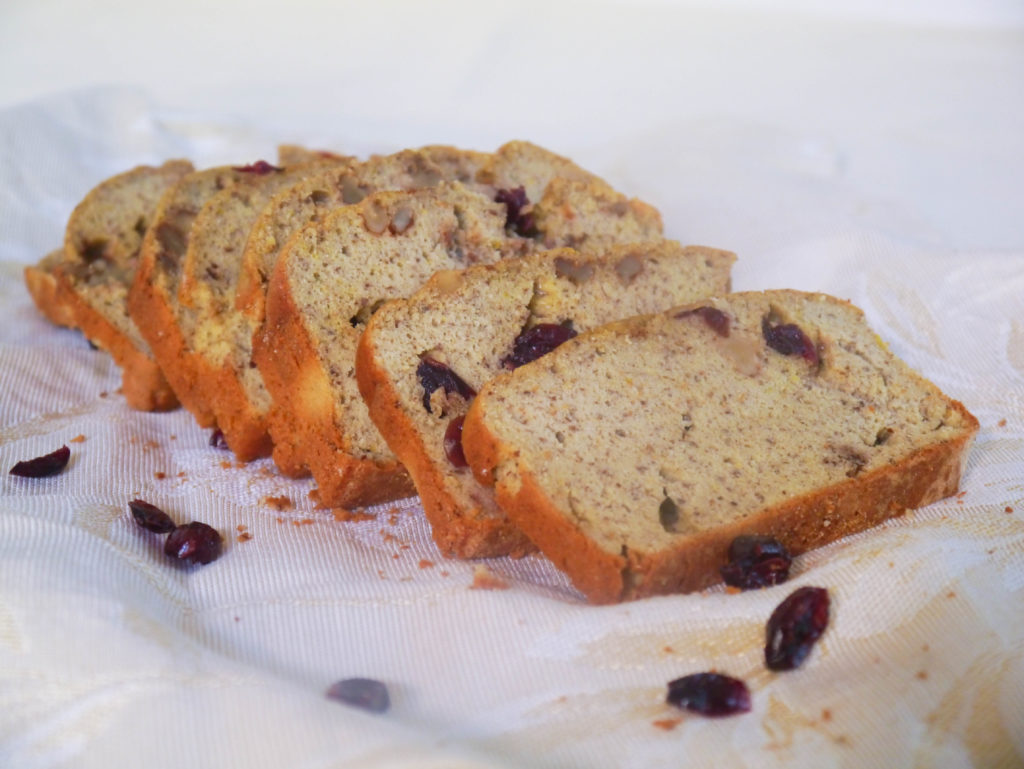 If you like raisin bread, zucchini bread, and (not overwhelming sweet) carrot cake or banana bread, you'll probably love this bread because it both deliciously moist and it's got a wholesome consistency. It's got enough sweetness to make it a breakfast "pastry", but it is not loaded with sugars.

Pumpkin Spice Cranberry Bread
Ingredients
1¾ cup almond flour
¼ cup flax meal
1 Tablespoon coconut flour
½ teaspoon baking soda
1 scoop Protein Powder
⅓ cup powdered Swerve (erythritol) sweetener
1-2 teaspoons pumpkin spice
5 eggs
¼ cup milk
¼ cup water
1 Tablespoon apple cider vinegar
1 teaspoon vanilla
⅓ cup dried cranberries
⅓ cup walnut pieces
Instructions
Lightly grease and flour bread pan.
Preheat oven to 350ºF.
In a food processor, combine almond flour, flax, coconut flour, baking soda, protein powder, spices and blend.
Add milk, water, vanilla and apple cider vinegar and continue to blend.
Pulse in eggs, one at a time until fully incorporated.
Bake for 25-30 minutes.
If center still runny, cover with foil and continue to heat for another 10 minutes.
Do not overbake
Notes
If you choose
PaleoPro
's Pumpkin Spice Protein Powder (their Aztec Vanilla Flavor would work as well), you won't need to much of the pumpkin spice*, unless of course you'd like it more spice-infused.
*if you don't have pumpkin spice and you are using a plain Protein powder, you can use a mixture of cinnamon, nutmeg and cloves or just cinnamon.
TIME SAVING TIP: I usually bake a loaf, cool and slice and wrap and freeze a good portion for those days when time seems just too short.
They defrost in just minutes (toaster oven) or about 30 seconds in the microwave.