I couldn't let this season go by without posting at least one pumpkin recipe. So I set out to bake a healthier version of pumpkin pie. And, boy did it come out good!! Can't wait to bake it again for Thanksgiving!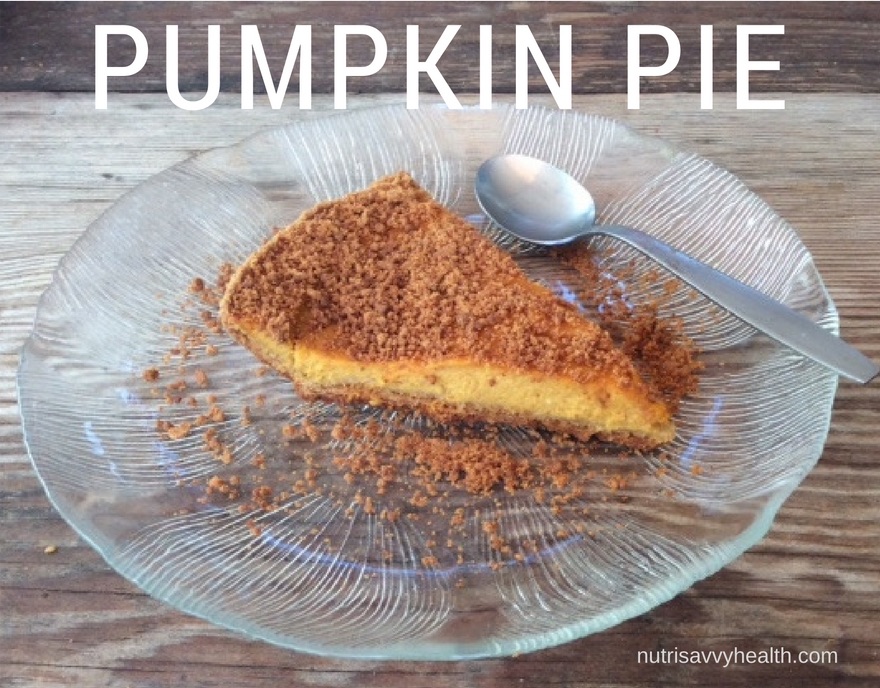 If you think about it, pumpkin pie is mainly pumpkin with is naturally good for you. It's got Beta-carotene for healthy skin and eyes, dietary fiber and even some vitamin C. So instead of drenching the goodness in refined sugars and high-fat milk or cream, I'm come up with a healthier version to share with you. I've replaced the sugar with date puree and included yogurt to replace most of the condensed milk.
Condensed milk is so very sweet and I actually like what it brings to the pumpkin in terms of creaminess and sweetness, but I wanted to significantly cut the amount and swap some of it with something that had more nutritional value, so I used yogurt. While I could've used plain or vanilla of any Greek yogurt brand, I thought I'd give Chobani's Tots's Bana Pumpkin Puree a try as I had a few pouches left my fridge. It just happened to be the right amount. And it already had some pumpkin flavor. Needless to say, it worked. So I've provided the recipe below.
But before I share my recipe, I wanted to give some LINK LOVE.
LINK LOVE
I love pumpkin pie! And this is certainly the season. All things pumpkin — carving jack-o-lanterns, roasting pumpkin seeds, pumpkin spiced beverages and various treats (and fun things) including these finds from my fellow health enthusiasts (many of which are registered dietitians like me).
🎃 Pumpkin Pie Playdough via Holly Granger @HollyGrangerNutrtion
🎃 Pumpkin Spiced Baked Oatmeal via Lauren Gibson @EatingwithaPurpose
🎃 Pumpkin Icecream via Kelly R. Jones @EatRealLiveWell
🎃 Pumpkin Hemp Granola Bars by Charlotte @TheBucketListTummy
🎃 Pumpkin Spice Latte by Nazima @NutritionbyNazima
🎃 Pumpkin Baked Oatmeal Cups by Kara Golis @ByteSizeNutrition
🎃 Mini Vegan Pumpkin Pies by Laura @JoyFoodSunshine
🎃 Mini Pumpkin Nut Butter Cups by Rebecca Miller @Twisted Nutrition
🎃 No-bake Pumpkin Cheesecake Mousse by Julie @RDeliciousKitchen
🎃 Healthy Pumpkin Bread with Chocolate Chunks by Elizabeth @ShawsSimpleSwaps
🎃 Salted Pumpkin Creme Brûlée by Jenny @MyCapeCodKitchen
---
So enjoy check out all these tasty pumpkin recipes while you relax and enjoy a slice of good ole pie!
No Sugar Added Pumpkin Pie
Wholesome Pumpkin Pie
Ingredients
8 cashews
8 dates + ½ cup water (date purée)
1 package Chobani Bana Pumpkin Purée
¼ cup almond milk
2 eggs
3-4Tbsp condensed milk (or cashew almond date puree* SEE NOTES)
Pumpkin pie spice
1 can pumpkin
Low fat graham cracker crust (or Gluten Free version)
Instructions
Preheat oven to 350ºF. Mix pumpkin, condensed milk*, eggs, almond milk and Chobani Bana Pumpkin Puree. Add date puree (8 dates + ½ cup water) to the mixture. Place all ingredients in high speed blender and add 8 cashews - pureeing until smooth. Pour into pre-baked crust and bake for 30-40 minutes, until pumpkin mixture sets.
Notes
*Cashew date almond puree:
In a high-speed blender combine 8 dates, ½ cup water and 18 cashews. Puree until smooth. Makes approximately ½ cup. (You only need 4 Tbsp or ¼ of it for this recipe).