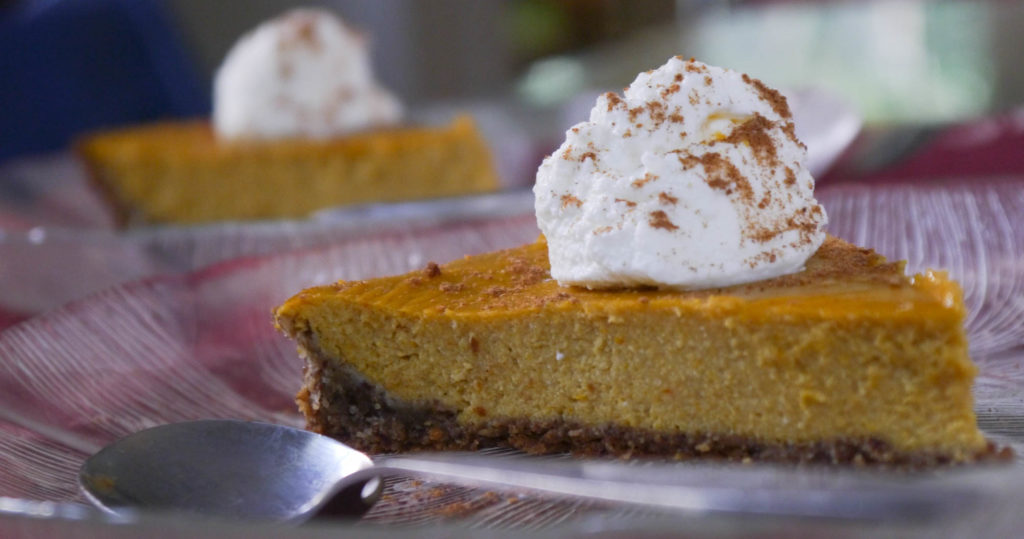 What is Healthy Holiday Eating? Its enjoying a heart-healthy balance with a side of indulgence. That means including plenty of vegetables! With Thanksgiving coming around, that sounds nearly impossible. My hubby calls it the "butter" holiday. And it's generally filled with more starch and sugar than vegetable. But you can make it happen! Read on for learn tips on staying healthy during the "holiday feast".
Treating yourself to cranberry sauce or a slice of pecan pie is not off-limits, so long as you keep it all in perspective. And enjoying your Grandma's famous Bourbon Sweet Potatoes is certainly okay, just keep small (and don't go for seconds). It's not about avoidance, but how you eat. And when you can choose a yummy treat with little to no added sugars, even better! Try a slice of this guilty-free Pumpkin Pie. It's creamy, full of flavor and satisfaction! It's got 11g protein and 4g fiber!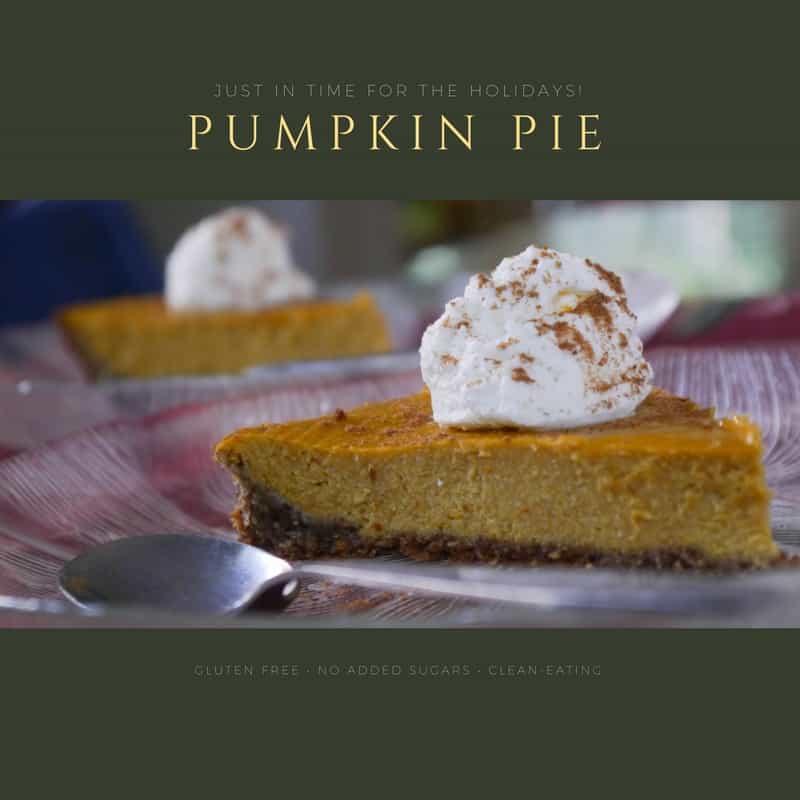 Here are some tips for Healthy Holiday plating:
VEGGIES FIRST! Build your plate with veggies first: 1/2 your plate should be full of veggie goodness and we are not talking about starchy white or sweet potatoes, but rather things like sautéed Kale, green beans, lightly glazed carrots.  Whether you are hosting or bringing a dish, then you have the option to bring in the veggies.
SENSIBLE PORTIONS. Portion out 1/2 cup serving of 1-2 of your favorite starches; and 4-6 oz of turkey with a little cranberry sauce or gravy.
SMALL BITES. Enjoy a thin slice of your favorite indulgence or just a couple luscious bites. Or split a serving of dessert if it's loaded (with sugars). If you keep it small and take the time to enjoy it, you won't be depriving yourself. Of course, if you choose an option like this guilt-free pumpkin pie, you can enjoy a whole slice for under 250 calories and get the benefit of 11g protein and 4g fiber.
And remember, even if you go a little more overboard than planned, just know that you can always get back on track. You can start fresh in the morning with plenty of hydration, a heart-healthy breakfast like this Blueberry-licious Smoothie Bowl and some exercise to set the pace for your healthy day. One indulgent meal shouldn't be the end of your healthy eating plan.

Pumpkin Pie for Your Healthy Holiday Table
Ingredients
½ cup pumpkin puree
½ cup Whole milk yogurt
¼ cup Ricotta
2 eggs
1 Scoop protein powder (I used Sweet Potato Recovery Powder by Paleo Pro)
1 Tablespoon Maple Syrup
2 teaspoons or to taste pumpkin pie spice
1 cup almond meal
¼ cup flax meal
1 Tablespoon coconut flour
2 Tablespoon butter
2 Tablespoons (or to consistency) water
2 Tablespoons Erythritol sweetener
Instructions
Preheat oven to 350ºF.
Lightly grease a pie tin.
Prepare the filling:
In a bowl whisk together pumpkin, yogurt, ricotta, eggs, maple syrup and protein powder.
Cover and set a side.
Prepare the crust:
In a food processor, combine almond meal, flax, coconut flour, erythritol sweetener and butter and process until well combined.
Add water 1 Tablespoon at a time until batter forms into a bowl.
Press crust mixture evenly into pie tin and bake for 15 minutes until slightly brown and crust-like, then cool.
Pour batter into crust and bake for about 30 minutes.
Nutrition Information
Serving size:
⅛ pie
Calories:
217
Fat:
15g
Carbohydrates:
12g
Sodium:
70mg
Fiber:
4g
Protein:
11g
Cholesterol:
64mg