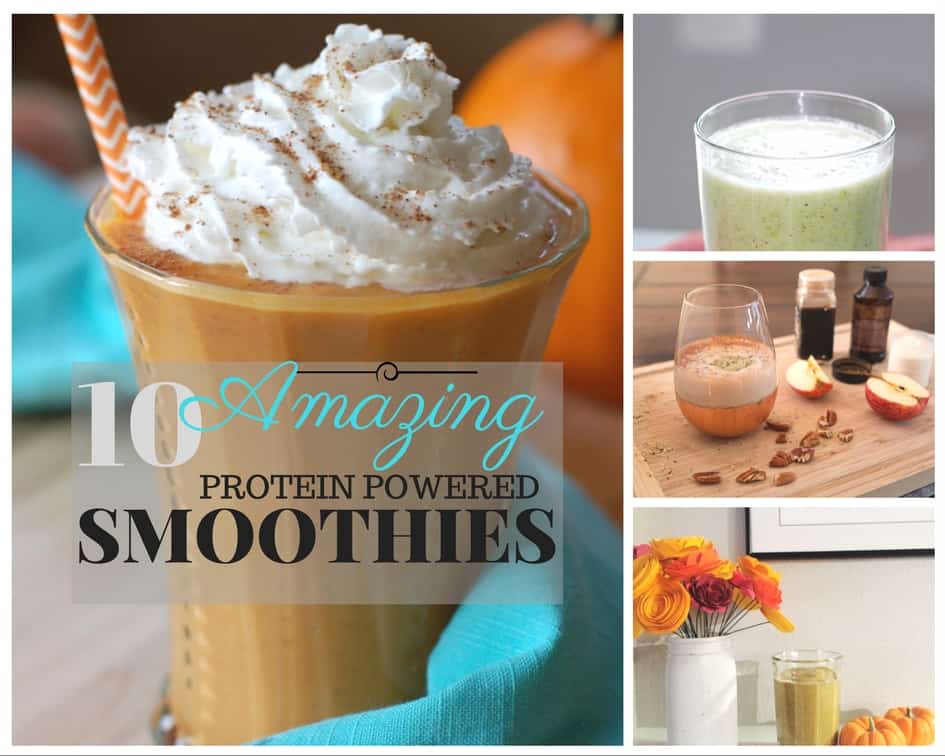 If you've ever needed a boost, you'll know just how good a well-balanced smoothie can be. Be it after your work-out, a morning energizer or a meal-replacement, its a good idea to include plenty of protein. Why? Because are body is comprised of proteins and this is needed not only for normal muscle/tissue wear-n-tear, but also to keep our blood sugars balanced and help to keep us plenty satisfied.
So with the help of my dietitian friends, I've rounded-up 10 Amazing Protein Powered Smoothies. Now to be completely honest, I've been puttering in the kitchen for this past few weeks, boosting the protein in my hubby's smoothies as he is post dental surgery and limited to smoothies for nutrition. Just a few weeks in, we've powered his smoothies using Greek yogurt, Whey Protein Powder, and blends with Chia and nuts/seeds. And we don't have to be shy on calories, in fact we need to be sure he doesn't lose weight. And while I've come up with some nutrient-dense goodies, including a serving of my Wild Blueberries Avocado Ginger-Beet Smoothie blended with Chobani Plain Whole Milk Greek Yogurt (for an additional 13g Protein), I thought I'd highlight the following because they've helped me keep it interesting and tasty.
Pumpkin Spice Smoothie
Let's start with this Pumpkin Spice Smoothie from Elizabeth Ward, MS, RD of Better is the New Perfect. If you're a pumpkin lover like me, you'll be glad to know this treat contains far less sugar than a fancy Starbuck's pumpkin latte, and at only 200 calories per serving, you can include a little whipped topping with no fear. Prepared as is (no protein powder added here), it's already got 8g protein, 4g fiber. "You can add in 3 Tbsp peanut protein boost that up to 16g protein and 6g fiber," says Ward.
Pumpkin Pie Protein Smoothie
If pumpkin is your game, you'll also love this Pumpkin Pie Protein Smoothie from One Hungry Bunny. This blend includes chia seeds, sunflower butter and a little protein powder to add to it's hi-pro boost. But even if you've got no protein powder, adding a Tbsp of nut butter or using soy or cow's milk will give it all the protein you need, according to registered dietitian Katie Pfeffer-Scanlan.
Apple Pie Protein Shake
Speaking of 'pie' and as we are deep into winter (well maybe more in spirit for us LA folk), this Apple Pie Protein Shake is one that is super easy, nutritious and a definite go-to breakfast option for registered dietitian Gabriella Vetere, owner of Macrobalanced. This one's got 36g protein!
Chocolate Peanut Butter Oatmeal Smoothie
Now this smoothie's got my favorite all-time combo: Chocolate + PB! But it's not just a treat — this Chocolate Peanut Butter Oatmeal Smoothie is loaded with heart healthy ingredients including  hemp seeds, rolled oats and banana. The peanut butter and vegan protein powder boost it's protein content, so you can be sure your enjoying a treat that won't spike your blood sugars. Thanks to The Foodie Dietitian, Kara Lydon for creating this amazing treat!
High Protein Vanilla Bean Smoothie
How can I mention Chocolate without Vanilla. They may be classic 'opposites', but you can't deny that they are both delicious! Amy Gorin Nutrition has got us covered with a protein-rich Vanilla drink. Got milk? – Well this certainly contributes to it's protein content, but I think the real star ingredient is the edamame. Who'd of thunk?! With 21g of protein and 9g fiber, you can't go wrong with this High Protein Vanilla Bean Smoothie.
Banana Pear Shamrock Smoothie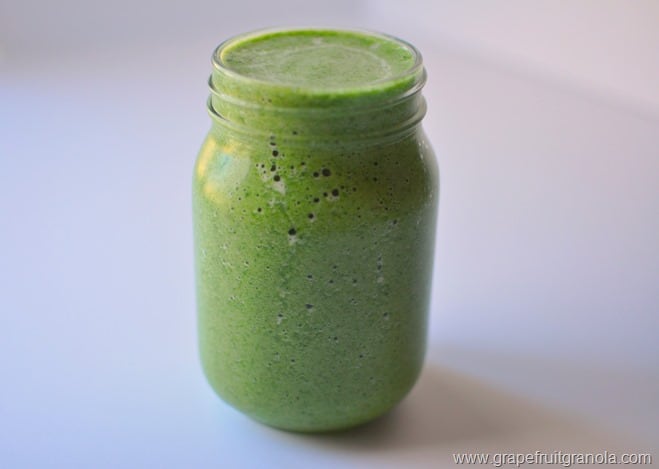 Now here's a lovely St. Paddy's Day treat. It's simple, green, (and lucky for us) it's got plenty of protein. This Banana Pear Shamrock Smoothie has only 4 ingredients. "(It) packs 18g of protein and 10g of fiber, which will fill you up and keep you satisfied as you get your morning going," says Sam Abbott, RD of G&G Nutrition Co.
Banana Berry Kale Smoothie
And speaking of bananas, this Banana Berry Kale Smoothie from Kelly's Knack for Cooking is another great hi-pro option. With two heaping teaspoons of nut butter (7g protein) + 2 Tbsp chia (4g protein), this beautiful, refreshing smoothie packs in over 10g protein.
Chai Pumpkin Protein Smoothie
Hop on over to Nutrition by Lauren for another delicious hi-pro pumpkin delight. With 30g protein, this Chai Pumpkin Protein Smoothie is tasty and nutritious. "I use Unsweetened Vanilla Almond Milk and Tazo Chai Tea Concentrate as my liquids because it adds a low calorie hint of vanilla and chai which taste delicious mixed with the pumpkin puree," says Lauren Marie Pendergast, RDN, "(It's) a delicious smoothie to keep my cravings at bay and fuel my body with vitamins minerals."
Cinnamon Milk
Alessa Dacey, RD brought over this tasty tonic from Nutrition Inside.  The Cinnamon Milk (shown here) is a simple blend of hot milk, cinnamon and a little honey. Milk, alone, is a good source of protein – about 8g per cup. No need for a blender for this one. But if you want to boost up it's protein content, I'd recommend blending it with a Tbsp of vanilla protein powder or up to 2 Tbsp cashews.
Tropical Smoothie Bowl
Smoothie bowls can be a delightful, healthy breakfast treat. And this Tropical Smoothie Bowl from Nutritionist Reviews is a perfect way to start your day. Amanda Hernandez, RD says that smoothie bowls can be filling enough for an entire meal and can be customized to your liking. That means you can add in as much protein as you want (be it protein powder, cow's milk…. or even some edamame). This smoothie bowl incorporates a tropical blend of pineapple, strawberries and mango and is topped with chia, coconut and a variety of antioxidant-rich fruit. Now that's a rainbow of nutrition!
And, speaking of Tropical…
Check out my Wild Blueberries with a Tropical 'Beet' smoothie. I love it as is. But my hubby who needs the extra protein enjoys this one blended with 4-5 oz of Chobani Greek yogurt (whole milk, plain) or Ricotta. It will turn this gorgeous royal purple hue to lavender (another beautiful color), but the addition makes it a super hi-pro option!