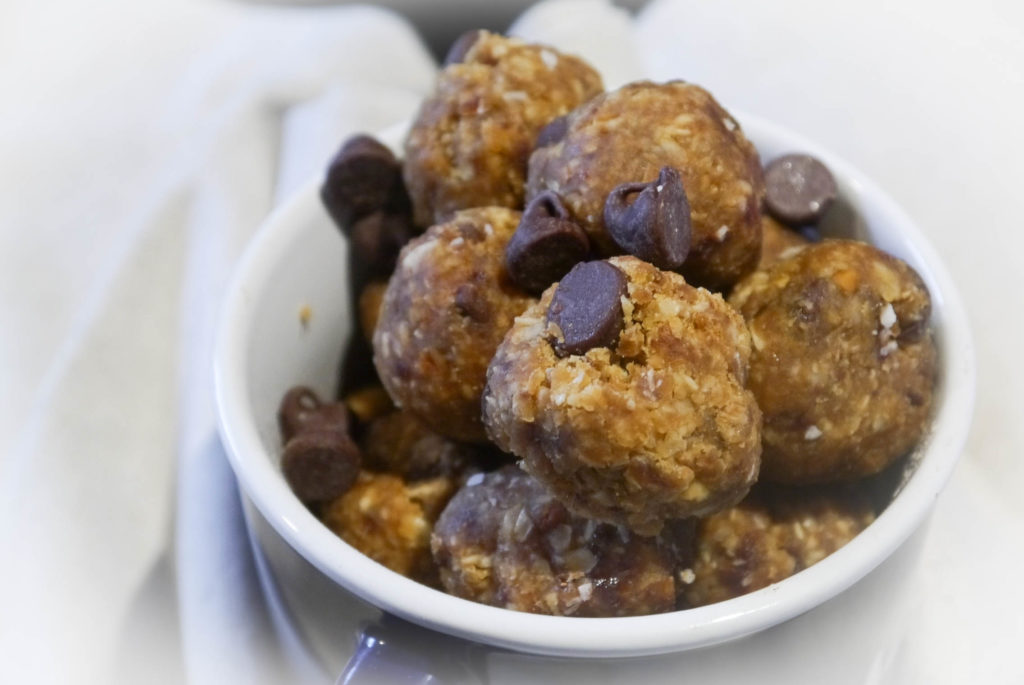 When it comes to making a simple snack that feels like a treat, I enjoy making my own energy bites. With simple ingredients I already have in my cupboard, I can come up with a variety of combos. I usually use an oat base, but I've found that a combo of almond meal and flax works quite well too. The later is good for those who don't eat oats or want to lower their carb content. Both can be Gluten Free (GF) so long as the oats are certified as GF.
Building Blocks for the Perfect Bite:
Start with a base. I usually go with 1 cup. Oats works well, but I've also used a combo of almond meal and flax. Or to add more protein into the mix, swap half the amount of your base for protein powder. I like to use PaleoPro Paleo Protein Powder*. (Their Mayan Mocha is my fave — it is perfect for the recipe below.)
Choose a nut butter.* I like to use peanut butter. For approximately every cup of my base, I'll use 1/4 the amount. So that's 1/4 cup. If you have allergies, try Sunflower seed butter, Coconut oil or even mashed Avocado.
Select a sweetener. Lately I've been experimenting with Swerve, a sugar-replacing Erythritol (sugar alcohol) sweetener. My base value would be about 1/4 cup. If I'm using fruit such as dates or prunes, I'll go with 6-8 pieces. For any other fruit like banana (mashed) or applesauce, I like the 1/4 cup measure.
Add your spices. I generally season with about 1/4 -1/2-1 tsp of each spice/flavoring (depending on the concentration) – for vanilla I like to stick with 1/2 tsp, for cocoa I'll use more: 1 tsp). I generally use 1 or 2, sometimes 3 spices in my mix. Some of my favorite spices for a treat include cinnamon, vanilla, orange extract or zest, cloves, nutmeg and ginger or if you love a mocha flavor you can add 1 tsp coffee grounds.
Choose your crunch factor. It can include any of the following: chopped walnuts, hemp seed, chocolate chips or cocoa nibs. Be creative!
Select your "dusting powder". I like unsweetened cocoa and cinnamon or even Swerve. You won't be using a lot, it's mostly to slightly enhance sweetness and create a pretty visual. But you can also use unsweetened finely shredded coconut for a nice contrast.
Chocolate Chip Peanut Butter Mocha Energy Bites
Ingredients
1 cup oats*
¼ cup peanut butter
¼ cup Swerve**
½ tsp vanilla extract
1 tsp unsweetened cocoa
1 tsp ground coffee (I like Peet's)
½ cup chocolate chips
3-4 Tbsp water (for desired consistency)
Instructions
In a food processor, combine oats, peanut butter, dates, cocoa and coffee.
Process until well combine.
Slowly add in water, 1 Tbsp at a time, until batter sticks together well and (balls up in machine - it will form one large ball of dough).
Remove dough (place in a bowl) and mix in chocolate chips.
Scoop or mold into 1 inch balls.
Notes
* You can substitute 1 cup oats for ¾ cup almond meal + 4 Tbsp flax -- this will bump it up to 76 calories per bite and add a little more fiber/protein but not significantly so. For me, it's all about variety and changing things up a bit (so long as I'm usually whole food ingredients such as these)

** You can replace Swerve for 8 small, pitted dates (that will add approx 160 calories; 9 additional calories per bite)
Nutrition Information
Serving size:
1 energy bite
Calories:
65
Fat:
4g
Carbohydrates:
11g
Sugar:
0g
Sodium:
10mg
Fiber:
2g
Protein:
2g
My favorite Simple Combo
I have developed various combos since my first recipe way back in 2014. But I generally stick to my favorite – peanut butter, date and chocolate chip (with some adjustments depending on what I have in stock). For my 5-ingredient Kid-Friendly Energy Bite Recipe I developed for KidsEatRight –> click here: Peanut Butter Chocolate Chip Date Cookies (These were originally intended as cookies, but because they have no egg, the batter was perfect for energy bites.)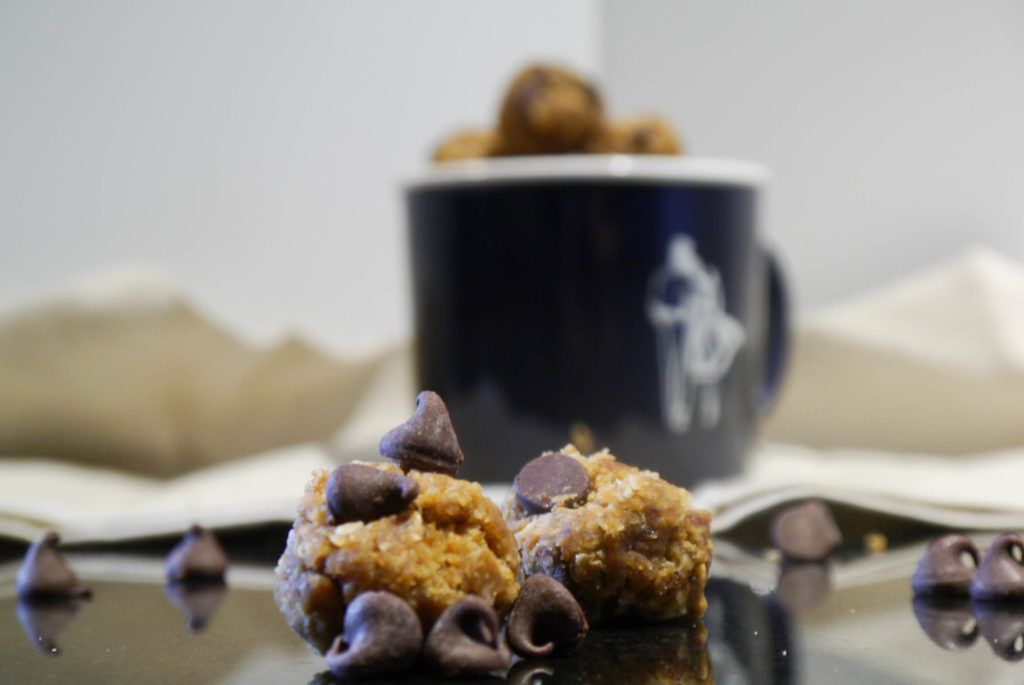 How do I serve it up? 1 or 2 bites is plenty for me. Two PB Chocolate Chip Mocha Energy Bites (130 calories, 4g protein, 4g fiber) + a cup of my hi-pro coffee "latte" = 1 scoop Collagen 11g protein (or my fave Protein Powder* ) + 1/2 cup almond milk + Peet's coffee made in a Mocha Pot. This gives me a total of 15g protein for a morning or mid-day boost!
*One of my Favorite Picks for adding in protein:
PaleoPro Paleo Protein Powder – Mayan Mocha: