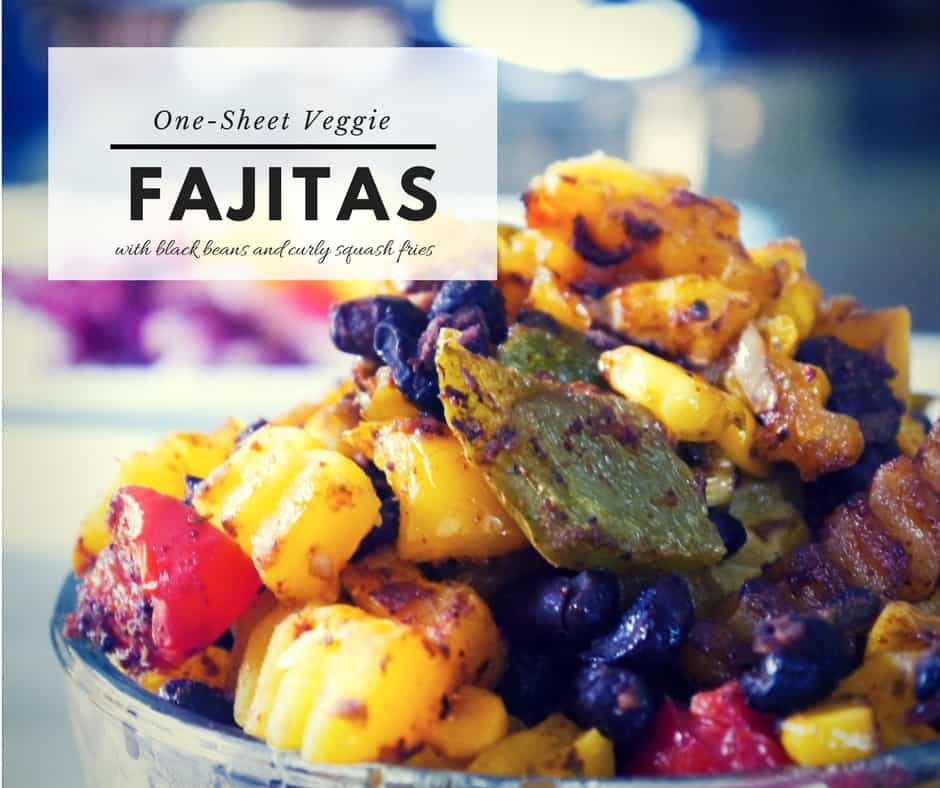 To be honest, I was a little caught off guard. My Recipe Redux Challenge was due today; and thank goodness the theme was One Sheet Pan meals!
I had these beautiful bright colorful bell peppers (red, yellow, green) and knew I'd build my meal around these veggies. And because I had used up all my meat/poultry/fish options earlier this week, I decided to go with black beans for the protein, something I always have in stock.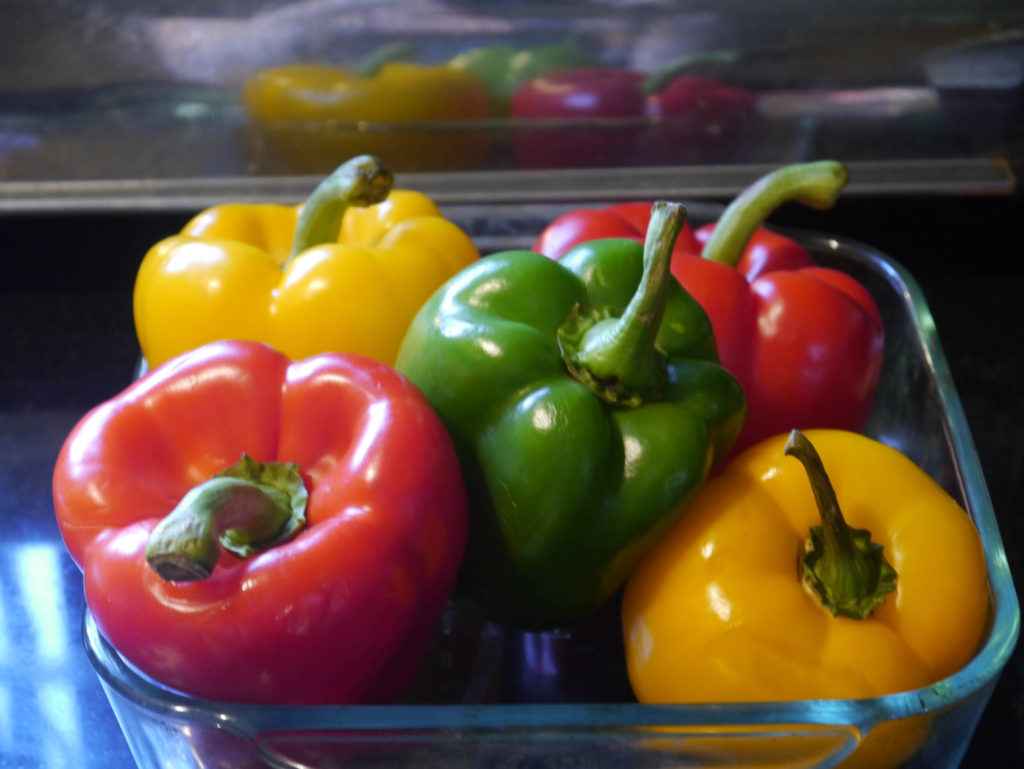 With plenty of other veggies to fill the try and aromatics (green onions, garlics), the only thing left would be my seasoning. Easy! I had already made a taco seasoning* which I used to season many a thing, including my eggs. So this whole One Sheet Pan meal was a no brainer and something I cooked up in no time at all. And with just one sheet pan lined with foil, clean up was easy.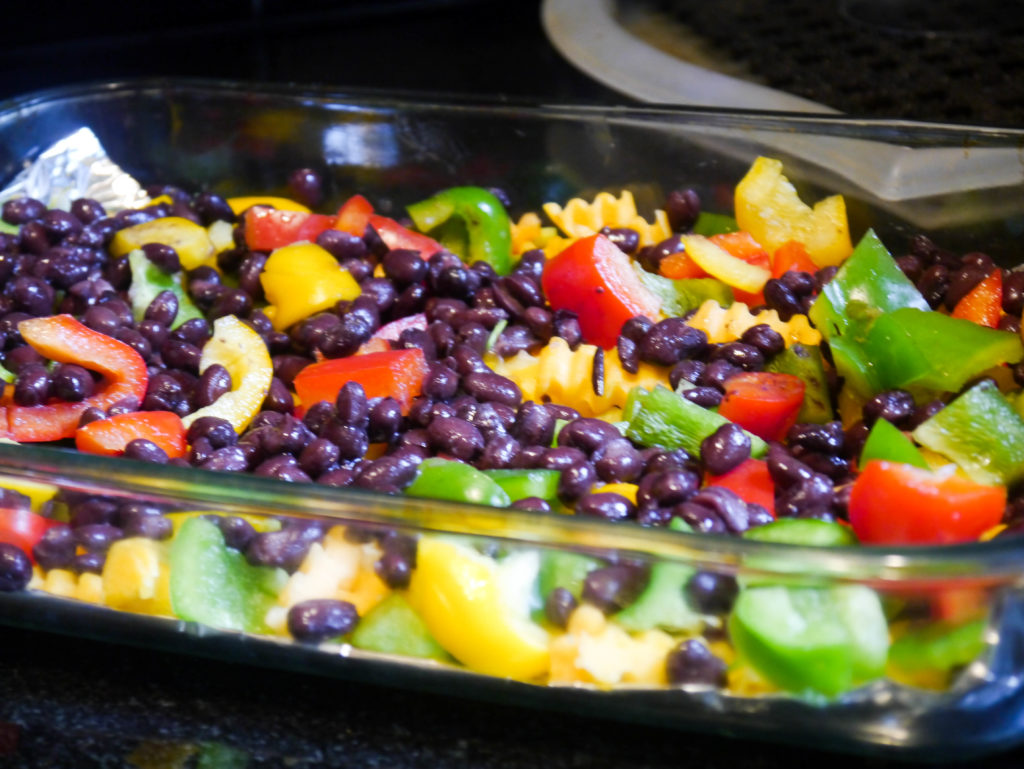 The recipe is below, but first here's a quick go-to guide for making your own *TACO SEASONING (of course you can always add a little more of one thing or another, but I've found this combo has a nice medium burn and just the right amount of sweet, salty, spicy, warmth to balance it off):
• 4 tablespoons chili powder
• 2 teaspoons cumin
• 1 teaspoon oregano
• 1 teaspoon garlic powder
• 1 teaspoon onion powder
• 1 tablespoon no calorie sweetener (I used Swerve made with Erythritol)
• 1/4 teaspoon sea salt
(Just mix it all up, seal in a jar, and store.)
Serve it up, and enjoy!
I enjoyed this Veggie Fajita today and it was a perfect Fall meal, especially with the squash (fries). I served it up with a dollop of Ricotta with a sprinkling of my zesty taco seasoning. It was warming, comforting and veggie-licious!! If I had avocado, I would've enjoyed with some fresh slices instead, but the Ricotta served me just fine.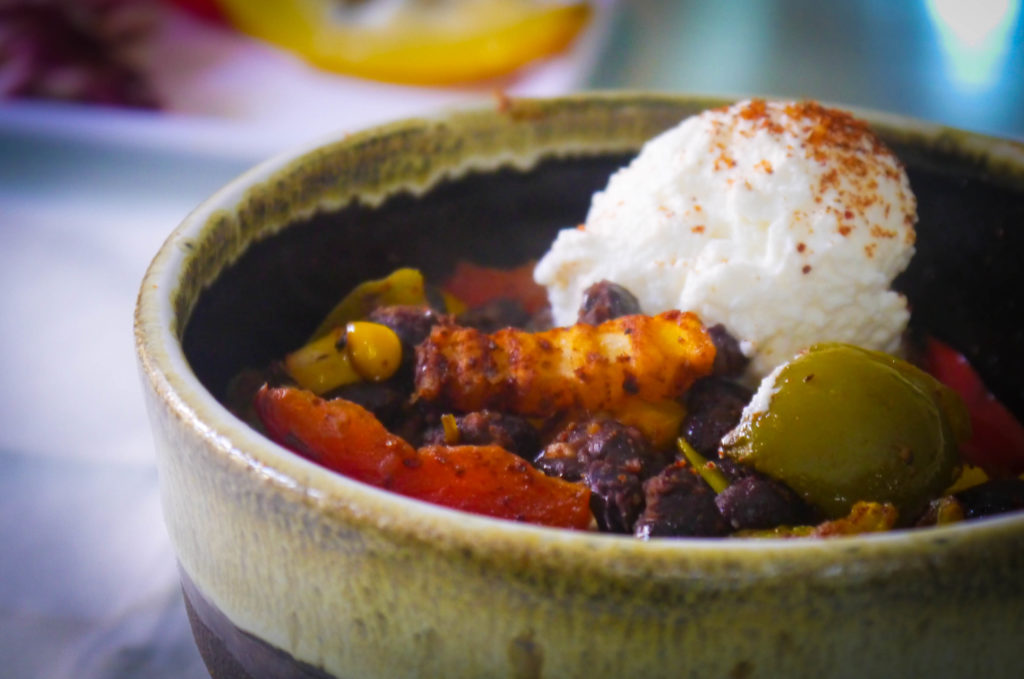 Here's My One Sheet  Pan Vegetarian Fajita Recipe. Enjoy!

One Sheet Veggie Fajita Meal
Ingredients
2 cups bell peppers, chopped (assorted colors)
2 cups butternut squash, chopped (I used zigzags)
1 can black beans, drained and rinsed
½ cup frozen corn, slightly thawed
3 medium garlic cloves, minced
2 tablespoons chopped green onion
3 tablespoons taco seasoning•
2 tablespoons olive oil
Instructions
Preheat oven to 425ºF.
Line a sheet pan with foil or baking parchment.
Spread a light layer of oil onto foil (or coat with cooking spray).
Add peppers, squash, black beans, corn, garlic, onion and seasoning to the pan.
Lightly toss.
Bake for 35-40 minutes, stirring half way through.
Note: I cover with foil for the last 10 minutes.
Notes
Here's how I make my own Taco Seasoning:
• 4 tablespoons chili powder
• 2 teaspoons cumin
• 1 teaspoon oregano
• 1 teaspoon garlic powder
• 1 teaspoon onion powder
• 1 tablespoon no calorie sweetener (I used Swerve made with Erythritol)
• ¼ teaspoon sea salt
(Just mix it all up, seal in a jar, and store)
Nutrition Information
Serving size:
¾ cup
Calories:
258
Fat:
8g
Sugar:
6g
Protein:
9g