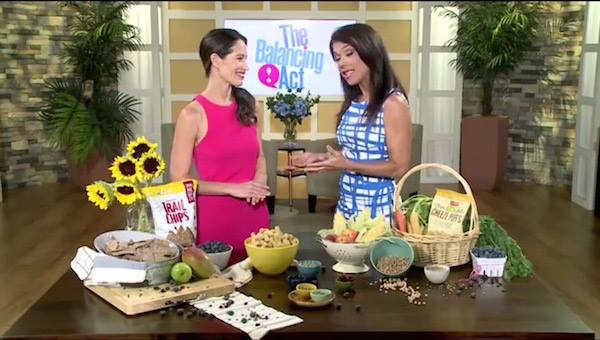 ---
TV / Radio
The Balancing Act – "Healthy Snacking" Segment – Paid Spokesperson for PureFoods, Inc. Snacks
MaYoga® MAMA TALK – "How to Get Healthy Food into our Bodies without Living in the Kitchen"
H2O for Health "Healthy Holiday Tips"
PureFoods Corp "Chicpea & Lentille" NEWS: Tips on Balanced Diet and Healthy Snacking (or view directly on youtube)
Published Articles / Recipes
WellSeek 5 Ways to Start Your Morning and Make it the Best Ever!
PaleoPro Delicious, Guilt-Free Pumpkin Pie (made with PaleoPro)
WellSeek 4 Ways to Manage Busy Schedules And Bonding Time Through Family Meals 
SouthPasadenan Regular Contributor — Health & Fitness and Recipe channels:
latest article:  Prevent the Holiday Diet Trap (and enjoy your food instead)
latest recipe: Rosemary-Infused Golden Crisp Latkes
WellSeek Get Ready for the Holidays with Savory Lentils and Cranberries
Zhou Nutrition You Eat Right, You Exercise, Yet Your Numbers Keep Rising… What Gives?!
Food & Nutrition Magazine Rainbow Ramen with Chili-Garlic Citrus Broth
Food & Nutrition Magazine Fruit & Vegetable Desserts…No-Sugar-Added Harvest Fruit Pie
Food & Nutrition Magazine Recipe Round-Up Recipe Developer
AZCentral Spices that are Good for Digestion
Chron Nutrition Healthy Lunches to Take to Work to Lose Weight
The Nest How to Cook for Healthy Healing
SF Gate Healthy Fruits for Skin Care
Livestrong Beta Carotene & Healthy Skin
Diets In Review 4 Sure Fire Weight Loss Strategies to Keep You Satisfied
Diets In Review  BHA May Be Lurking in your Cereal, But is it Safe?
Food & Nutrition Magazine Stone Soup Blogger: Cherries One of Nature's Perfect Treats 
---
Quotes & Mentions
A Guide to Decoding Whole Grains – Aaptiv
Success on TD's Fourth Annual Spring Symposium – TodaysDietitian.com
4 Sugar Detox Recipes to Help You Recover from Your Cookie Coma – Birdie.com
The Diet Mistake You're Probably Making – Byrdie.com
8 Sneaky Reasons Your Can't Stop Eating – Byrdie.com
Do Superfood Powders Make You Super Human – Byrdie.com
The 5 Supplements Nutritionists Would Buy on Amazon – Byrdie.com
Trainers Say This May Be the #1 Worst Diet Mistake – Byrdie.com
8 Habits Healthy Eaters Have in Common – Do you? – Byrdie.com
Why Going on a Juice Cleanse is Actually the Worst Idea Ever – Byrdie.com
7 Things that Happen to Your Body When You Stop Eating Sugar – Byrdie.com
Nutritionists Agree: These are the Best (and Worst) Foods for Weight Loss – Byrdie.com
Nutritionists Agree: This is the Healthiest Holiday Drink at Starbucks – Byrdie.com
Starbuck's Healthiest Holiday Drink – teenVOGUE
10 Things Nutritionists Eat (That You Don't!) – Byrdie.com
You Just Gained 5 Pounds – Here's Why You Shouldn't Freak Out – Byrdie.com
Year of Pulses: 10 Protein-Rich Recipes (Quinoa Corn & Red Bean Salad) – RadioMD
8 Things That Are Secretly Making You Hungry – Byrdie.com
Eight High Protein Dinners You Can Make After the Gym – Men's Fitness
What's in a Dietitian's Fridge? — Trish & Lauren edition – Calio!
Add These 3 Smoothies to Your Beauty Routine – Makeup.com
Make a Healthy Breakfast for Your Busy Family  – Care.com
Bon Appétit: How to Feed Your Baby Right — RashtiandRashti Baby & Child
Shape Magazine
10 Herbs and Spices Your Kitchen Needs – Ginger: Wild Blueberry Avocado Ginger Beet Smoothie
Nutrition Experts' Favorite Brown-Bag Lunches
20 Nutrition Experts' Favorite 5-Minute Meals
10 Low Calorie Halloween Treats
When More Calories is Better – slide 8
12 Brunch Orders Worse than a Steak Dinner Slides: 11, 12
Top 50 Fall Diet Foods for Weight Loss Slides: Broccoli Raabe, Oat Bran
Top 50 Summer Diet Foods Slides: 11 (peaches), 24 (arctic char)
Top 50 Diet Foods for Weight Loss Slide 4
Redbook & Fitness
Shockingly Healthy Appetizers That Dietitian's Love – Fitness Magazine, Slide 3
25 Snacks – Only 150 Calories (or Less!) Slides 5 – 19
The Best and Worst Foods to Include for Your Wedding Day
4 Genius Ways to Enjoy One of the Healthiest Foods
Burn Off Those Holiday Splurges
Where Women Cook Magazine
iVillage Health
Which is Worse? Showdown in the Frozen Food Aisle
100 Sweet Treats Under 200 Calories!  Intro. and Slides 15, 29, 51, 72, 77-79, 84, 87, 98, 99
100 Healthy Snacks Under 200 Calories  Slide 48: Snack at Home: Yogurt Parfait
Fox Latino News
Six Foods You Should Be Eating
The Latest American Diet Traps
abc News
Livestrong
23 Healthy Salads Nutrition Experts Eat
The Right Foods at the Right Time
Huffington Post
9 Low-Calorie Mistakes You're Probably Making
Better for You, Health Magazine & Times Union
Why Weight Loss Supplements Don't Work
Woman Loses 80 Pounds on All Starbuck's Diet
Always New You
Menopause Diet: Salmon over greens with lemon garlic dressing
Tiny Green Mom, Multiples & More, Attune Foods and Raise Healthy Eaters
Featured Recipe: Raw Kale Salad with Lemon Tamari Dressing
Listen and Breathe – tips beyond the mat  — Attune Foods
Picky Eating (Part 5): 15 Sure-Fire Ways to Get your Kids to Eat Healthy
Kids Eat Right
Poor Baby's Got a Cold (May 2011)
Peanut Butter Chocolate Chip Date Cookies (eatright.org)
Parenting, Everyday Health, Fit Sugar & Fitbie
Breast Milk Becoming a Popular Post Workout Bev – Gag!
3 Ways to Get Your Kids Eating Healthy
Avoiding Diet Temptations When You're Trying to Lose Weight
Craving Sweets and Healthy Dessert Options.
Help! I'm trying to lose weight, but I'm hungry all the time