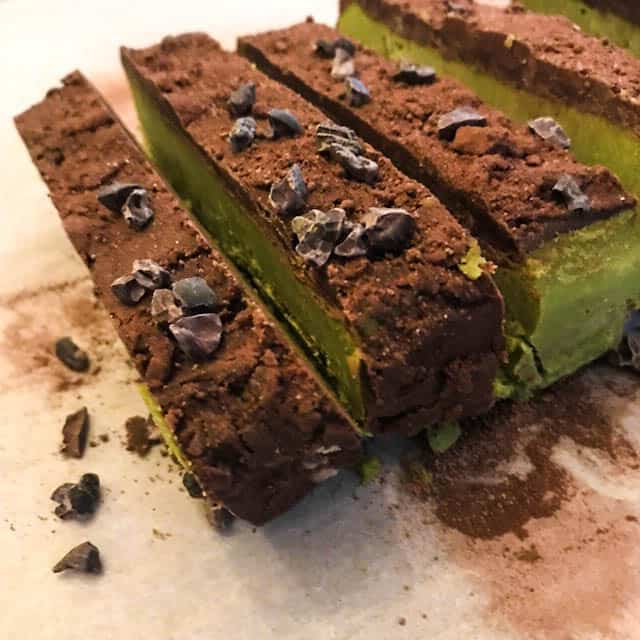 When it comes to making a vegan treat, I defer to the experts (or those who've had more experience than I). While I can come up with a simple energy bite, vegan is a little more complicated for me since I'm used to using eggs and/or dairy in my dishes. So I decided to make a treat from OhSheGlows, and it came out delightful. [Disclaimer: Although I collaborate with PaleoPro — and enjoy doing so, this was not a sponsored post.]
Peppermint Patty Slices adapted from OhSheGlows
I love this treat because it is wholesome, tasty, and packed with leafy greens (i.e. spinach), although you'd never guess! And the simple recipe came out great on my first trial! Go to OhSheGlows for the recipe. These Vegan Peppermint Patty Slices have only one slight adjustment. I didn't have any Peppermint Extract so I substituted that for a few fresh mint leaves (5-6) and about 1/8 cup chopped fennel bulb because to me they both exude a refreshing flavor that would go well with the chocolate and definitely a minty appeal which I figured would work well in this treat.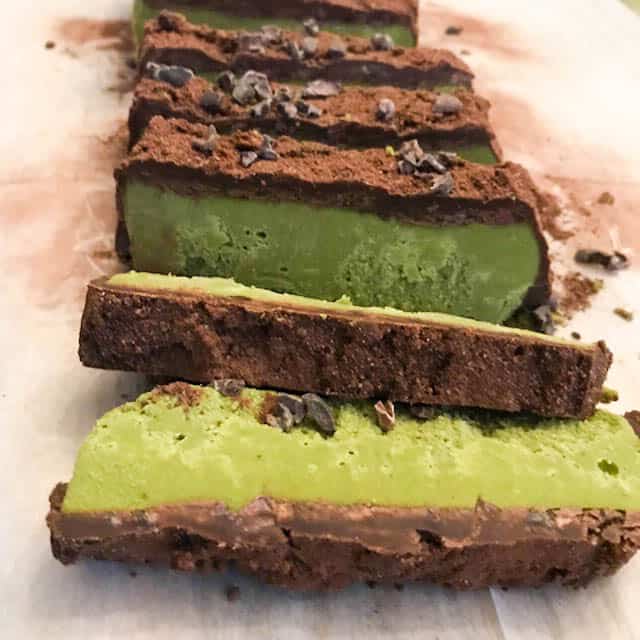 A Perfect Treat to Make with Your Kids! A Vegan Treat for the Win!
I wanted to make sure this vegan treat was a no-fuss, less mess, ordeal. If you have kids, you know baking can become a sticky situation if your not careful.  I lined the table with a wet-wicking table cloth (translation: you can wipe up spills easily with just a bit of water or a spritz of cleaning spray), and kept the ingredients measured on a tray for my girls to combine. This is one of my 5 TIPS FOR BAKING WITH KIDS. Because this recipe works well with a high-speed, well-sealing blender, it was a perfect choice to make with my girls. And, BONUS, the Spinach broke down so well, you can't even detect any bits of those greens, but I know it's goodness is in there (that's all that counts).
Here my girls are assembling the recipe. It could very well have been a sticky situation because there's cashew butter involved, and as you will see in the pic at the bottom of this post, it got stuck to the sides of the blender. But thanks my Vitamix, high-speed blender (a great gift option BTW), it resolved in the blending process with a smooth as silk, well-blended "batter".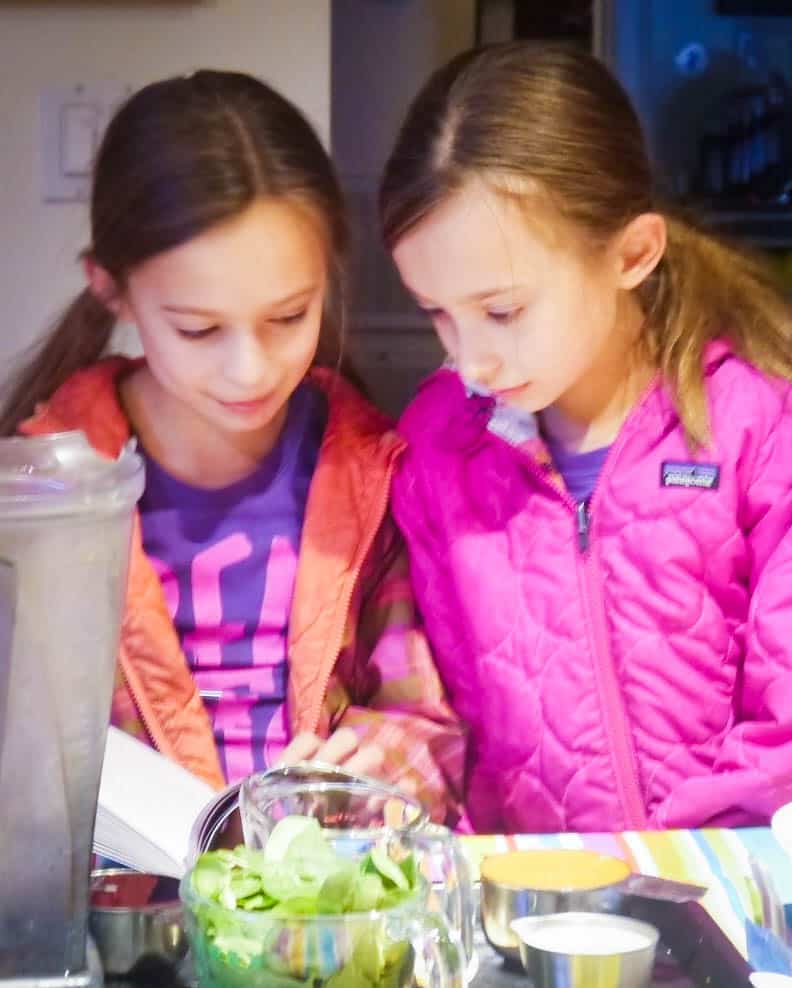 As you can see there is plenty of Spinach and it's creaminess is achieved with coconut cream for a smooth as silk batter, turned into a rich, velvety frozen treat. I was so delighted with the result, the flavors and the mouth-feel, I thought the ingredients used in this lovely treat would be incredible for a holiday-inspired smoothie (see recipe at bottom of this post).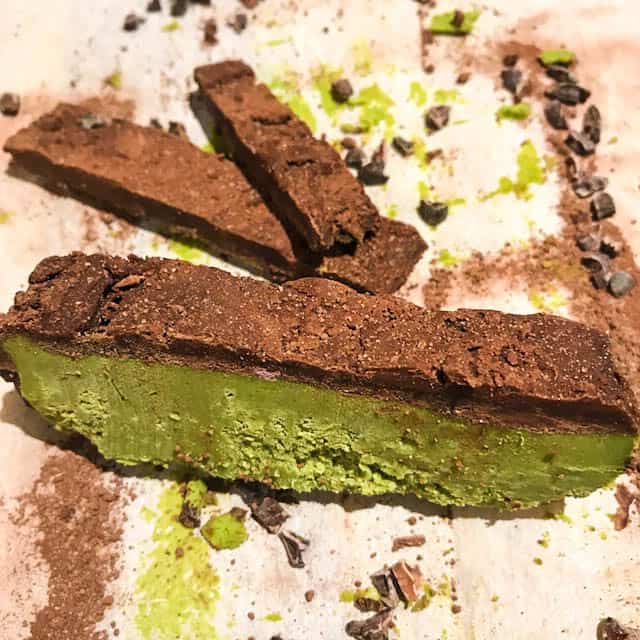 'Mint-n-Chip Meets Eggnog' Holiday Smoothie — It's Divine!
Now for the EXTRA BONUS inspired by the OhSheGlows 'Vegan Peppermint Patty Slices' Recipe, holiday smoothie mash-up!
Because I really loved the creaminess and flavor profile of this frozen treat but wanted to make something that didn't take 4 hours to set in the freezer (even though it's well worth the wait), I thought a smoothie was in order for my morning repast. And to be honest, I was also hankering to use my Egg Nog PaleoPro Protein Powder because it's full of protein with a holiday flavor I can't pass up this time of year.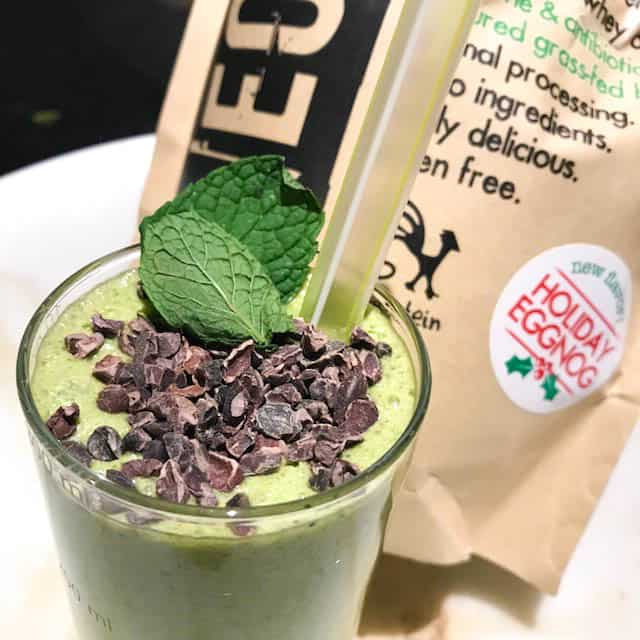 Eggnog meets Mint-n-Chip Holiday Smoothie
Ingredients
1 Tbsp Cashew Butter
2 tsp maple syrup
2 tsp coconut cream
1 scoop PaleoPro protein powder Egg Nog Flavor*
1½ cups almond milk
2 fresh mint leaves
1 inch fennel bulb, chopped
2-3 tsp cocoa nibs
1 handful fresh baby spinach
Instructions
Whip up all the ingredients in a high speed blender until creamy and smooth.
Option: omit cocoa nibs from mixture and use as a topping instead. Or build a smoothie bowl, using unsweetened coconut, chopped cashews and cocoa nibs for topping.
Notes
*Although the title of this recipe suggests Egg Nog flavor, you can always use PaleoPro Vanilla flavored Protein Powder, it's just as good! Because the Egg Nog flavor may only be seasonal. And this recipe is a winner for any time of the year!
Fun to Make and Yummy, Too!
So yes, this one's a treat for the books (a keeper!). And a treat you can definitely make with your kids — fuss-free/less mess, and all smiles (before, during and after). : ) And it's worth the wait – takes 4-5 hours in the freezer for the creamy filling to set (an icecream-like treat).