When I want a quick snack, and one that can satisfy a sweet tooth, I generally gravitate toward an energy bite (or two). I can make them quickly and I know there is nutritional value, despite it's delectable sweetness.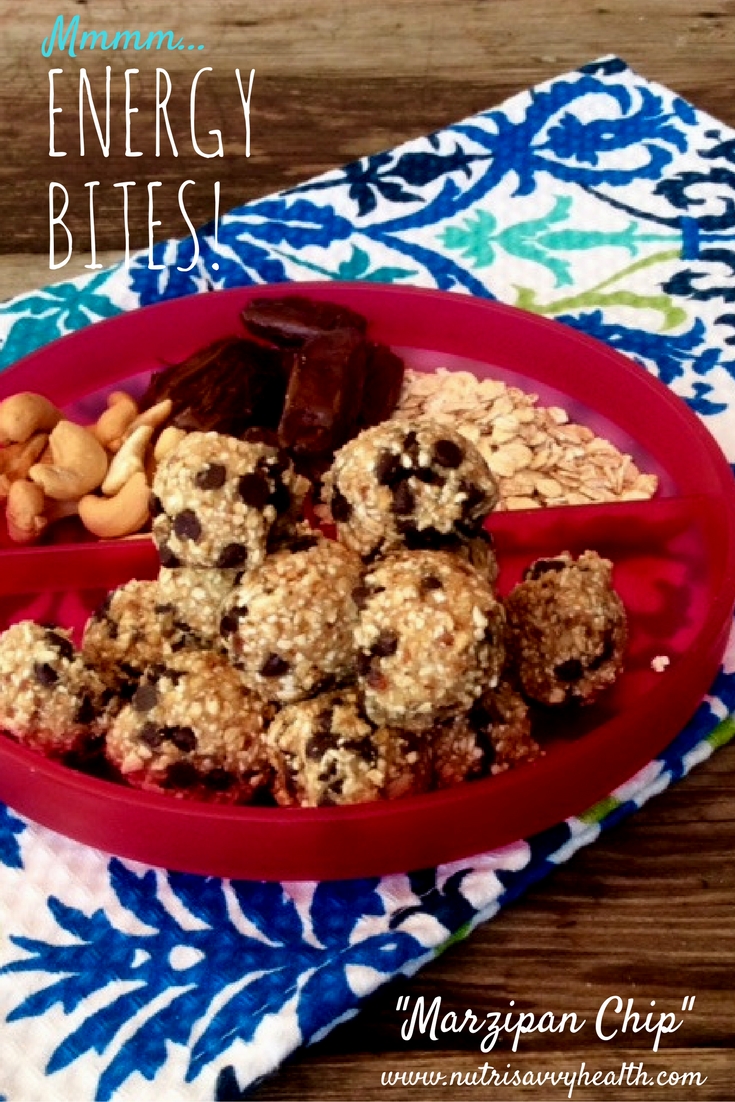 Marzipan Energy Bites
This treat's Marzipan flavor was actually a happy accident, because instead of adding vanilla, I drizzled a half tsp of Almond extract. With the sweetness of the dates and cashews and the almond flavor of the extract, it actually tasted like Marzipan, hence my name for this energy bite treat.
And the recipe is so simple. Just 5 ingredients — cashews, dates (no refined sugars), oats, almond extract and, of course, chocolate chips. I like to use Enjoy Life brand because they are gluten-free and allergy friendly (no dairy, no nuts, no soy). Cashews provide some healthy fat, oats add in dietary fiber and B vitamins, dates provide fiber and potassium — and, well, chocolate chips always add in some good ole choco-heaven. Because these are mini chips, I can use less and distribute them well to carry out the flavor throughout so you get plenty of chocolate taste in every bite.

Marzipan Energy Bites
Recipe type:
Dessert or Snack
Ingredients
2 oz Cashews (approx. 34)
6 small, seedless dates
¾ cups oats, raw, GF
⅓ - ½ cup mini chocolate chips
½ tsp Almond extract
Instructions
In a food processor combine cashews, dates, oats and almond extract.
Blend well.
Add in water, 1 Tbsp at a time, until mixture starts to come together (it will ball up).
Remove from processor and mix into a bowl with chocolate chips - incorporating them well into the mixture.
Using a mini scoop, scoop out individual "bites" and place in tupperware.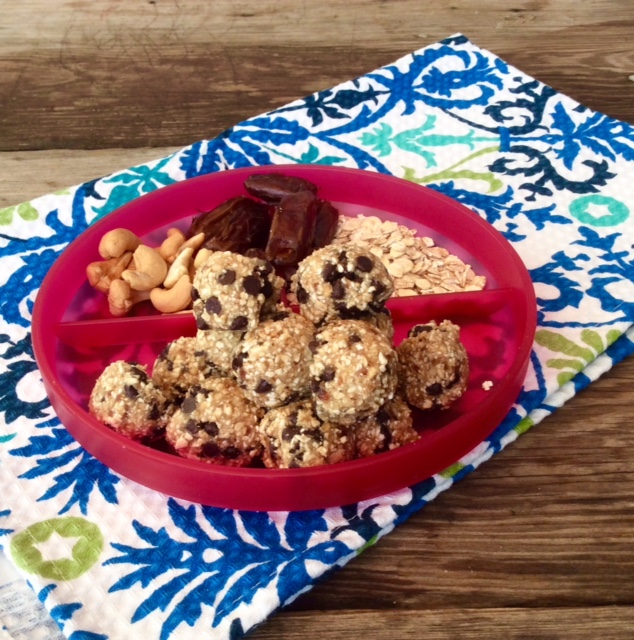 I just love mixing it up for a variety of energy bite treats. Often it depends what I have on hand in my kitchen. If you haven't tried these, my Peanut Butter Date Chocolate Chip bites are a mouthful of yum, too! Check out this recipe I developed for Kids Eat Right here.