I'm happy to share my latest Recipe Redux challenge — create a colorful plant-based protein bowl. Well the first thing that came to mind was quinoa because not only is quinoa a whole grain (a good source of fiber and B vitamins), it's also got plenty of protein which is a very good option for vegans and those who are cutting back on red meats and animal products.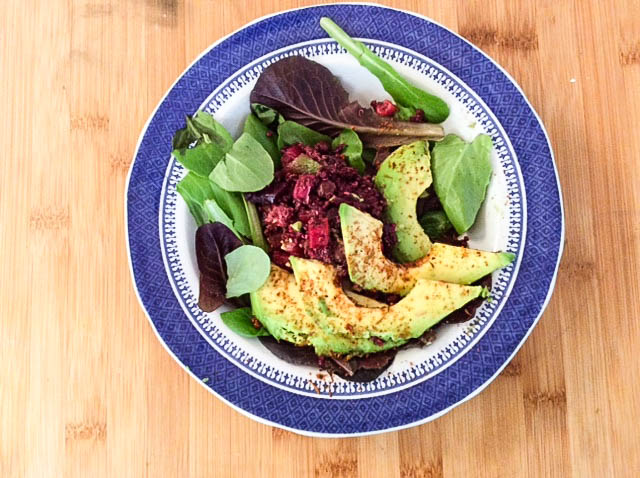 I chose organic red quinoa, but realized adding the beets makes everything red anyway. It was easy to add a nice contrast with the leafy greens and beautifully ripe avocado. A dust of cayenne seasoning blend — and voila! — I'd prepared a colorful protein & fiber packed bowl!
Simple, colorful and tasty! Here's my quinoa beet protein bowl close up. See how you can see the quinoa popped. When the quinoa grains absorb enough water, they "sprout" and you can see this yellow ring appear around each grain. That "sprouting" has always fascinated me since many of the grains I grew up with (namely a wide variety of rices and buckwheat) do not have this quality. Nor do they have nearly as much protein as quinoa.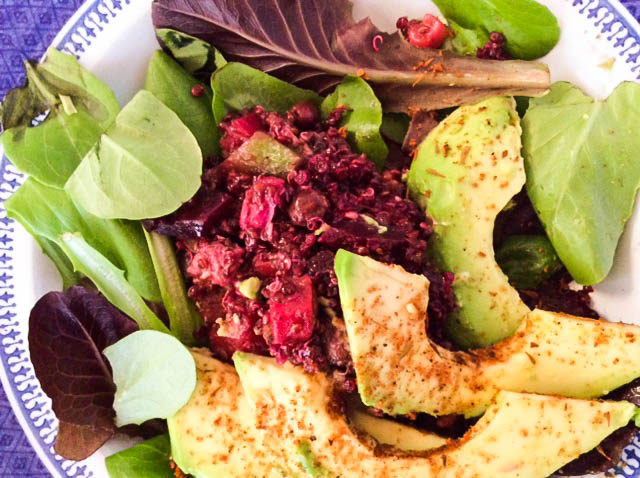 This protein bowl has simple, whole food ingredients, including the juice and zest of a lemon, quinoa, roasted beets and believe it or not, dates (I blended a date puree with 8 dates and a half cup of water) to add a bit of sweetness (but not too much). And I added slices of creamy avocado with a blend of garlic, salt, cayenne and thyme seasoning to give it a little kick. (Yes, I cheated with Santa Paula's Chef's Essence which has 110 mg of  sodium per 1/4 tsp. Although one can use a pinch of each: garlic powder + cayenne + thyme + seasalt). Served over a bed of leafy greens, this salad packs in protein, fiber, healthy fats and antioxidant nutrients.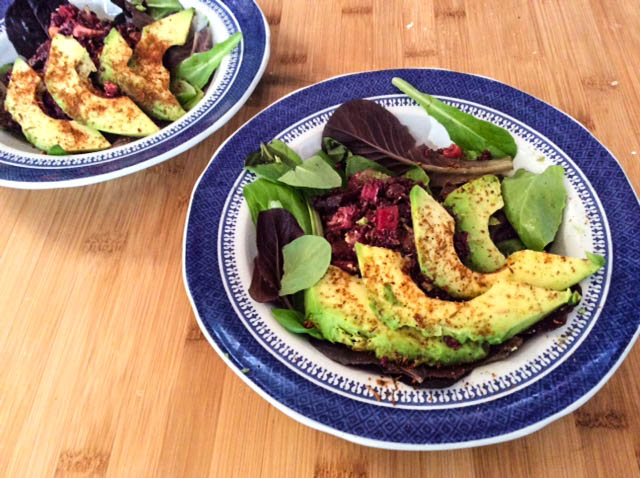 A Colorful Quinoa Protein Bowl
Lemony Quinoa with Beets
Ingredients
1 cup dried red quinoa
4 small beets, roasted, cooled and chopped
1 Tablespoon lemon juice
1 tsp lemon zest
4 dates
¼ cup water
1 large avocado
1 cup leafy greens
Seasoning blend: garlic, cayenne, salt, thyme
Instructions
Cook quinoa and cool. Set aside
Add lemon juice and lemon zest
In a high-speed blender, puree 8 small, pitted dates with ½ cup water (use half the mixture* and save the rest)
Mix in ¼ cup date puree*.
Mix in beets.
Serve over a bed of leafy greens and sliced avocado.
Season avocado with garlic, cayenne, salt & thyme seasoning blend.
ENJOY!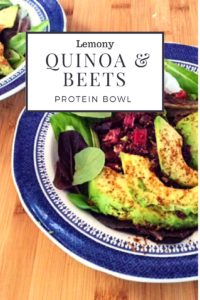 So that's my plant-powered protein bowl. Check out these dishes from my Recipe Redux friends: