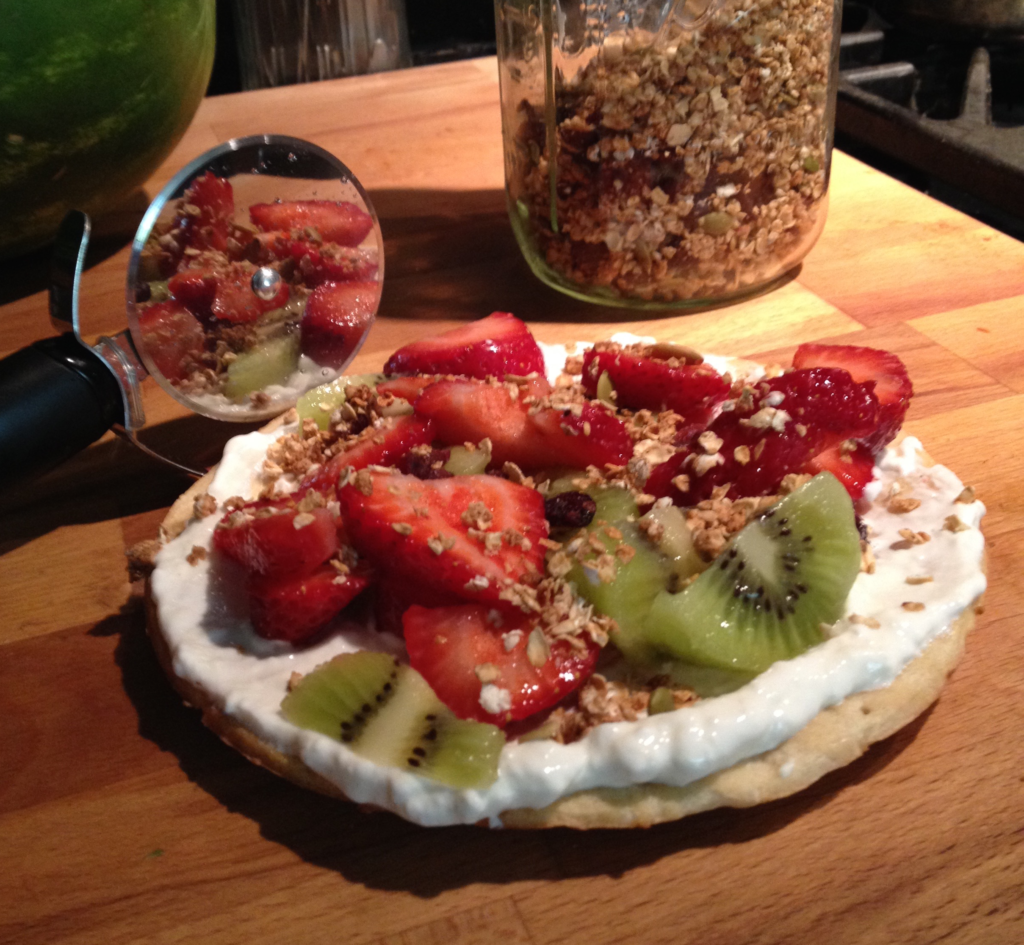 I received free samples of Toufayan Pita mentioned in this post. By posting this recipe I am entering a recipe contest sponsored by Toufayan Bakeries and am eligible to win prizes associated with the contest. I was not compensated for my time.
Who says you can't enjoy a "pizza" for dessert? Or why not enjoy a dessert-worthy pizza if it's made with nutritious, wholesome ingredients. This pita-based treat is topped with the goodness of cottage cheese, Labne kefir cheese, fresh fruit, and (a nutrient-dense) granola. And it's so versatile. Simply vary up your fruit combo. In the the Summer or Spring, you may enjoy this Strawberry and Kiwi fruit combo. In the Fall, it may be more of a Peaches & Cream Wild Blueberry Dream. Both recipes are below, however I've entered the Peaches & Cream variation in the contest. And if you've got frozen fruit or canned in light syrup, you can enjoy any combo — all year long.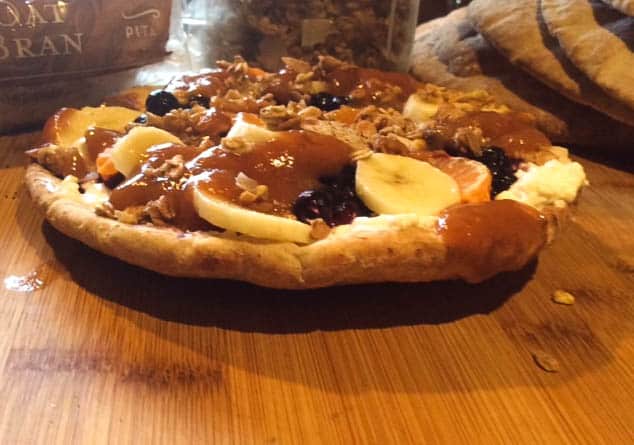 Toufayan Pita makes a Perfect "Pizza" Base
What makes this pizza real special is that it's made on Toufayan Pita. Toufayan is a family-owned business. It's pitas are made in the USA with wholesome ingredients, 0g Trans fats and plenty of fiber. These oat bran pitas have 4g grams fiber per serving. What is even better is that you can choose the variety – from Whole Grain to Garlic and plenty in between. I choose these Oat Bran ones for my fruit-filled pita parfaits because they are topped with granola and granola is made of oats (and oats have a sweetness). I found it a perfect culinary match. But it would have worked well on the Whole Grain or the Low Carb varieties as well. Because it's just thick enough and doesn't fall apart easily, this pita holds up the parfait filling (dense with thick "cream" and chunks of fresh fruit) very well. So well you could basically call it an open-faced Sandwich (or call it a pizza, if you prefer).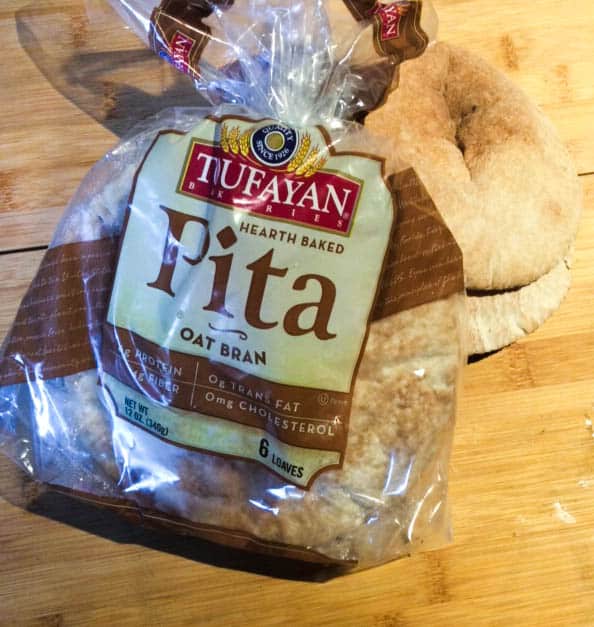 So for a special treat today, I used bananas, cuties, frozen wild blueberries, and homemade peach puree. I topped it with my ghee inspired granola (only used a little bit of ghee because  a little goes a long way and the flavor is wonderfully intense). Here it is below, recipe follows.
"Peaches & Cream Wild Blueberry Dream" Pizza Parfait
"Peaches & Cream Wild Blueberry Dream" Pizza Parfait (Serves 2):
Peaches & Cream Wild Blueberry Dream
Recipe type:
Fruit Parfait on a Pita (aka Dessert Pizza)
Ingredients
1 oat bran Toufayan pita
½ cup low fat cottage cheese
2 Tbsp Labne kefir cheese
½ medium banana, sliced
1 small mandarin orange
¾ cup frozen wild blueberries
1 ripe peach, pealed, sliced
2 dates
2 Tbsp granola*
Instructions
In a small high speed blender or Nutri-Bullet puree cottage cheese with Labne until dense and creamy.
Place in small bowl and set aside.
Wash blender and use to puree peach slices and dates.
Place in small dish and set aside.
On pita, thickly spread cottage cheese/Labne cream evenly.
Top with banana slices, cutie wedges and blueberries.
Drizzle on peach/date puree.
Top with granola.
Notes
*I prefer a granola that uses heart-healthy fats, has zero or minimal refined sugars and includes plenty of nutrient-dense ingredients such as oats, chia, flax, nuts (vs excess refined sugars). There are plenty of low fat or lower in sugar brands available, but I prefer to make mine homemade.
So enjoy this recipe or vary it up with your favorite combo of fruit. You can't go wrong when you've got plenty of whole grain goodness, dietary fiber, calcium, protein and antioxidants. The pizza below is clearly and deliciously Strawberries and Kiwi with the same Toufuyan pita base, cottage cheese/Labne spread and homemade granola topping. It's delish!
Strawberries & Kiwi Pizza Parfait

Strawberry Kiwi Dessert Pita Recipe (Serves 2):
1 whole grain or oat bran pita Toufayan pita
1/2 cup low fat cottage cheese
2 Tbsp Labne kefir cheese
3/4 cup strawberries, sliced
1 kiwi, peeled, sliced
2 Tbsp homemade granola
Directions: Puree cottage cheese and Labne in small high-speed blender. Spread thickly and evenly onto pita. Top with strawberries and kiwi. Sprinkle on granola. Slice in half or into 4 wedges. Enjoy as an appetizer or serve as a meal.
To view other great Toufuyan pita – inspired recipes, click on this image below: