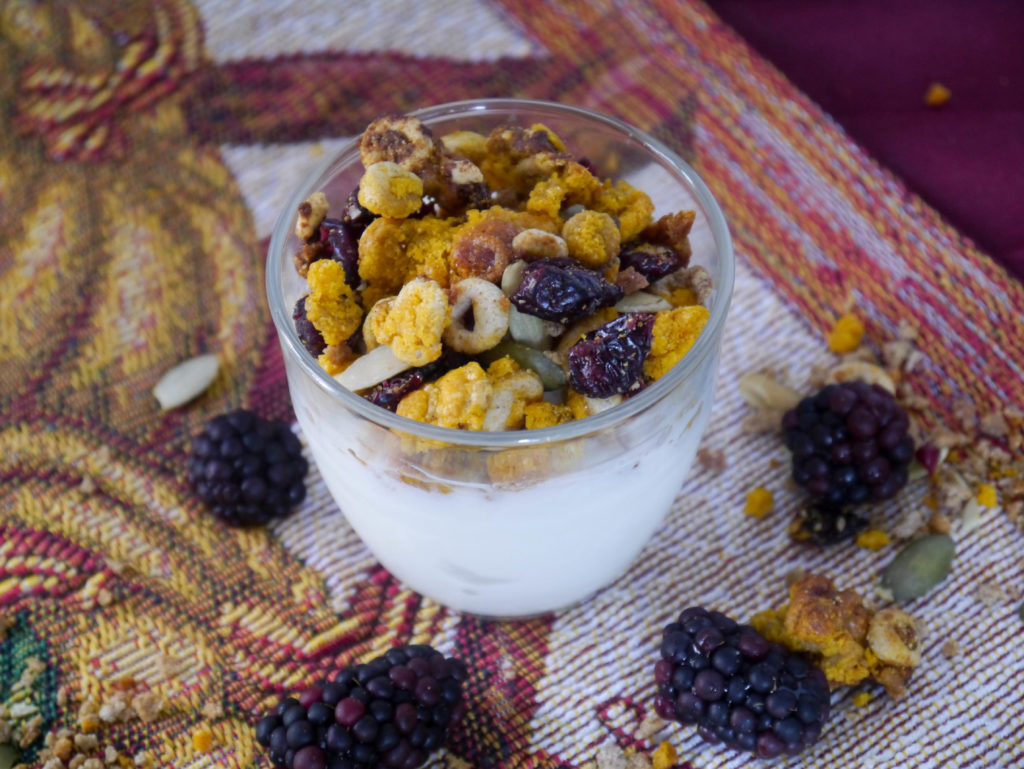 Disclaimer: I was not paid to promote PaleoPro. However I did receive a variety of their products; one of which I used to make this golden granola. Opinions are all my own.
If you're like me, you love Granola. It's crisp, crunchy, chewy, nutty…. and there's so much variety to the flavors/combos you can create and enjoy. Since it's fall or otherwise known as  "pumpkin season," I've been inspired to use the colors, flavors, textures of autumn. Hence these "golden nuggets" with crimson bits (that would be the deep red of the cranberries).
To make my Pumpkin Spiced Granola a high protein blend, I used PaleoPro protein powder, pumpkin spice. This protein powder is a combo of pastured grass-fed lean beef protein and egg protein. It's minimally processed and gluten-free with No added sugars, No soy, No whey. With the Pumpkin spice flavoring already included in the protein blend, the only additional "season"-ing I desired was that of an "autumn leaves" color palate, which I'm proud to say came out brilliantly.
For the orange-gold hue, I used Red Palm oil (rather than coconut oil or another fat) which does actually add a bit of a "yellow" stain. lol! (on your hands and dishes). But it's got a nice subtle flavor (and it's similar in consistency to coconut oil). Crunchy Grapenuts, toasty Cheerios and raw (or toasted) pumpkin seeds add a contrast of brown, beige and green to the golden battered mix, giving what I'd call an autumn leaves appeal. And then those crimson dried cranberries just really make it magical! How ever you'd describe it, we (my girls and I) found it absolutely yummy.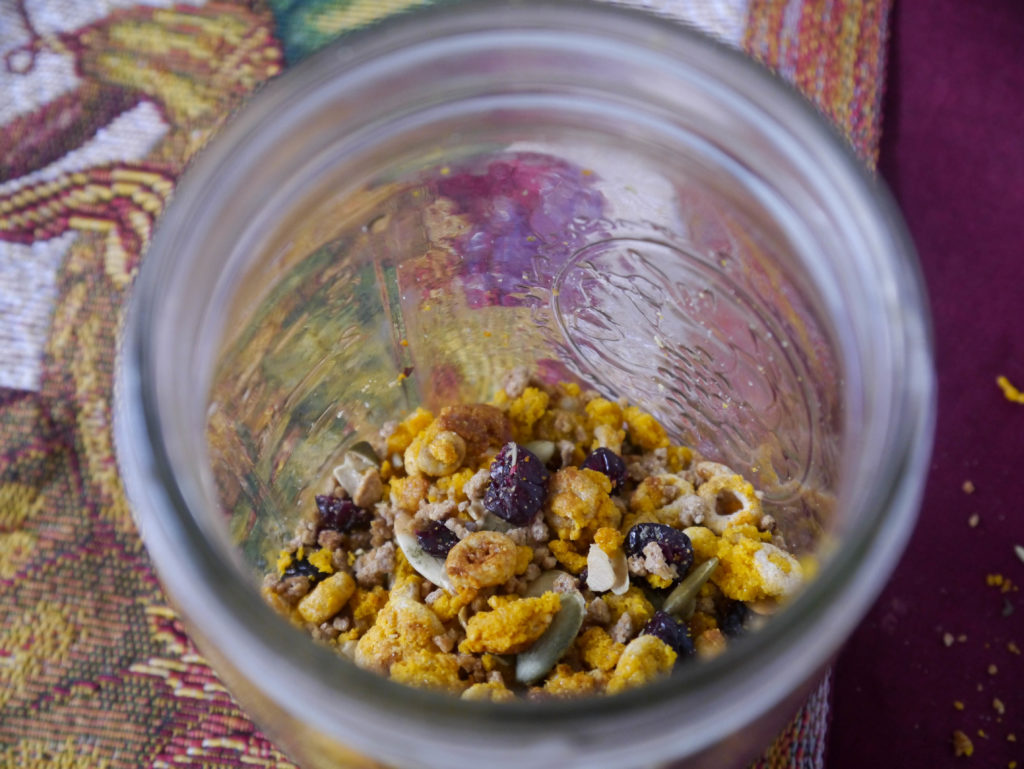 Mixing it Up
To make this blend work, the "batter" has to be more like a paste. If it's to liquid-y, the Cheerios will shrivel up and taste old/stale. So the PaleoPro is a perfect addition in both nutritional value and texture. With almond meal, the protein powder and some lightly whisked egg whites in the mix (along with a little sweetness – honey and some fat to emulsify), the "Toasty Oats" (Cheerios) get coated in the mixture and toasted golden in the oven. You'll also get some nice clumps of granola when it's cooled. You may have to use a spatula to break some up a bit. Oh how I love eating those chunks, big and small. I like to add the rest of the fixins at the end because they just work better that way. I just toss in the GrapeNuts, pumpkin seeds and the dried cranberries when it's cooled. Just look how it all comes together!

The Nutritional Scoop
I love to snack on granola as is or sprinkle it onto plain Greek yogurt (and add a bit of fruit). But some days, I just crave a heart-y bowl of granola cereal with my favorite nut milk, and it satisfies me for hours. Thanks to the addition of PaleoPro protein powder (contains 26g protein per scoop!) my High Protein Pumpkin Spiced Granola contains 10g protein per serving. And it's got 3g fiber, too! So just how does this weigh in in terms of calories? It's 220 calories. That's pretty typical for a hearty granola (and this one's got plenty of real food nutrition, heart-healthy benefit).
Here's the recipe. Enjoy!

High Protein Pumpkin Spiced Granola
This pumpkin spiced granola is made with the goodness of PaleoPro pumpkin spice protein powder. Although you could use any protein powder and add in your "pumpkin spice" seasoning, I prefer this powder as it is clean and made with only a few choice ingredients (and it just happen's to have a pumpkin spice flavor).
Ingredients
1 cup fine almond meal
2 scoops PaleoPro Paleo Protein Powder, pumpkin spiced
3 tablespoons honey
4 tablespoons Red Palm oil (or coconut oil)
2 large egg whites, lightly whipped
3 cups Cheerios
½ cup GrapeNuts cereal
½ cup pumpkin seeds
⅓ cup dried cranberries
Instructions
Preheat oven to 350ºF.
Grease baking dish.
Mix almond meal, PaleoPro protein powder, honey, Red Palm oil and egg whites until you have a paste-y batter.
With your hand gently mix in the Cherrios until well coated.
Scoop into baking dish - separating with a spatula, but allowing clumps to form.
Bake for 15 minutes, turn and then bake another 15 minutes.
Remove from oven and cool completely.
Break up into clumps and pour into a bowl.
Mix in GrapeNuts, pumpkin seeds and dried cranberries.
Nutrition Information
Serving size:
⅓ cup
Calories:
220
Fat:
12g
Saturated fat:
3g
Carbohydrates:
20g
Sugar:
9g
Fiber:
3g
Protein:
10g