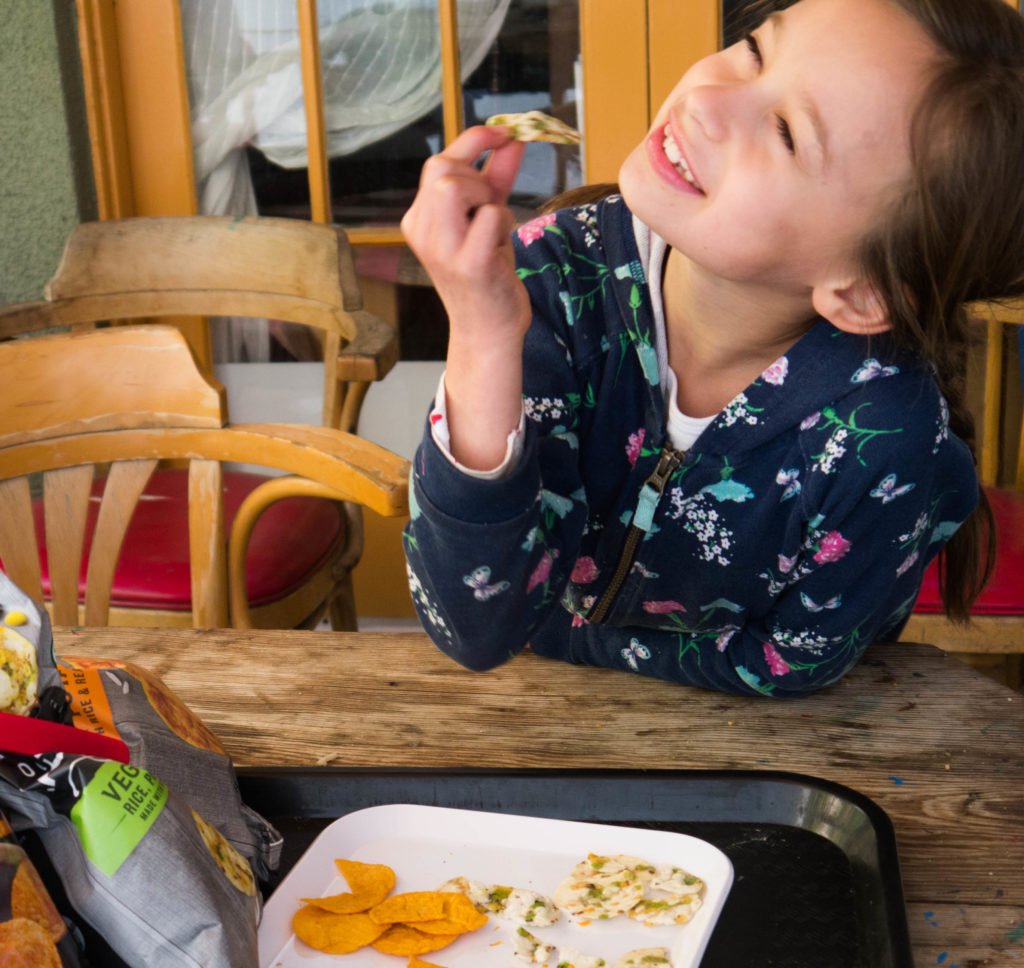 Disclaimer: Frito-Lay provided me with full-size samples to try, including their Off the Eaten Path Veggie Crisps (shown pictured). This was not a sponsored post.
I'd like to preface this article with the notion that healthy food has to taste good. We all have some ideas of what is healthy. But how do you make the choices that will resonate with your healthy food philosophy and your family's taste? You've gotta start with understanding their likes/dislikes – and that involves taste-testing. Read on to see why I'm okay that my kids are "picky eaters". (For one thing, we don't go overboard with packaged snacks because they are choose-y).
So Why Do I Embrace My "Picky Eaters"?
They Boost My Creativity.
If my kids loved everything I made or everything I bought, how boring that would be. The fact that they have opinions and certain tastes, can guide me in a certain direction when I'm preparing and cooking foods. For example: They don't like chicken, so that means I can either sneak it in or use another protein option. They don't like squash, but I've been successfully able to incorporate this food (pureed or mashed) into "granola" and a version of my oat-based fruit bars. Why should I even bother with this? Because I may have decided to create a dish with squash for myself and hubby who enjoy this and if there are any leftovers I have ways I can repurpose them (and they can get the nutritional benefit from these foods even if they don't taste it). In short focusing on my kids likes/dislikes this helps me find a place to be creative.  Like many, structure can be helpful and guidelines can help foster creativity. Too  much lee-way can make it difficult to focus and hard to know where to begin.
They are Building a Positive Relationship with Food.
My kids are certainly open to trying new things. But that doesn't guarantee they will like everything they try. I love that they try to figure out what the ingredients are, that they take the time to taste and consider the texture. And certainly certain textures just don't work for them. If they take the time to eat and consider, this means they aren't wolfing down their food. It also means that when they like something healthy I've prepared, they will eat it again and again. And because I let them explore, taste, consider, they aren't given "restrictions".  This goes both ways, I let them try some foods they want (regardless if it's the healthiest choice). In most cases, they don't go overboard with the sweets or junk-food options.
They Keep the KISS in My Cooking. 
I can get inspired to go overboard sometimes. Various combinations in a dish can certainly make a delicious meal. However, my kids reign me in so I stick to simplicity (KISS: Keep It Simple Stupid). Simplicity in cooking not only appeals to them, but it is less time consuming for me, less trial & error and lastly keeps my recipes applicable and engaging to my clients who are looking for simple recipes (they can make, too) that are healthy, tasty and re-doable.