Building yourself a healthy lunch box can be fun and easy. Be sure to include fresh, whole foods (your fruits & veggies — they're "nature's perfect eats"). Then consider some packaged items such as whole grain breads and chips, popcorn, nitrate-free deli slices, no sugar-added fruit bars (or rollups), hummus and yogurt-based dips as there are convenient and healthy options available.
Some of my favorite brands include: SkinnyPop, Applegate, ThatsIt, Sabra, Chobani, Food for Life, Dave's Killer Bread, Udi's, and PureFoods (TrailChips & Chicpea & Lentille cheese puffs). Check out how I build a healthy lunch box, with tips, suggestions and some allergy-free options.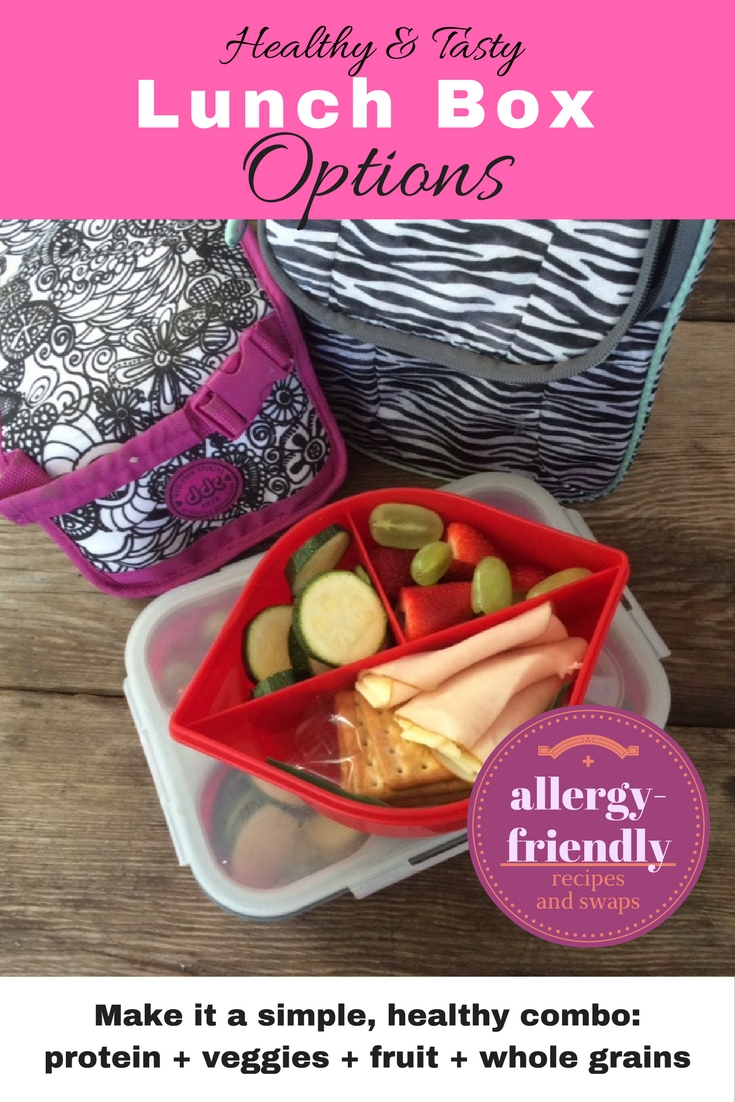 It's back-to-school time, and I wanted to share some tips for building a healthy lunch box. Be sure to include protein + veggie + fruit + whole grain. Whether it is having a piece of fruit or a fruit salad, a whole veggie (like cucumber slices) or a vegetable side dish, building a healthy lunchbox should be a snap. Here are simple simple tips for saving time:
Build from leftovers (the night before).
Grab a whole piece of fruit (and slice it up).
Use fresh, chopped veggie cuts (things you'd find on a veggie platter: carrots, bell peppers, cucumbers, etc).
Grab some helpers – your kiddo's, of course! They'll have a ball helping you mix it up.
Set aside a block of time to make it happen without distraction.
Making a healthy lunch box is simple. I've broken it down into four major components: Protein, Fruit, Veggies and Whole Grains. And have provided some delightful options.
Building a Healthy & Tasty Lunch Box
PROTEIN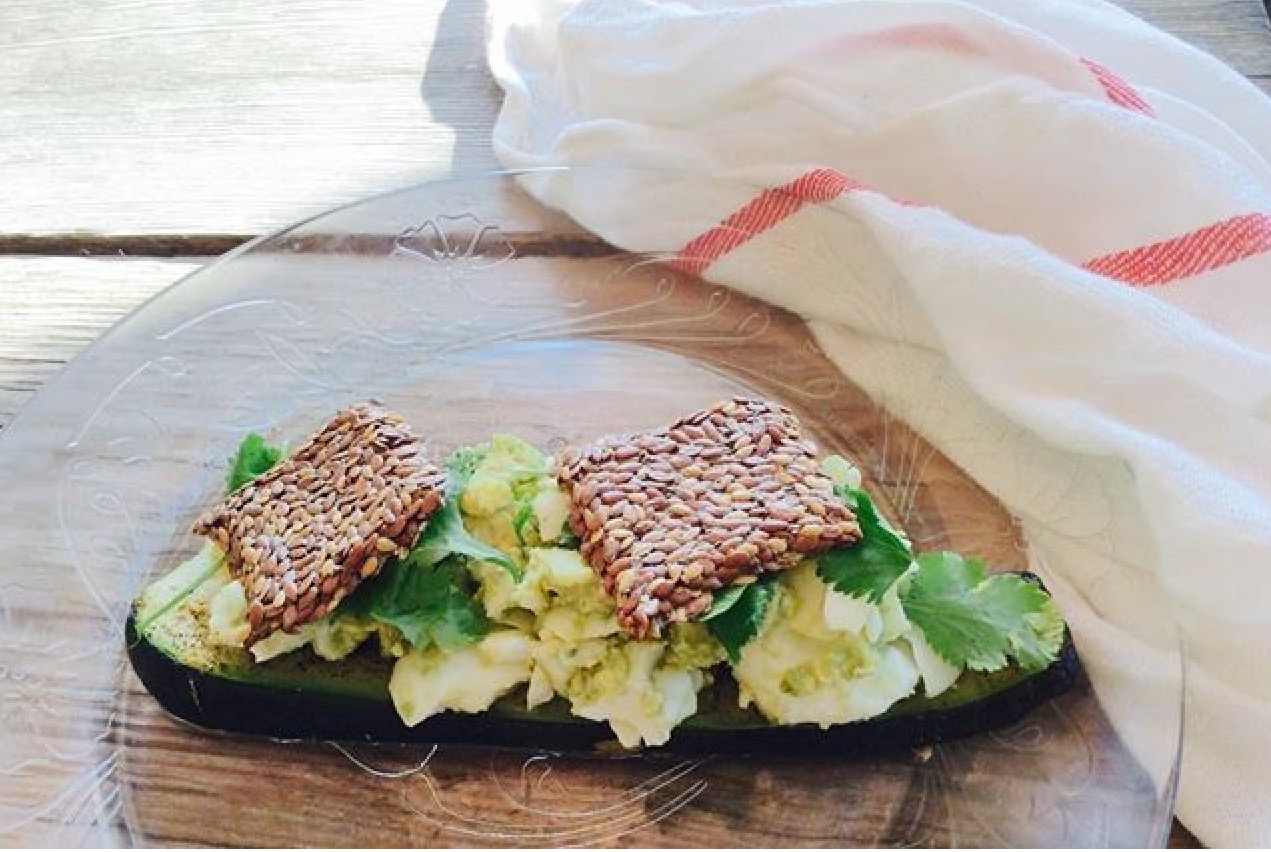 Lean Meats: An easy go-to for me is nitrate-free deli thin turkey slices. Applegate is one of my go-to brands — it's got simple ingredients, is low in fat and doesn't contain any chemical nitrate or antibiotics. These work well in a sandwich. But my kids also enjoy them rolled up with thin slices of cheese. This is a bread-free option for someone who is gluten-free (or for someone would prefer to eat them with crackers).
Eggs: Hard boil an egg.  A single egg packs in plenty of protein and it takes less than 10 minutes to set in boiling water. I can enjoy it alone (maybe with a bit of mustard) or in a tasty egg salad (as pictured above). Here's the egg salad recipe.
Got leftovers? Pack 'em up! I like to use up my baked or poached salmon from the night before. My kids enjoying it served as a side or prepared in a sandwich – similar to a tuna fish salad sandwich. Here's one of my favorite "toss-ups" from the night before: Avocado, Tomato and Salmon Salad. Here's a simple Salmon recipe.
Meat swaps:  Get in your protein by including a side of beans & rice. My favorite choices include black beans, red beans and chickpeas. Or prepare a taco or nacho's dish like this one here (it happens to be dairy-free), but you can include  cheese in moderation – maybe use a little less avocado or skip it altogether. Legumes (pulses) are a wonderful way to get in dietary fiber, B-vitamins and some protein. Including whole grains can help you get in a complete protein.
FRUIT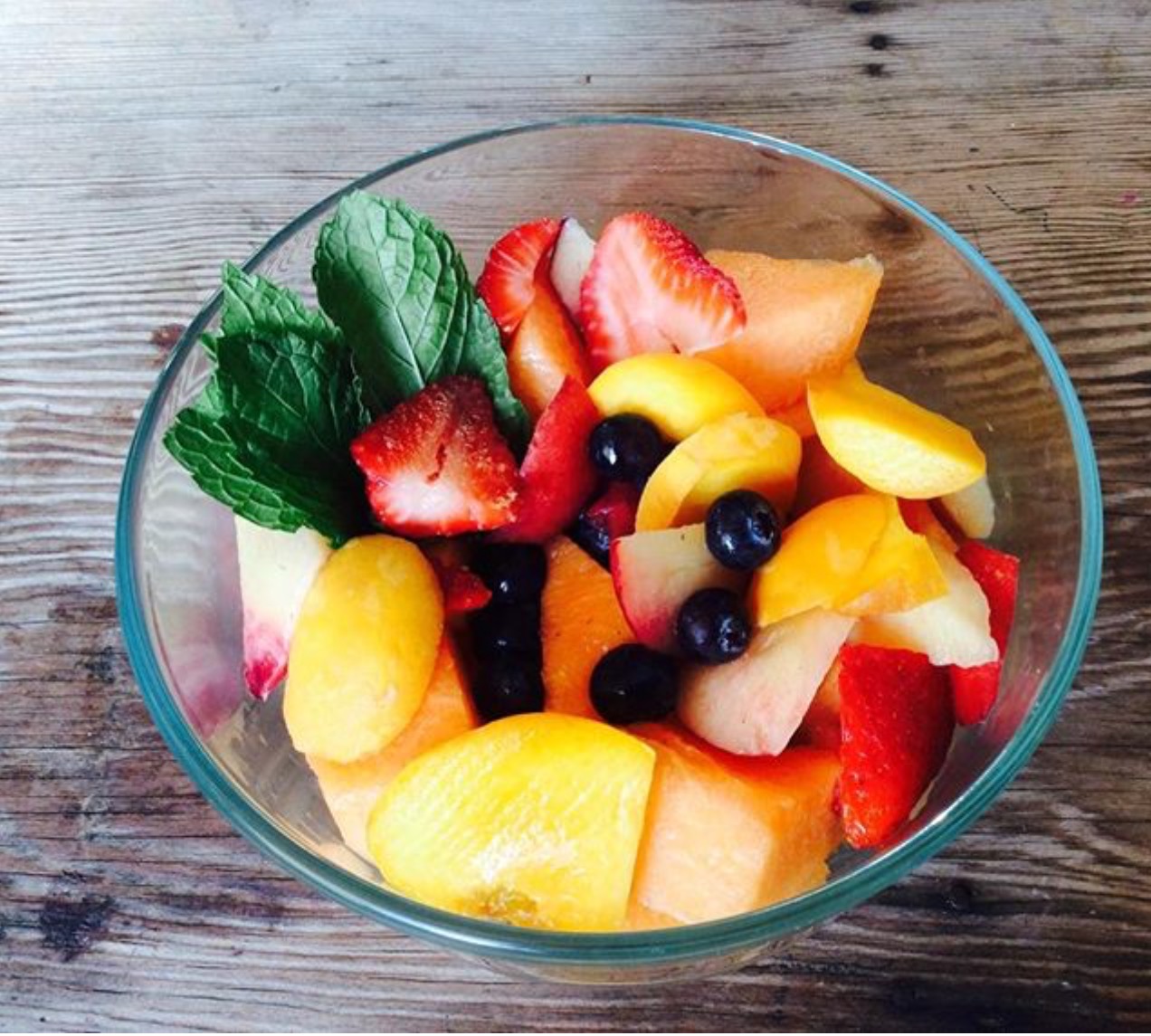 While including fresh berries or a piece of whole fruit such as an apple is a simple no-brainer (my kids enjoy things like apples slices or sliced strawberries). Mixing it up can be quite fun and offer more variety. I like combining whatever fruits I have on hand and preparing a tasty fruit salad. Other choices for quick grab-n-go's include ThatsIt Bars (just fruit, nothing else) and organic, no sugar added fruit roll-ups — you can avoid added sugars and junk by making them yourself. Here's a simple fruit roll-up recipe from Just a Taste.
VEGGIES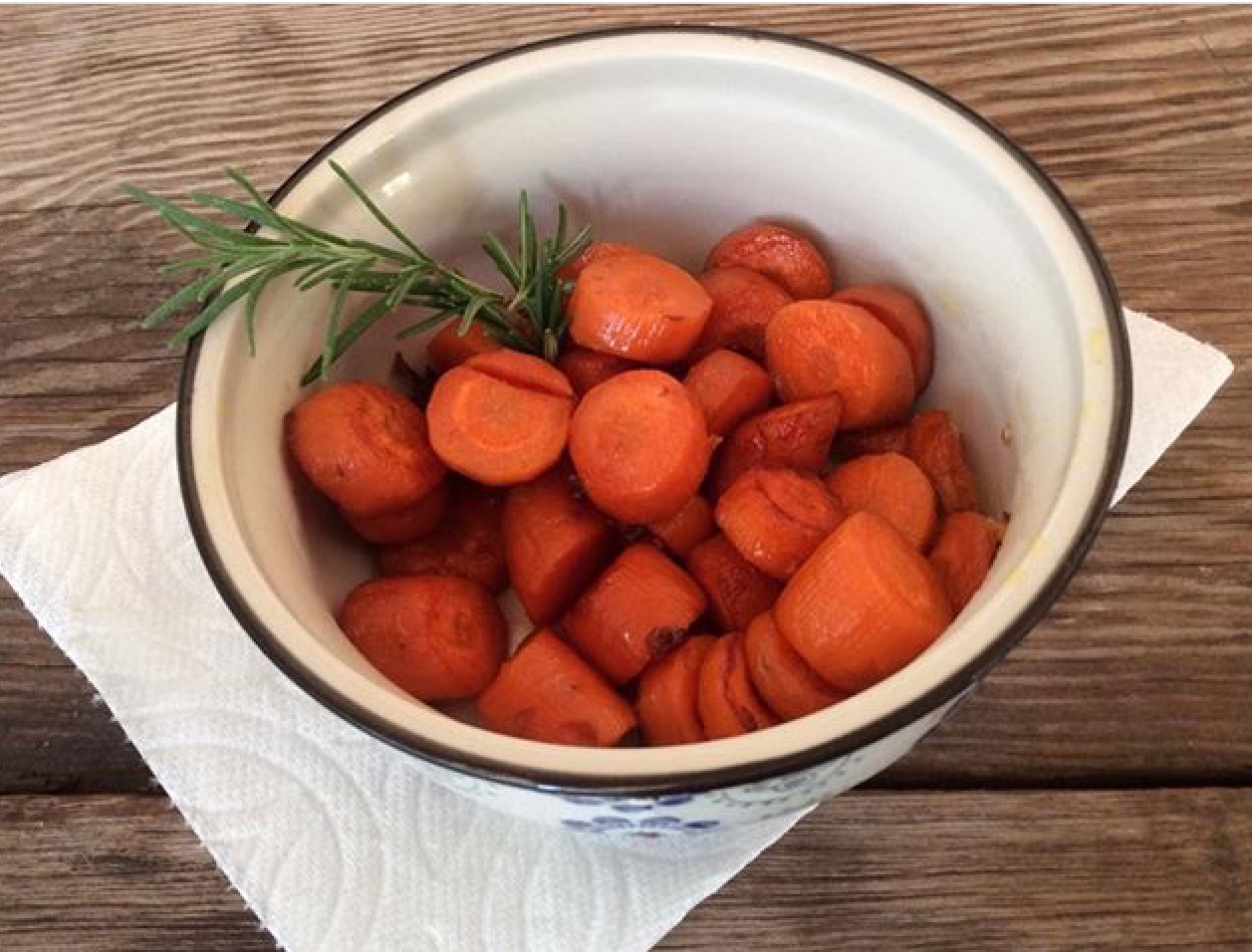 If I've got leftover veggies like these honey-glazed carrots or green beans (I often cook my veggies just al dente so they don't get mushy and are perfect for serving the next day), it's an easy choice. Otherwise, I rely on chopping or buying pre-chopped fresh veggies such as cucumbers, bell peppers, carrots sticks (and including a tasty hummus like one of Sabra's hummus' or yogurt based dip such as these Chobani Meze's (or I'll make my own with plain, nonfat Greek yogurt and a blend of seasoning, and fresh herbs and/or finely chopped veggies). Raw veggies and dips are a simple option for the veggie portion in your healthy lunch box.

Honey Glazed Carrots
Ingredients
2 cups of chopped or baby carrots
1 tsp olive oil
2 tsp honey
a pinch of sea salt optional
Instructions
In a pan, heat olive oil and toss in carrots - coating them evenly.
Add honey and distribute sweetness evenly (add optional salt here).
Cover and heat over medium-low until carrots soften.
WHOLE GRAINS & LEGUMES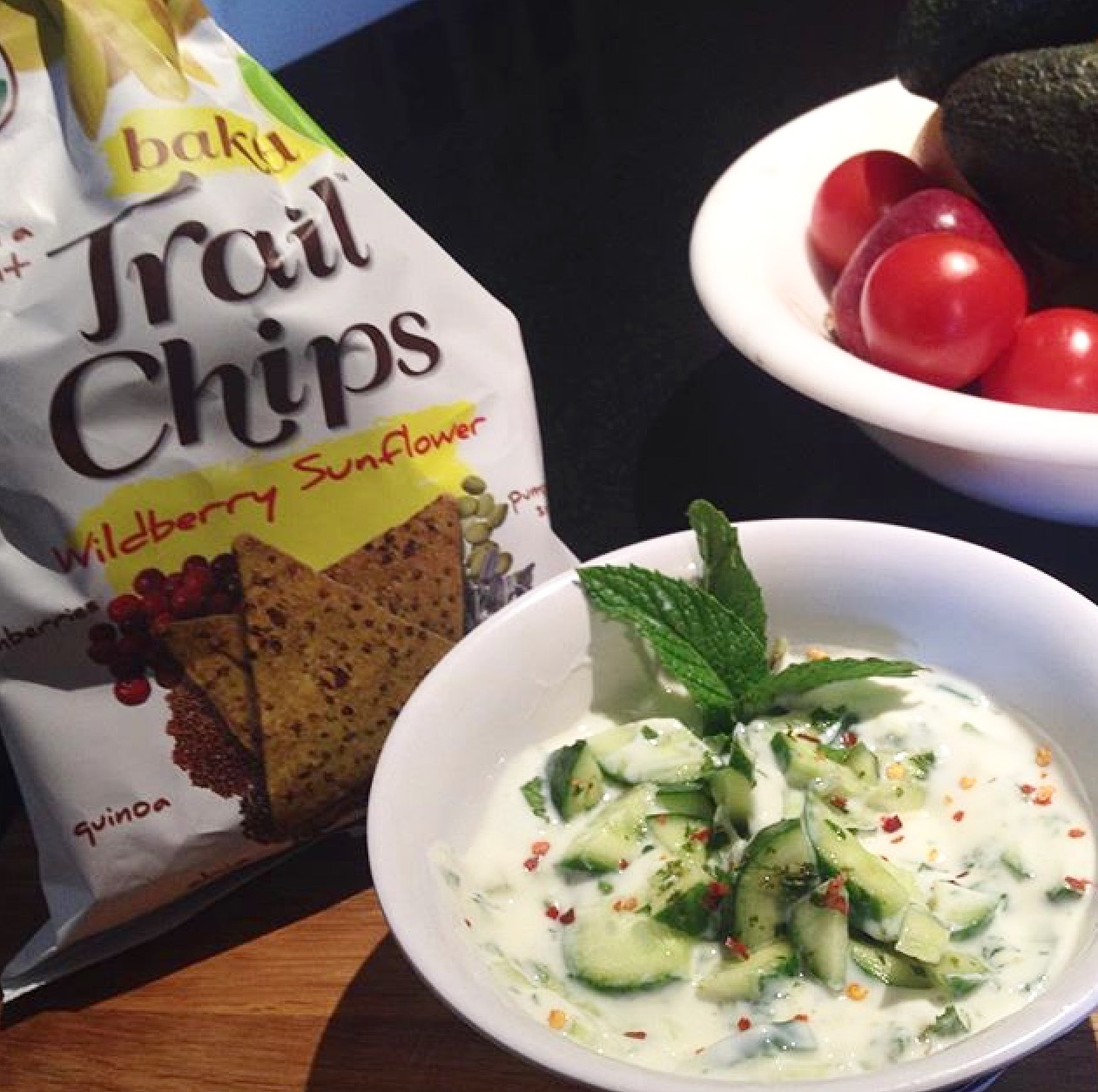 Bread: A sandwich is a great way to pack in nutrients (protein, leafy greens, crunchy fruit/veggies, a little healthy fat….) in a nice handy package to serve in your lunch box. If you are gluten-free, there are several options available these days for breads, crackers and chips, including my Bread Swaps listed below. My go-to Gluten-free bread is Udi's. But since I'm not gluten-free, I also enjoy Food for Life's Ezekiel and Dave's Killer Bread. However there are other ways of getting in whole grain goodness to maximize your intake of heart-healthy B-vitamins and good dietary fiber.
Legumes: Some of my favorite pulses include chickpeas, lentils, black beans, kidney beans and Cannellini beans. These include plenty  of dietary fiber and some B vitamins (like your whole grains) and they can be a great way to get in some plant-based protein. Use in tacos or serve with rice or quinoa. Here's a simple recipe. A convenient, fun snack to add is Chicpea & Lentille cheese puffs from PureFoods. They're made from pulses and that's what boosts their fiber content! They are a fun & tasty dairy-free, gluten-free lunch box option.
Bread swaps:
Trail Chips Wildberry Sunflower — Consider nutrient-dense chips like these. Trail Chips contain plenty of dietary fiber. They are chockfull of nutrients including Immune Boosting Vitamins A,C,E & Bone Boosting Vitamin D and Thiamin and B6 for maintaining heart health (Yep, 20% of the RDA for these essential nutrients in just one serving of these tasty chips). And bonus — they are also Gluten-free, nonGMO and Organic.
SkinnyPop popcorn — Yes, popcorn is considered to be a whole grain, according to the Oldway's Whole Grains Council. So you can include Skinnypop popcorn in your lunch box— its got plenty of fiber, is also a nonGMO, gluten-free choice and great to munch one and is low in calories, too!
What good timing! I recently introduced PureFoods' Trail Chips and Chicpea & Lentille cheesepuffs  on The Balancing Act — Healthy Snacking segment (aired Sept. 2016).
Check it out here: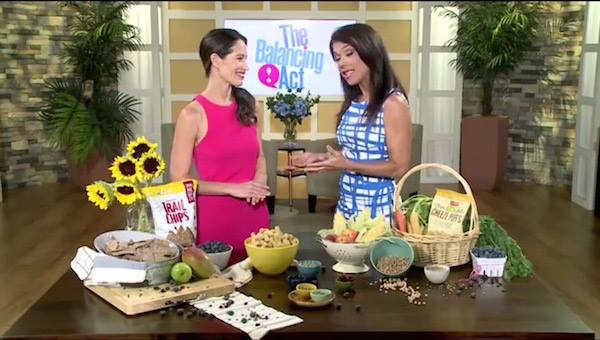 Disclaimer: I was not paid or compensated by any of these product companies for this blog post. These are simply my opinions and preferences. Although I was a paid spokesperson for PureFoods products and am thus affiliated with the company, they did not sponsor this particular post.