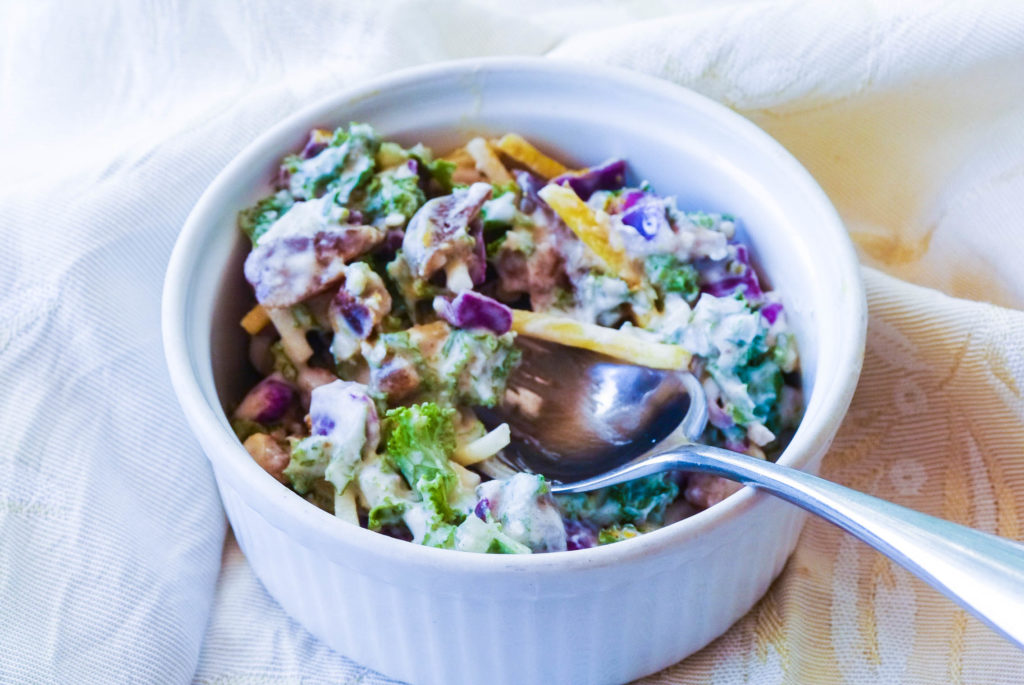 This month's Recipe Redux theme is Gut Health. So I've used a commonly known Probiotic food — Yogurt! But I wanted something a little different (nope, not a smoothie, nor a smoothie bowl, nor parfait or a yogurt-based spread). I decided to use it with Trader Joe's Kolrabi & Kale Greens blend for a delicious fall-inspired coleslaw.
Kolrabi is a vegetable in the cabbage family, it's crunchy and not bitter so it adds a nice "apple like" addition – I say this because I often add chopped (or grated) apples to salads for a little crunch that has a bit of sweetness (not too much, just enough).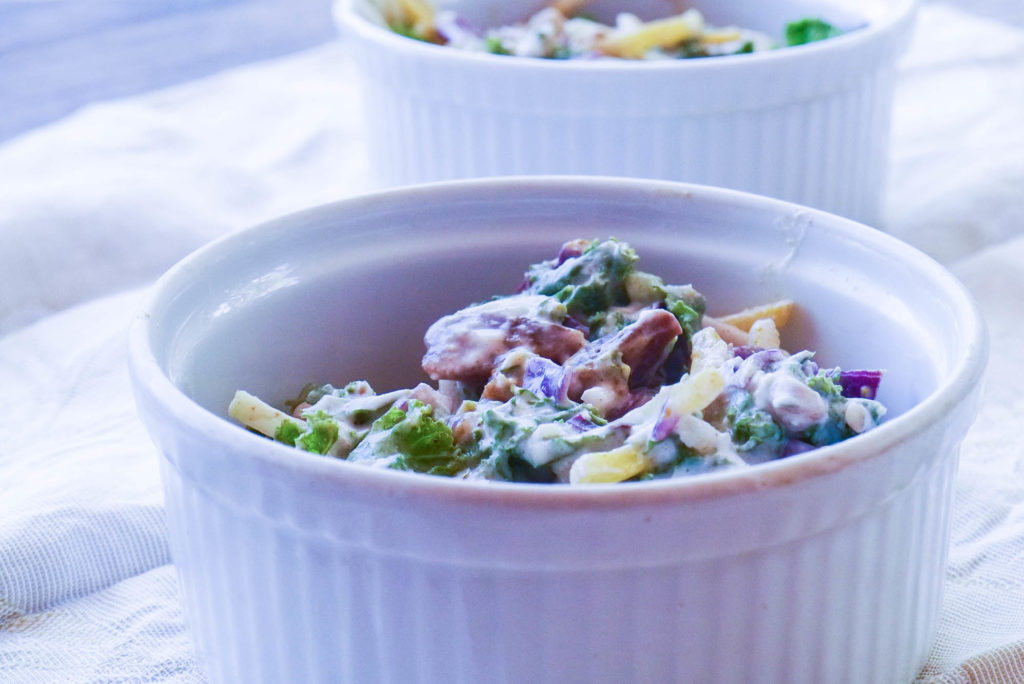 There's some promising research that cruciferous vegetables like kale may be a gut-protective food.
Sure we know cruciferous veggies are good sources of fiber and heart-healthy nutrients. Evidence suggests that Green leafy cruciferous veggies such as kale, might also contain gut-protective compounds. According to a small study in the Journal of Nutrition, there was significant difference in gut bacteria community after 14 days of a cruciferous  vegetable-rich diet vs a fruit- and vegetable-free basal diet. According to an Australian study building upon previous research, green cruciferous vegetables including broccoli and kale may activate the T-bet gene in our gut which helps promote good bacteria and protect against bad (bacteria). Although evidence isn't conclusive, these findings are certainly promising.
Kohlrabi is not a leafy green, but it is certainly a cruciferous vegetable (though more of a root). And whether or not it contains those specific compounds that promote healthy bacteria in the gut, it's got plenty of heart-healthy fiber to help keep the digestive tract running smoothly.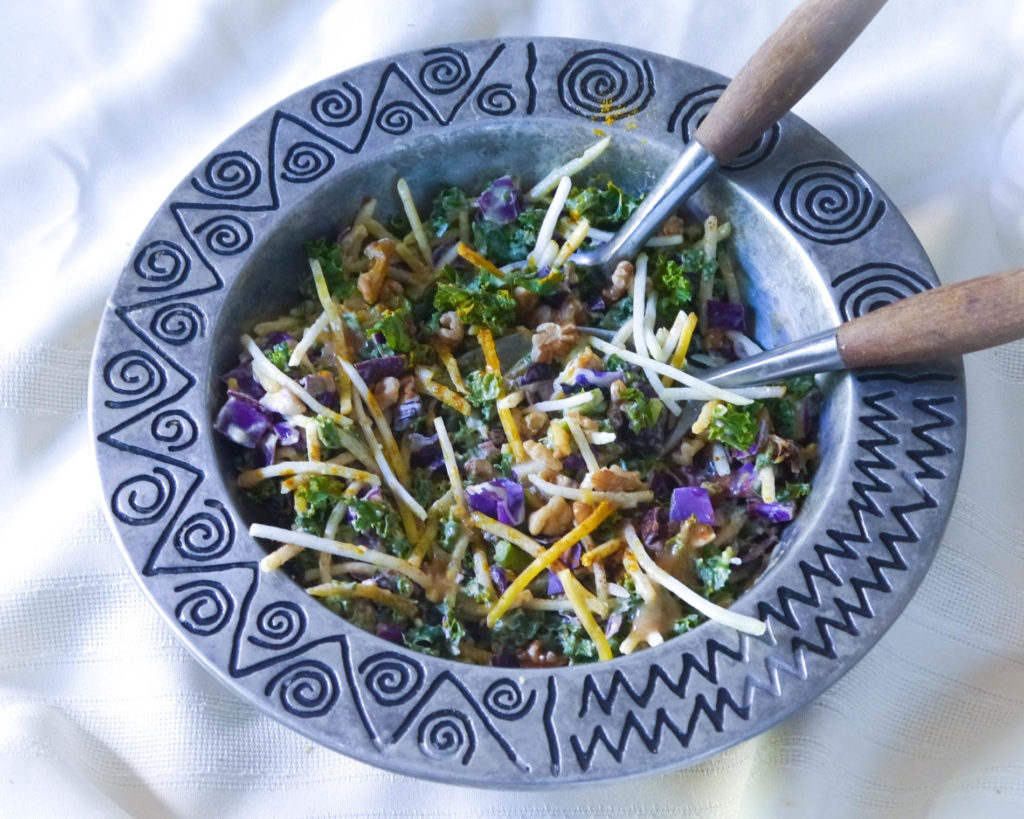 And most of us know by now that yogurt contains the compounds that make it a probiotic food. Lactobacillus bulgaricus and Streptococcus thermophilus are the probiotics used to make yogurt. Other common probiotics you may find in yogurt include:  Lactobacillus acidophilus, Lactobacillus casei, and Bifidus. These probiotics may help to maintain a healthy balance of bacteria to boost immunity and promote a healthy digestive tract.
So with that being said, I made a cruciferous blend coleslaw with a Sweet Curry Yogurt-Based Dressing. Enjoy!
Sweet Curry in a Coleslaw – Good for Your Tummy and Oh So Yummy!
Sweet Curry Yogurt Based Coleslaw
Ingredients
3 cups Kohlrabi & Kale salad blend
½ cup Yogurt, Cream, Whole Milk
Juice of a large lemon
1 Tablespoon of honey (or maple syrup)
1 Tablespoon Ricotta (or Whipped Cream Cheese)
1 Tablespoons Mayonnaise (adds to spun, silky texture - but optional)
1-2 teaspoons curry powder
½ teaspoon cinnamon
⅓ cup chopped date pieces
⅓ cup chopped walnuts
2 Tablespoons water (optional for consistency preference)
Instructions
In a mixing bowl, whisk together yogurt, lemon juice, honey, cream cheese until smooth.
Mix in the curry powder and cinnamon.
Toss in the Kohlrabi & Kale salad blend until well coated.
Toss in the walnuts and date pieces.
References:
Li, F., Hullar, M. A. J., Schwarz, Y., & Lampe, J. W. (2009). Human Gut Bacterial Communities Are Altered by Addition of Cruciferous Vegetables to a Controlled Fruit- and Vegetable-Free Diet. The Journal of Nutrition, 139(9), 1685–1691. http://doi.org/10.3945/jn.109.108191
Walters + Eliza Hall Institute. Gene discovery reveals importance of eating your greens. https://www.wehi.edu.au/news/gene-discovery-reveals-importance-eating-your-greens