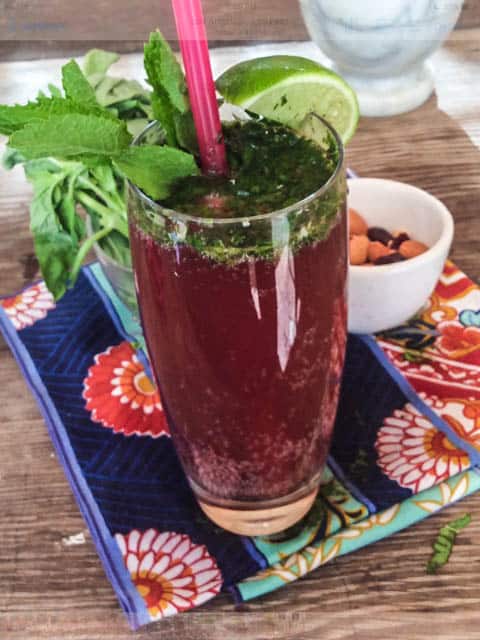 This month's Recipe Redux challenge was to create a Mocktail. And what a fun time I had creating this one. Even my kids got to help out by muddling the Basil and Mint together with my favorite marble pestle.
Now because my kids wanted in on the fun, I started out with their drink (more cranberry juice and no muddled greens) – because I know they love cranberry juice and they like their food/drinks "clear", not so textured. Don't get me wrong, they love my homemade pesto, but they can get pretty picky when it comes to presentation. Hence, I kept it simple for them. Even though they had a fun time muddling up the basil and mint. And to be fair, they did try my final cocktail. But preferred their version instead (and though it looked like a tree was growing out of my drink).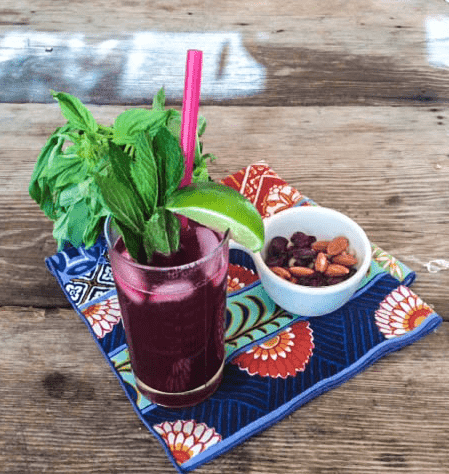 It was a nice day outside, the sun had come out and it was mildly breezy – a great time to be outdoors with my girls who had just finished their homework. So I prepared their drink and they got to help me make my Mocktail. I couldn't wait to chill out and enjoy my refreshing Ginger-Cran Cocktail with Basil & Mint. Here they are using my pestle to mulch my greens.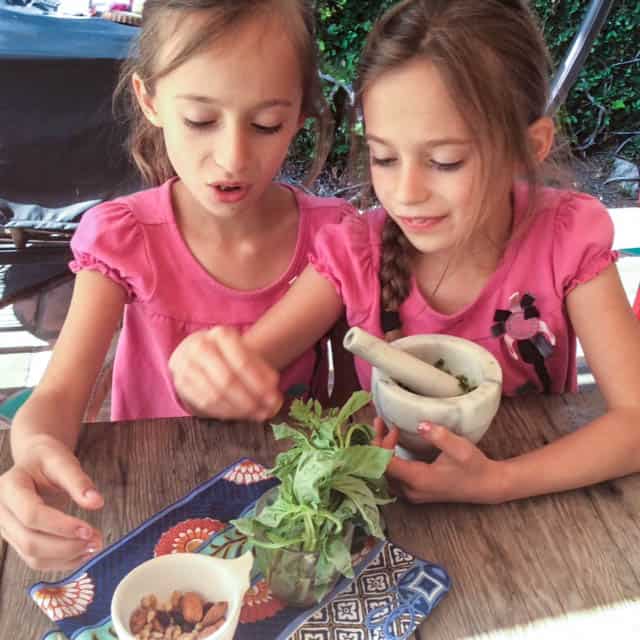 We finished it up and added the basil-mint. I couldn't wait to try it. Honestly, sometimes it takes a couple tries (or more) to get things right. But in the end, it's well worth the effort. This is how it looks from top down — pretty green on top, for sure.  The complete essence of the chia-ginger "syrup", cranberry juice and herbs really brought this drink together – and the lime just added the right amount of tang. And because the chia tells up like mini boba, the texture is really quite fun! Sadly in the sun, the way it is shot, and perhaps with all the bubbles and color, it's hard to actually see the chia, but you'll definitely know it's there when you drink it. (And you can see it in this fun, colorful cocktail in real life).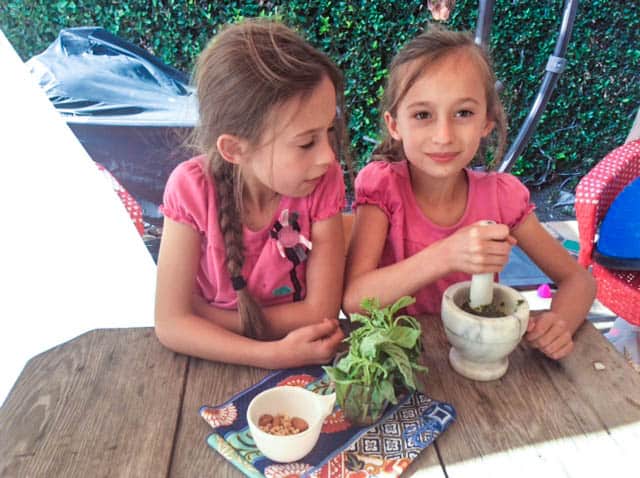 Here's the Recipe!

Ginger-Cran Mocktail with Chia, Basil, Mint
Ingredients
5 oz cranberry juice
2 oz ginger root
1 packet stevia
1 Tablespoon Chia
5 basil leaves, chopped
5 mint leaves, chopped
juice of half a lime
6 oz sparking water
Instructions
Prepare ginger tea by boiling slices of ginger root in ½ cup water with 1 packet of stevia for 15-20 minutes, the longer, the stronger.
Set ginger tea aside, let cool.
Add 3 Tablespoons Chia seed to cooled ginger tea and refrigerate until gelled (several hours or overnight).(You will use only 3 Tablespoons of this chia-ginger gelled mixture - approx. 1 Tbsp's worth of Chia).
Muddle basil and mint leaves with a pestle (or muddler); set aside.
In a tall glass combine cranberry juice, chia-ginger gelled mixture, lime juice and muddled greens.
Add 6 oz perrier.
Optional, add large ice cube (large ice cubes melt more slowly and won't water down your drink as much).