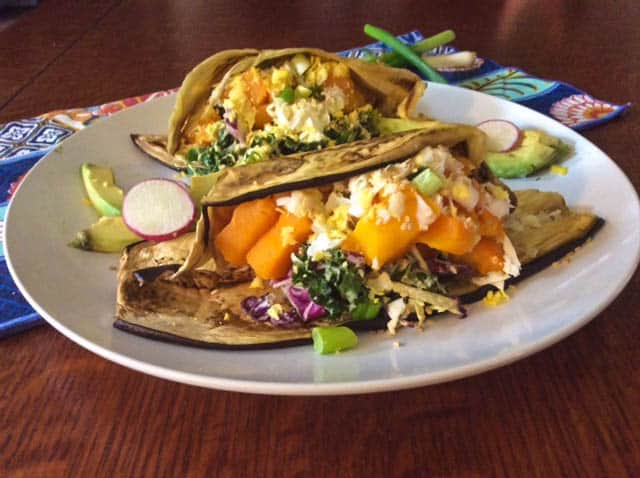 There's no denying that a carne asada (seasoned beef) or bean filled tortilla packed with onions, tomatoes and salsa can hit the spot. And sure there's plenty of variety with seasonings, rice or potato and other veggies such as bell peppers. Tacos made with traditional ingredients can be amazing! But for today, I thought I'd make something a little different with a taco in mind. So here it goes! My taco-inspiration:
Taco Tuesday starring Eggplant, Squash and Kale Slaw!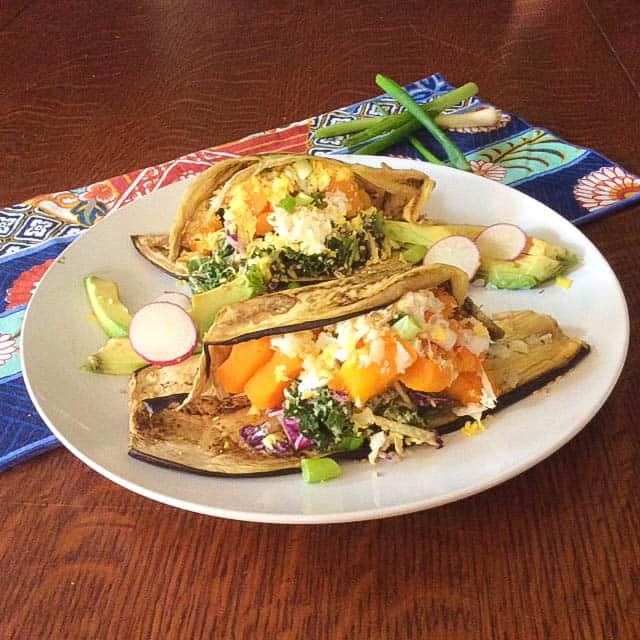 Note: This taco can be prepared a little more traditionally using a corn or flour tortilla for the wrap. (You would roast the eggplant, dice it and mix into the filling.) But I thought it would be fun to try it with thinly sliced eggplant, slowly baked to create a soft, yet malleable shell.
For this month's Recipe Redux theme, we were challenged to design a healthy, creative take on the Taco. So I chose an Asian theme, inspired by the fusion taco trucks that delight Los Angeles foodies. I also chose egg as my protein instead of more typical filler which include meat, poultry and/or beans. And not just hard-boiled or even poached or sunny side up with a runny yolk which has become popular in the Ramen trend, but rather grated into the mix. Yes, something inspired me to grate the boiled egg. And it worked quite well. (Funny enough, a little grated egg goes a long way. You may end up just grating half an egg onto one taco and just popping the rest of the egg in your mouth. lol!)
I recommend preparing most of the ingredients in advance, so you can simply assemble the tacos and enjoy the next day.
Prepare the Base and Filling for Your Tacos
Prepare the Miso-Sesame Kale Slaw
3-4 cups loose Kale Slaw Mixture (I bought pre-chopped kale mixture package from Trader Joe's)
1 Tbsp miso
1 Tbsp water
2 Tbsp apple cider vinegar
2 tsp maple syrup
1/2 tsp sesame oil (or peanut oil)
sesame seeds optional to sprinkle on top
In a small bowl whisk miso, cider vinegar, sesame oil, maple syrup and 1 Tbsp water. Mix well into kale slaw, place in Tupperware and refrigerate for at least 1 hour. And can remain refrigerated over night if you want to prepare the ingredients for assembly in advance. In fact, you can roast the squash and eggplant, a day ahead as well. Just cool, seal in Tupperware and refrigerate until ready to assemble your taco.
Now that you have the slaw, remaining ingredients include baked butternut squash, baked eggplant slices, hardboiled egg, avocado slices, chopped green onion and thinly sliced radish.  To assemble use 1/2 cup marinated kale slaw + 1/2 cup butternut squash + grated hard-boiled egg (and baked, diced eggplant if you plan to use a corn or flour tortilla as the shell). It's delicious!
Prepare the squash: I like to bake a large butternut squash (a gourd) rather than buying the pre-cut cubes because my kids love the "peanut". However the pre-cut cubes are quite convenient (just place on foil-lined pan, spray with cooking spray and heat in oven* until soft). I slice the gourd in half lengthwise, scooping out the seeds from both sides. Then I spray each half with cooking spray and wrapping each side completely in foil. I place it onto a baking sheet to *bake for 40 min. to 1 hour at 425ºF. Then I let it cool. I slice lengthwise and horizontal to create diced shape and carefully scoop out of shell. You can place in Tupperware and refrigerate for assembly the following day.
Prepare the eggplant: Slice large, eggplant lengthwise into thin slices, about 1/4 inch thick. Should have at least eight slices. Salt and lay in strainer for 30 minutes to drain off bitter liquid (You will use 2 slices per taco). Place on non-stick baking sheet and brush each side with olive oil. Baked at 250 for at least an 1 hour (maybe up to 2 hours), then allow to cool. You can gently layer in Tupperware and refrigerate for assembly the following day.

Eggplant & Squash Tacos with Miso Kale Slaw
Ingredients
2 cups diced butternut squash, baked
1 large eggplant, thinly sliced lengthwise*
2 Tbsp olive oil, divided
3 cups shredded kale mixture
1 Tbsp miso
1 Tbsp apple cider vinegar
2 tsp maple syrup
½ tsp sesame oil
4 eggs, hardboiled
1 large avocado, sliced
2 radishes, thinly sliced
2 green onions, chopped
Instructions
Preheat oven to 250ºF
Prepare Kale Slaw.
Whisk miso, apple cider vinegar, maple syrup and sesame oil.
Add 1 Tbsp water and continue to whisk.
Mix well into shredded kale and marinate, refrigerate for at least an hour.
Set aside.
Prepare eggplant by salting and draining on strainer for 1 hour to remove bitterness.
Layer eggplant on non-stick sheet and brush both sides with olive oil until lightly, but evenly coated.
Bake eggplant for 1-2 hours.
Assemble taco by topping 4 eggplant sheets with ½ cup kale slaw, ½ cup butternut squash and a shredded hard boiled egg.
Garnish with green onion.
Fold the remaining 4 eggplant sheets over toppings to create your completed taco.
Serve with sliced avocado and radish.
Notes
Eggplant should be sliced into 8 thin lengthwise pieces (approx. ¼ inch thickness as they will thin out in the cooking process).

If you prefer to use corn or flour tortillas instead of the eggplant as the shell, simply used diced, cooked eggplant in the filling.
Check out some more healthy, creative taco recipes from my fellow Recipe Reduxers: