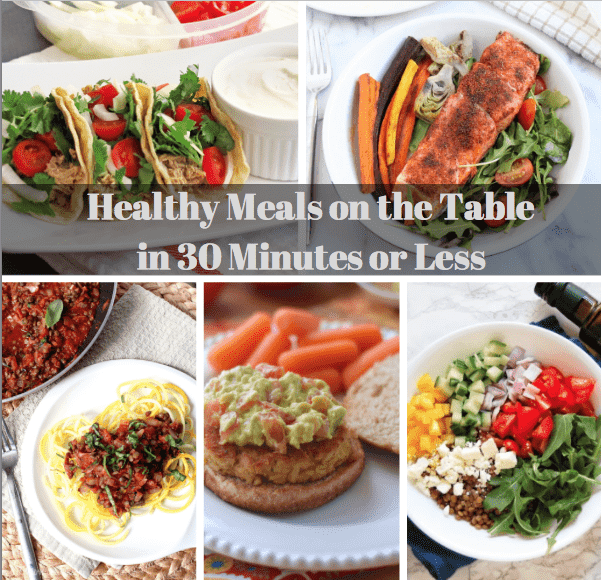 Parents: We've got 50 Recipes to Help you Get Dinner on the Table in 30 Minutes or Less
The day goes by so fast and when it comes to dinner time, everyone's hungry!!  You strive to get a healthy, tasty meal out on the table in minutes, because frankly that's all the time you've got.  I've reached out to my dietitian friends who've gotten dinner on the table within 30 minutes, even 15 minutes and in some cases "no time at all".
Yep, there's plenty to choose from —
Check out this round-up of 50
No-Fuss Recipes!!
Slow Cooker Meals
These can be be prepped and served in "no time at all" because they've been cooking in the crock while you've been doing other important things. Whether it's an overnight stew or a 5-hour soup, when it comes to ease in the kitchen, the crockpot is your best friend. Check out these slow cooker recipes below.
Lemony Herb-Chicken and Veggies — Kiss in the Kitchen
Slow Cooker Sorghum and Black Bean Chili — TriadtoWellness
Slow Cooker Pesto Minestrone Soup — Bite of Health Nutrition (only 10 minutes to prep)
Mexican Chicken Chili — Nutrition to Fit
Freezer to Slow Cooker Lentil Stew — Nutrition to Fit
Smoked Paprika Sweet Potato Chili — Shaw's Simple Swaps
Slow Cooker Chicken Parmesan — Mommyhood Bytes
Crockpot Chicken Thighs — Create Kids Club
Pressure Cooker Black Beans — Culinary Nutrition Cuisine
Back to School Pot Roast — Food for Success LLC
Slow Cooker White Chicken Chili —A Pinch of Grace
 15 Minutes or less
Coconut Shrimp Curry — Desi-licious RD
Quick Easy Turkey Chicken Asian Inspired Lettuce Cups — Sarah Koszyk
Nordic Eggs Benedict— Triad to Wellness
Greek Lentil Power Bowl — Nutrition to Fit
Cauliflower Fried Rice — Nutrition to Fit
Cauliflower Alfredo Sauce — Nutrition to Fit (Great if you've got some leftover pasta)
10 Minute Salmon 4 Ways — Cit Nutritionally
Shredded Chicken Tacos — Baby Steps Dietitian (10 minutes if chicken already cooked)
Vegetable "Fried" Rice with Almond Teriyaki Sauce — Amy Gorin
Mu Shu Shrimp — Hungry Hobby
Peanut Rice Asian Bowl — Live Best
Parmesan Dijon Chicken — Katie Cavuto
Fruit, Seed and Spinach Salad with Strawberry Vinaigrette — The Nutritionist Reviews (add chicken or tofu and all set for my family)
30 minutes or less
Black Bean Sweet Potato Vegetarian Kebabs — Desi-licious RD
Baked Fish Tin-Foil Packets with Spinach and Roasted Sweet Potatoes —Sarah Koszyk
Weeknight Jambalaya — Street Smart Nutrition
Fast Black Bean Salsa Chicken — SalubriousRD
Persian Lubia Polo— The Delicious Crescent
One Pan Salmon, Asparagus and Sweet Potatoes — Bite of Health Nutrition
Adobe Chicken Sweet Potato Burgers — Nutrition to Fit
Healthy Orange Peel Chicken — Lively Table
Freezer Fajita Chicken — Nutrition to Fit
Spicy Lentil Bolognese — Cit Nutritionally
Tuna with Smashed Avocado & Tomato — Better is the New Perfect
Thai Lentil Miso Salmon — Lively Table
Tomato and White Bean Naan — Amy Gorin
Panko Crusted Chicken — Nutritioulicious
Miso Glazed Chicken Breast — Nutritioulicious
Nicoise Pasta Salad — Nutritioulicious
5 Ingredient Orange Maple Salmon — Nutritioulicious
Better for You Chili — Better is the New Perfect
Garbanzo Flour Flatbread Pizza — Eat Real Live Well
Broccoli Barley & Bean Salad — Eat Real Live Well
Easy Bean Sliders on Sweet Potato Buns — Eat Real Live Well
Oven Baked Chicken Taquitos — Mom's Kitchen Handbook
Mediterranean en Papillote — RDelicious Kitchen
Pizza Stuffed Spaghetti Squash — Hungry Hobby
Roasted Cod with Strawberries — Katie Cavuto
Crispy Baked Cara Cara Orange Tofu — One Hungry Bunny
Braised Tuscan Pork Chops — The Every Kitchen