Hi all! I was thrilled by this month's Recipe Redux challenge — to highlight a fellow Recipe Redux member by preparing one of their recipes. I chose Emily Hein of Zen & Spice. Her delightful Avocado Cucumber Egg Salad is a refreshing, satisfying perfect-for-summer dish.
I'm often inspired by my colleagues' recipes and have incorporated many of their recipes (or inspired versions) into my meal plans already. So this challenge was right up my alley.
I discovered Zen & Spice's Avocado Cucumber Egg Salad on her blog. What I love is that Emily's egg salad is made with avocado! I also love the refreshing crunch of the cucumber incorporated. What a perfect summer-time dish! Emily Hein focuses on real, whole food nutrition and fueling the body with processed-free ingredients. She is a fellow dietitian and yogi who lives in Dallas, Texas with her Schnoodle and Fiance Nick. She is a true foodie who prepares gorgeous, healthy dishes, including these 3 recipes bulleted below.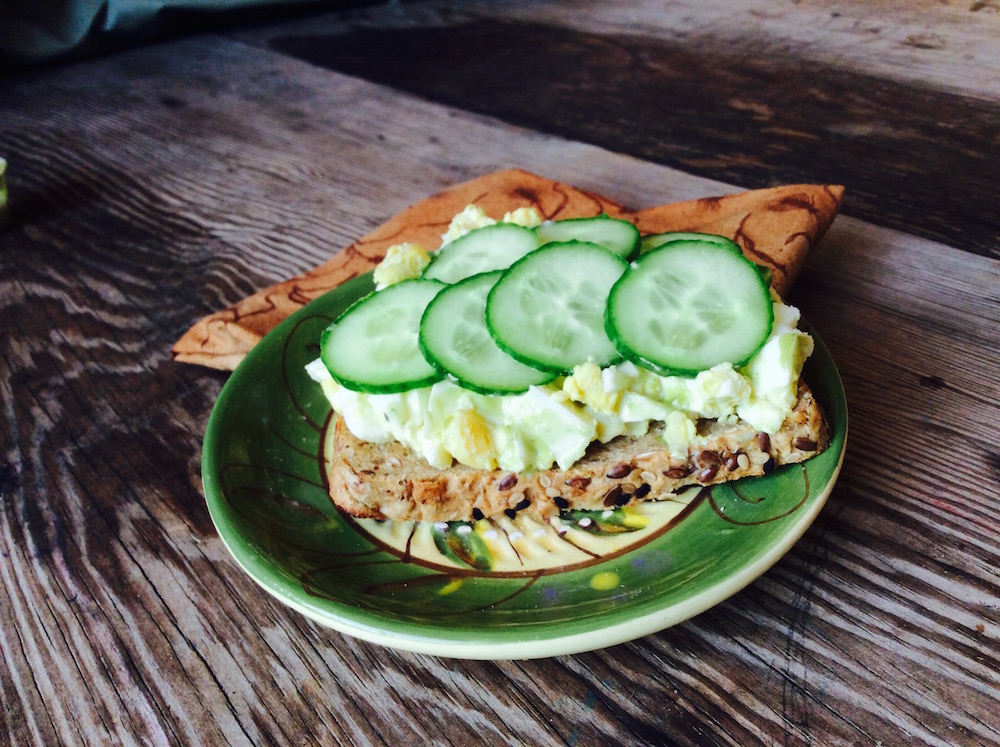 Open-Face Egg & Avocado Salad Sandwich w/ Cucumber
Enjoying avocado toast (with some sort of protein) is one way I like to refuel. Whether it is avocado with smoked salmon, sliced turkey or hard boiled egg, it definitely hits the spot. So I figured why not try Zen & Spice's egg salad. I generally just mashed the avocado with hard boiled egg and add a little seasoning or lemon juice. If the avocado is perfectly ripe (not over-ripe, not too soft), it's natural mild flavor and texture is just perfect. This recipe takes egg salad up a notch.
I used the recipe as is, in terms of the ingredients and quantity. The only thing I altered was how it was served up. Instead of incorporating the cucumber into the salad mixture, I used it to top my open-faced egg salad sandwich. I simply spread the egg salad over toast and added thin slices of crunchy cucumber on top. Oh, yum!
Egg & Avocado Salad with Cucumber on Toast
Egg & Avocado Salad w/ Cucumber on Toast
Ingredients
6 eggs, hard boiled
1 ripe avocado
¼ cup mayo made with olive oil
Seasoning (i.e.: salt & black pepper, smoked paprika)
1 English cucumber, thinly sliced
Piece of toast
Instructions
Place eggs in a large pot and cover.
Bring to boil and remove pot from heat, cover.
Let sit for 20 minutes.
Drain eggs, add cold water.
Let sit for about 10 minutes.
Peel and dice eggs; add to bowl.
Dice avocado; add to bowl.
Add mayo and seasoning.
Gently fold salad together.
Spread salad onto toast.
Layer sliced cucumber on top.
Yum
Zen & Spice's egg salad was absolutely delish! I will definitely keep this recipe as a go-to.
The suggested seasoning (salt & pepper; smoked paprika) enhances the flavors well. But
I can always find creative ways to mix it up like adding in julienned or finely chopped fresh basil. And I think a tomato slice can work just as well as the cucumber.
A healthy choice! Whether served as is, topped on a slice of toast or scooped over mixed greens, this egg salad is certainly a healthy choice as a great source of protein (eggs), some heart healthy fats (avocado) and refreshing/anti-inflammatory cucumber.
Happy Birthday Recipe Redux!