Sometimes I'm drawn to a rustic treat. Take these date-Sweetened PB cups for instance. They aren't perfect, in fact you can see the inside from the cracks of the hardened chocolate, but that is what definitely drew my girls to these. They saw Peanut butter filling with the chocolate and dove in for them. And for me, it says it was homemade rather than neatly manufactured.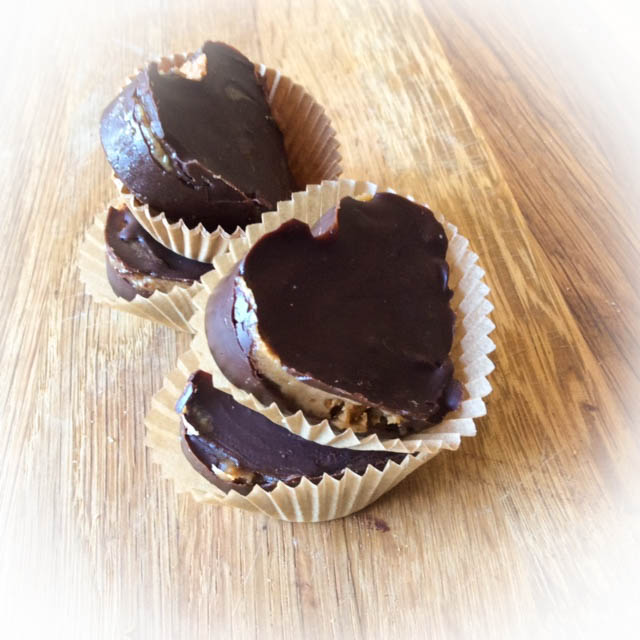 A Simple Treat — Just 4 Ingredients!
What I love above these date-sweetened treats is that they are only 4 ingredients. Just Peanut Butter, Dates, a bit of Coconut oil and Chocolate Chips. So simple, and I had all these ingredients right in my cupboard. I use Enjoy Life, vegan chocolate chips because they are dairy and nut free and taste great. I use California dates because they are perfectly sweet and a whole food ingredient, comes direct from nature (not processed). Now Reece's Peanut Butter Cups – the original candy, has few ingredients, too. But if you look closely, you'll note it contains a preservative call TBHQ and it contains refined sugars. Not the worst thing in the world if you stick to moderation, but I always felt better eating clean. And I can pretty much get that if I prepare my own treats.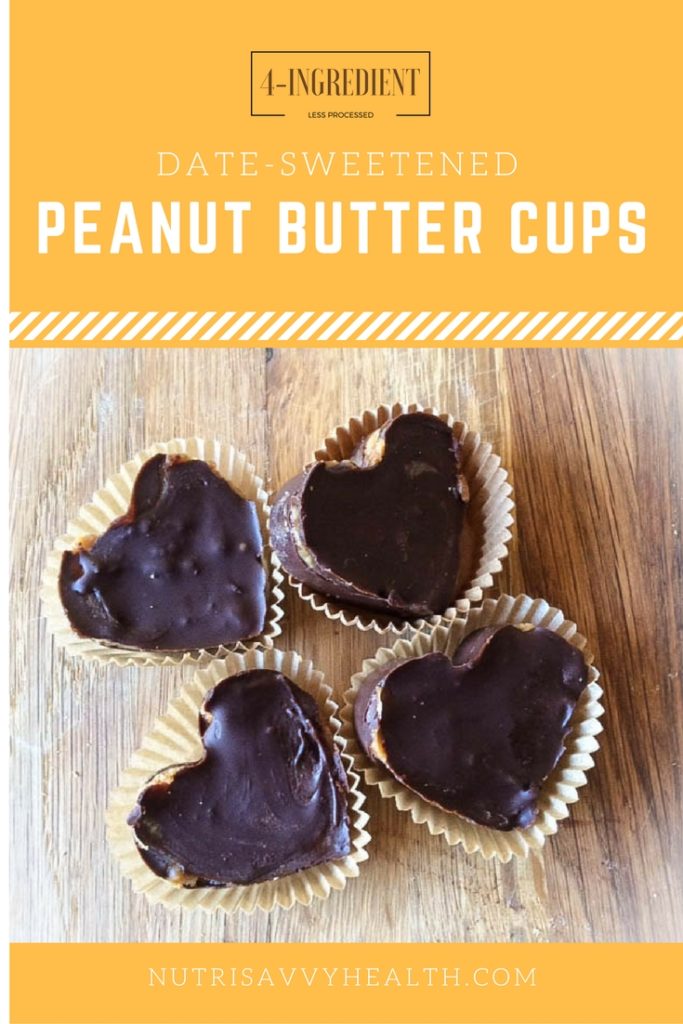 All stacked up, these treats are largely whole food-based, contain no added sugars (besides what's in the chocolate chips), and no chemical preservatives. Clean enough for me. Check out my simple recipe below. You'll need a candy mold, a mixing bowl, a microwave safe bowl for melting the chocolate chips, and a couple spoons. Save for the candy mold (which you can buy at amazon or Surfas), you have all the tools you need in your own kitchen.
Date Sweetened "Reece's PB cups"
Ingredients
8 dates
½ cup water
¼ cup Peanut butter
¾ cup chocolate chips
3 tsp coconut oil, melted, divided
Instructions
puree dates and water
Mix in peanut butter,and 2 tsp coconut oil until creamy; set aside
Melt chcolate chips in micorave safe bowel with 1 tsp coconut oil for a minute; stirring every 20 seconds -- until all melted and smooth.
In a candy mold, place 1 tsp to fill each bottom of mold, reserving ⅔ space left to fill.
Layer 2 tsp peanut butter/date mixture on top.
Top each mold with 1 tsp of chocolate.
Refrigerate until solid.
Enjoy!