Crunchy, golden with a well-balanced sweetness, the "salt factor" that balances the flavor profile in this Coconut Cashew Granola is the secret ingredient with less sodium than regular table salt.
Disclosure: I received a free sample of Kikkoman soy sauce mentioned in this post. By posting this recipe I am entering a recipe contest sponsored by Kikkoman and am eligible to win prizes associated with the contest. I was not compensated for my time.
"Sodium Saving, Flavor Raising" — That's the theme of this Kikkoman sponsored recipe contest. I entered this challenge of swapping out salt in a recipe for Kikkoman soy sauce. By using 1/2 tsp of Kikkoman Soy Sauce in place of 1/2 tsp of salt, the sodium content of a recipe is cut by 1000 mg. That's quite impressive!
So I set out to flavor a dish that typically uses salt to balance out its flavors. I thought granola would be the perfect candidate for my recipe. Note: A little "salt" can enhance sweetness in a recipe, thus salt doesn't necessarily make something taste "salty". That is probably why many processed foods don't even taste like they have much sodium at all (even if they do).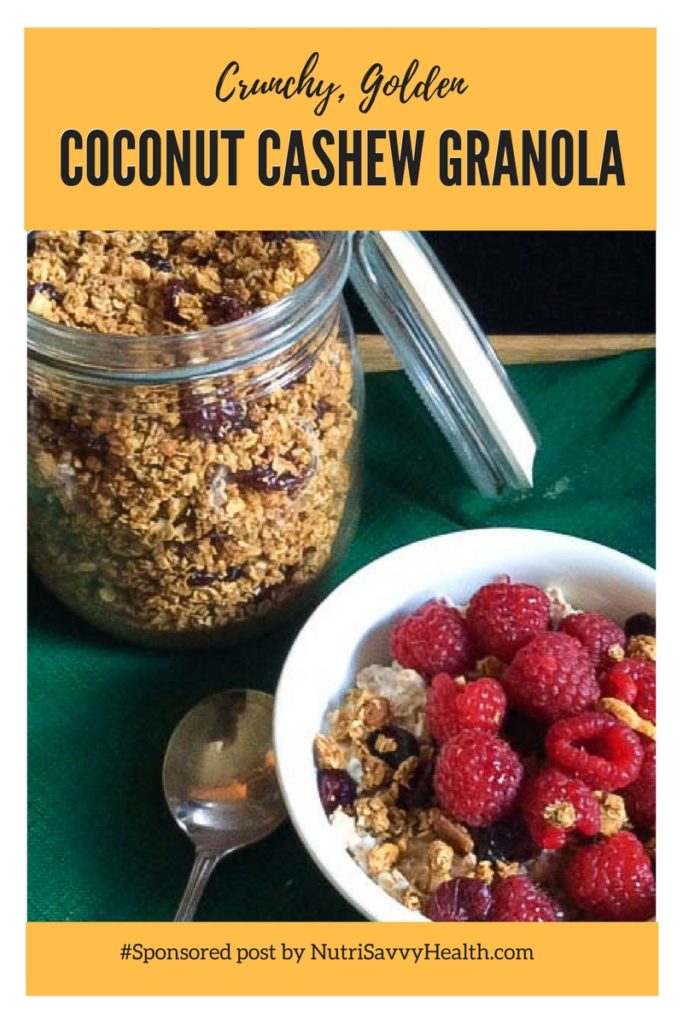 I was happy to report that the Kikkoman Traditionally Brewed Less Sodium Soy Sauce I used did not affect the flavor, in fact, you can't even taste it in this granola at all. My Coconut Cashew Granola is delightful crunchy, golden, nutty and just the right amount of sweet. Both my kids, my hubby and our nanny loved it. And neither detected any essence of Asian appeal (not one inkling of soy sauce in the initial or after-taste). It just tastes like good old fashion granola – hearty & delicious!!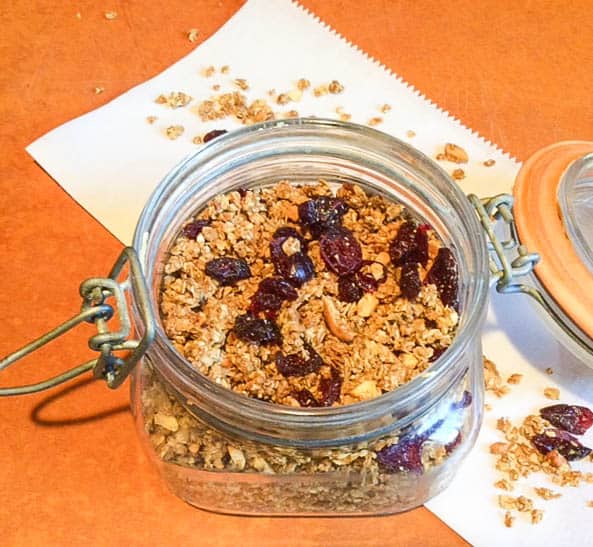 Here's the recipe I adapted from celebrity chef Alton Brown's Granola – a basic granola that comes out perfect every time. It's because Alton knows the science behind every dish — and let's face it, cooking is chemistry. With tweaks mainly in sugars (I used homemade date paste for the main sweetener), salt and fats – including the nuts I chose.

Coconut Cashew Granola
Crunchy, golden, perfectly sweet, this granola is hearty and satisfying.
Recipe type:
Breakfast or Snack
Ingredients
3 cups rolled oats
⅔ cup pecans, chopped
⅔ cup cashews
¾ cup of unsweetened coconut
8 small, pitted dates (Deglect Noor)
½ cup water
2 Tbsp white sugar*
2 tsp Molasses*
½ tsp vanilla extract
2 Tbsp vegetable oil
2 Tbsp butter, unsalted, melted
1 Tbsp Kikkoman Traditionally Brewed Less Sodium soy sauce
¾ cup dried cranberries
Instructions
Preheat oven to 250ºF.
Prepare "date paste" by combining dates and water (8 dates + ½ cup water) and processing in high-speed blender until pureed (then set aside).
In a large bowl, combine oats, nuts, coconut, and sugar.
In another bowl blend "date paste", vegetable oil, melted butter, molasses, Kikkoman Traditionally Brewed Less Sodium Soy Sauce and vanilla extract.
Combine both mixtures until well-combined.
Spread out onto 1 large commercial baking sheet or divide between two.
Cook for 1 hour and 15 minutes, stirring every 15 minutes to achieve even color throughout.
Remove from oven, mix in cranberries.
Let cool, then place in well-sealed container such as a mason jar or tupperware to store.
Notes
*If you don't have molasses, substitute [2 Tbsp white sugar + 2 tsp molasses] for 3 Tbsp brown sugar.

Makes 6 cups, total. Nutrition based on a ¼-cup serving (yielding 24 servings).
Nutrition Information
Serving size:
¼ cup
Calories:
148
Fat:
9g
Carbohydrates:
16g
Sugar:
7g
Sodium:
26mg
Fiber:
2g
Protein:
3g
Cholesterol:
3g
Thanks for stopping by and checking out my Kikkoman inspired dish. To see what some of my fellow Recipe Reduxers have come up with, click on the image below.