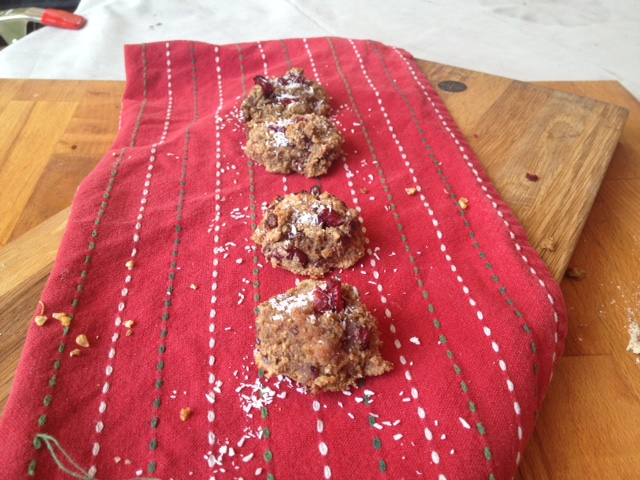 Enjoy Cranberries (all year long)!
You can enjoy cranberries all year long! Cranberries can have a pretty long shelf-life. (They are preserved in these common forms: dried cranberries, canned cranberries and frozen cranberries.) And why not keep 'em stocked?! Even though they have added sugars to balance their natural tartness, they can certainly fit into Dietary Guidelines. Thank you Cranberry Institute for providing me a care package containing both canned and dried cranberries.
Here are just a few ways I enjoy dried cranberries:
In oatmeal
In smoothies
In homemade granola
In a smoothie breakfast bowl
In nutrient-dense homemade treats such as these little cake bites
Cranberry-licious Cake Bites: These cranberry-sweetened cookies are made from only whole food — nutrient-dense ingredients. I used dried cranberries, oats, flax, unsweetened coconut flakes and almond meal. You can prep ahead by combining dried ingredients into a tupperware or mini blender cup with lid (I use Nutri-Bullet) and refrigerating so you can pulse into a meal add wet ingredients the next day. I prefer to keep the cranberries separate to add in last for a texture appeal (just as you would add chocolate chips and nuts last in your chocolate chip cookie dough).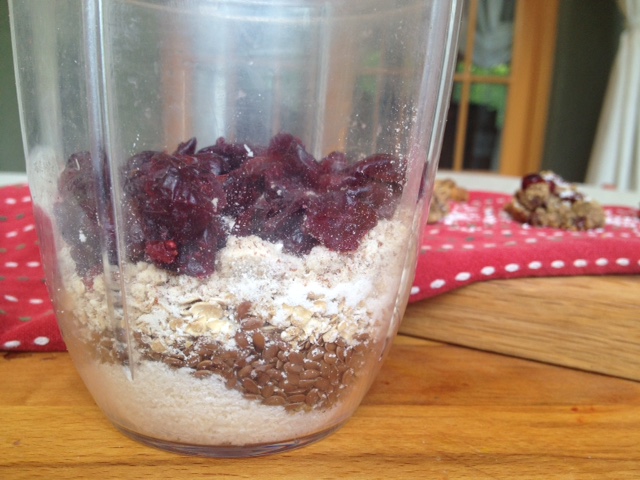 You can enjoy them baked our raw because there is NO egg and the ingredients are those that you'd could easily incorporate into a smoothie or raw breakfast bowl or a refrigerated oatmeal treat!
Discover More Cranberry Goodness!
---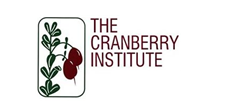 Cranberries Get a Special Call Out
For the first time ever, the Dietary Guidelines have advised Americans to consume less than 10 percent of total calories per day from added sugars to help reduce calories from foods that contribute minimally to overall nutrient intake. However, they recognize the value of cranberries – and have made an exception – for nutrient dense fruits and vegetables (like cranberries or rhubarb) that are naturally tart and sweetened to improve palatability. The guidelines say that the American diet has room for nutrient dense foods with added sugars, as long as calories from added sugars do not exceed 10 percent per day.
Some more reasons to enjoy heart-healthy cranberries:
They are especially good for Urinary Tract Health and may help improve Gut Health.
---
Cranberry-licious Cake Bites
Ingredients
⅛ cup coconut flakes, unsweetened
⅛ cup flax seeds
⅛ cup oats
⅛ cup dried mulberries
⅛ cup oats
⅛ cup almond meal
⅛ cup coconut flour
2 Tbsp Coconut oil
⅛ cup mini dark chocolate chips
⅛ cup cranberries
¼ cup canned cranberry sauce
Instructions
Grind flax, oats, mulberries and coconut flakes into a meal and place in a bowl.
Add almond meal, coconut flour, coconut oil, and cranberry sauce.
Combine well.
Mix in chocolate chips and cranberries.
Scoop into mini balls and place in tupperware.
Refrigerate until ready to eat.
Notes
You can bake these bites by preheating oven to 375ºF and baking for about 10 minutes.
Disclaimer: Although I was not paid for this post, I did receive a care package with dried cranberries and cranberry sauce, along with latest nutritional news regarding the health value of cranberries.