This month's recipe challenge was to create a healthy holiday dessert. I already had two bags of fresh cranberries in my fridge, so I thought I'd make a Cranberry Crumble. While this isn't entirely sugar-free, the crumble is sweetened only with dates, cinnamon, coconut flakes (and even the oats and almond flour adds a bit of sweetness) — no refined sugars, not even in the coconut which is unsweetened. Here's what I came up with for the Recipe Redux November Challenge:
"Trimming the Table
The holiday baking season is upon us. Time to pull out all the stops. Show us the healthy holiday dessert you will be sharing with family and friends this season."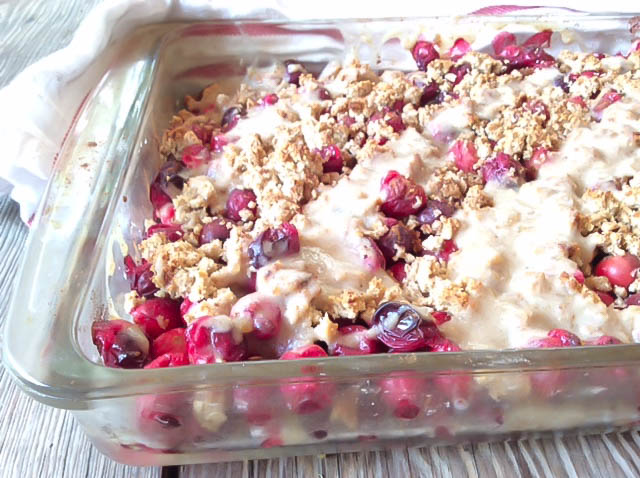 Cranberry Crumble with Date-Almond Cream
So colorful and festive!! The cranberries literally add pop and pizzazz to this and many traditional holiday eats & treats. What's so great about cranberries is that they not only add color and delicious sweet-tart appeal, they are a good source of Vitamin C and full of antioxidant potential to deliver immunity and cleansing-properties.
This batch I prepared was taste-tested by my eager girls who couldn't wait for it to come out the oven. They were Wow-ed and when they finally took their first bite, it was "heaven". They enjoyed it all, but especially loved the golden, crunchy crumble, which is great because I can use it as a base for "granola bar treats," "toasty homemade granola," oatmeal cookies or as a crumble featuring other seasonal fruits. Hope you enjoy it much as my girls do. Here's the recipe!

Cranberry Crumble with Date Almond Cream
Ingredients
1 cup oats
1 cup flour
½ cup butter, unsalted
16 dates
¾ cup almond flour
¾ cup coconut flakes, unsweetened
½ cup ground flaxseed (optional)
1 tsp vanilla
1 tsp cinnamon
½ tsp salt
3 cups cranberries, fresh
¼ cup cornstarch

¼ cup sugar or Truvia

8 dates
¼ cup almond milk
¼ cup water
Instructions
Preheat oven to 350ºF.

In a food processor, combine oats, flour, butter, dates, almond flour, unsweetened coconut flakes, ground flax, vanilla, cinnamon and sea salt. Process until well combined and crumbly.
Crumble half of the mixture evenly into a greased 9" x 12" baking pan, set aside.
In a bowl, combine cranberries, cornstarch and sugar.
Pour cranberry mixture onto crumble, and spread out evenly.
Add remaining crumble as topping.
Optional: Sprinkle more cinnamon on top of crumble.
Bake for about 30 minutes, until crust is golden and crisp.
Prepare date almond cream in a high-speed blender by processing dates with ¼ cup almond milk and ¼ cup water until well pureéd.
Drizzle almond cream on top of crumble and serve.
Notes
The ground flaxseed is optional. It was added for a little more nutrient density, but the recipe will certainly work without the addition. : )
See what beautiful desserts my fellow Recipe Reduxers have come up with: