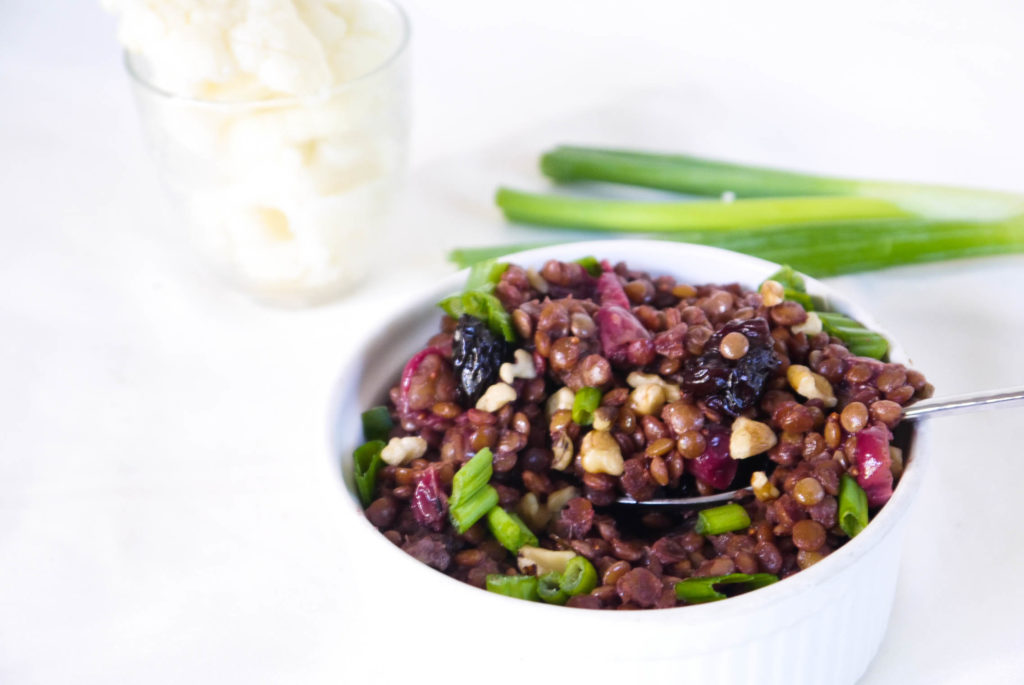 ---
CELEBRATE #FRIENDSGIVING WITH CRANBERRIES!
TRY THIS SUPER-TASTY, SWEET-SAVORY LENTIL & CRANBERRY DISH! IT POPS WITH FLAVOR!
---
When it comes to Cranberries, I think of a burst of tangy flavor. And of course if you balance it with sweetness – a sweet & tangy burst of delight! This is my cran-inspired post to kick off the holiday season, although you could enjoy my savory lentils with cranberries any time of the year!
I had the opportunity to visit @uscranberries at this year's FNCE (Food & Nutrition Conference and Expo) in Chicago. It was the first time I'd actually tried a cranberry "in the raw" – no added sugar, just the plain old 'berry. Without the sugar, it reminds me of lemon zest – something to enhance a dish's flavor with a sour or tangy note. This tingles your tastebuds, giving more pop to the overall flavor. And it actually inspired me to come up with a cranberry dish that isn't necessarily sweet, however it combines a well-rounded savory flavor with notes of sweetness and crunchy walnuts. This Vegan Lentil dish is high in fiber, low in added sugars, and has an excellent taste/texture. And it's got 1  1/2 cups of whole cranberries cooked in.

Did You Know?
You may already know that Cranberries are an excellent source of Vitamin C, that they are Low in Sodium, Low in Saturated Fat (yes some fruits actually contain sat fats), a good source of Vitamin K. But did you know that Cranberries may have an effect on your gut health? Researchers at the University of Wisconsin investigated daily cranberry intake and it's effect on gut micro organisms. Data is still limited, but we do know that gut health has a role immunity and disease-fighting capability. While there is no overwhelming evidence just yet, the research is worth the exploration.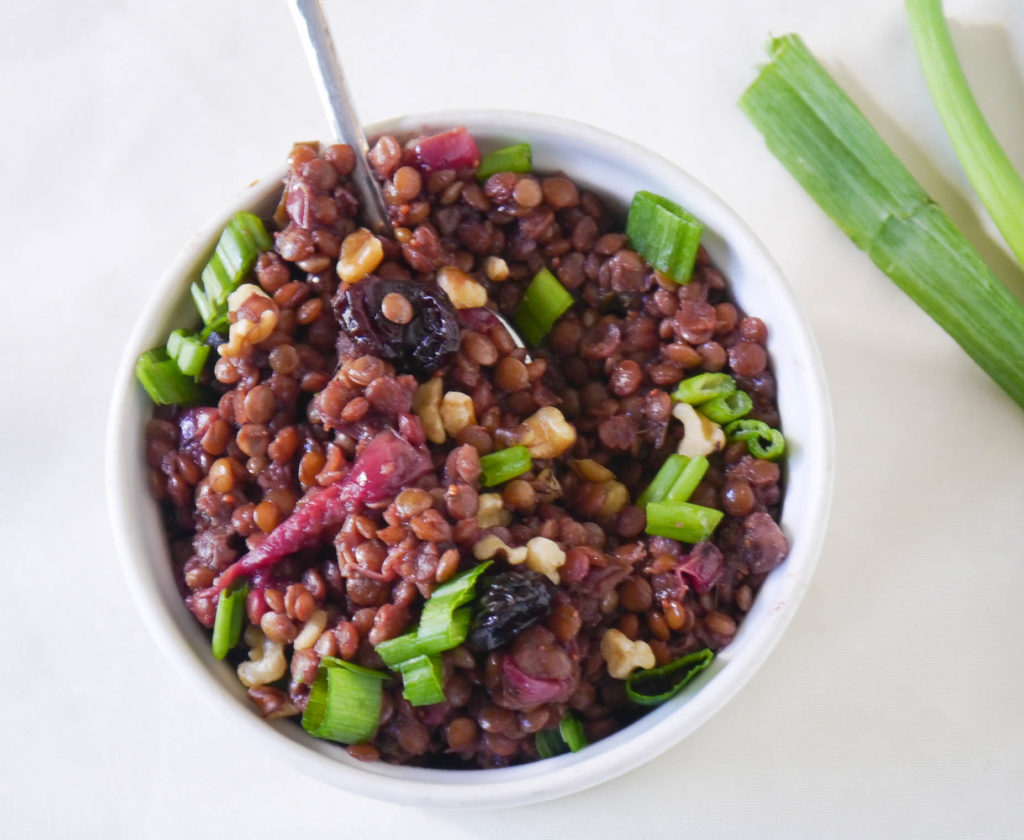 A Vegan Lentil Dish that's actually quite versatile!
Try this satisfying, delicious Vegan Lentil dish. It's a great vegan source of protein, packs in plenty of fiber and mixes well in a variety of dishes. You can mix in your favorite rice, couscous or pilaf or enjoy with chunks of butternut squash. And if you enjoy meat, why not add your favorite lean source of protein (or what ever leftovers you may have – chicken or beef). Whether you are an Omnivore or Not, you'll love the appeal of this dish and the variety of ways to serve it up. I'm thinking, if I actually have leftovers, I'll add some broth and sweet potatoes (or carrots) and make it a heart-warming lentil soup.

Seasoned Lentils with Cranberry & Walnuts
Ingredients
1 cup dried lentils
1½ cups fresh cranberries
4 cups broth (I used Bone Broth)
1 tsp garlic powder
¼ tsp cumin
¼ tsp oregano
¼ tsp cinnamon
2 Tbsp Brown Sugar (or Truvia mixed with ½ tsp molasses)
⅓ cup chopped green onion
1 Tbsp red wine vinegar
⅓ cup chopped walnuts
2 Tbsp dried cranberries
Instructions
Heat ghee in pan on medium heat until nearly melted.
Add rinsed, dried lentils and toast for about 3-4 minutes, stirring often.
Add fresh (or frozen) rinsed cranberries.
Add garlic, cumin, cinnamon and Brown sugar.
Pour in 2 cups of broth and simmer covered until lentils nearly absorbed all liquid (about 20 minutes).
Add another cup of the broth and heat covered.
When nearly absorbed, add remaining broth and red wine vinegar.
Keep covered, simmering until lentils have soaked all liquid.
Toss in walnuts, garnish with dried cranberries and green onion.
Nutrition Information
Serving size:
½ cup
Calories:
200
Fat:
8
Carbohydrates:
25g
Fiber:
8
Protein:
11g