It can be a challenge to get more veggies in your kid's diet. But it can also be a fun and creative venture. I don't always hide the veggies in my girls food. In fact, I like to keep it front and center on their plate. But if I have a chance to sneak some extra goodness in their diet, why not?! So I decided to give cauliflower a try for this Choco-licious smoothie treat!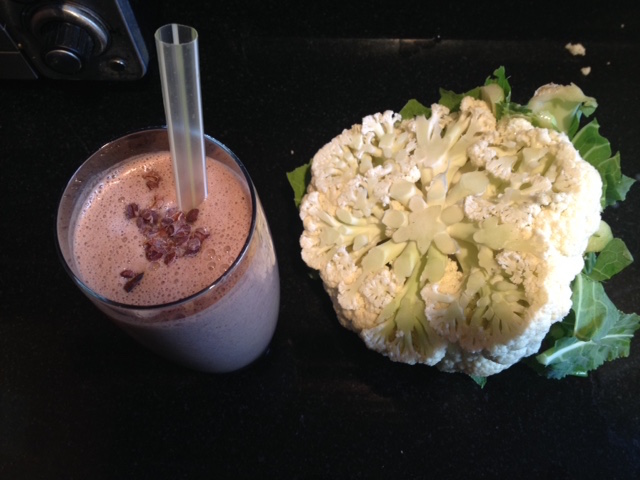 Cauliflower Fun Fact: Did you know this member of the cabbage family contains an impressive 77% Daily Value for Vitamin C (per serving). Check out other surprisingly good sources of Vitamin C here.
Choco-licious Smoothie
I adapted this recipe from Super Food Smoothies by Julie Morris. I highly recommend this book because the combos are fantastic and you get in plenty of heart-healthy ingredients. Your kids won't even know, unless you wanna tell them. 🙂

Choco-licious Smoothie (with cauliflower)
Ingredients
5-6 small dates (I use Deglect Noor)
1 Tbsp Cocoa powder
2 Tablespoons Cocoa Nibs (or Chocolate Chips, Dark)
1.5 cups steamed Cauliflower
1 Tbsp Hemp Seeds
1 cup coconut water
¾ cup almond milk
handful of ice
Instructions
Blend all ingredients until smooth.
Add ice.
Continue to process until frothy.
Recipe Notes:
I cut the original recipe in half – "1 cup" is a perfect serving for my little girls. I substituted "rice milk" for "almond milk" because I think almond milk and coconut are a delightful, creamy combo. I added a few more dates because Deglect Noor are smaller than Mejool. Because I didn't have coconut ice (ice cube tray filled with coconut water and set to freeze) as I didn't prep an evening before, so I just used the coconut liquid and added in ice.
Hope you enjoy this recipe (feel free to substitute as needed – maybe swap out Hemp seeds for Sunflower or add in a pinch of Cinnamon spice). My girls loved it – I think your kids will love it too (and so will you!).