Small Plates for Summer Days
As we near summer, we enter a season where smaller bites are both appealing and perfect for those hotter days.  Thus the theme: Small Plates for Summer Days. Small bites are perfect for trying many different tastes. And these mini chicken croquets are perfect with a knife and fork or served up on a bun or crisp romaine leaf. They are a flavorful, satisfying way to get in protein and veggies.
Do you like a good balance of texture, flavor and satisfaction? Well here you go!
Below you can see the incorporation of the veggie mayo and lightly sprinkled Pecorino Romano cheese on top. Although in my recipe I suggest to incorporate the mayo, chili and marinara until well blended — your choice. (Perhaps you like to see more texture? or Maybe you prefer a more evenly blended appeal?)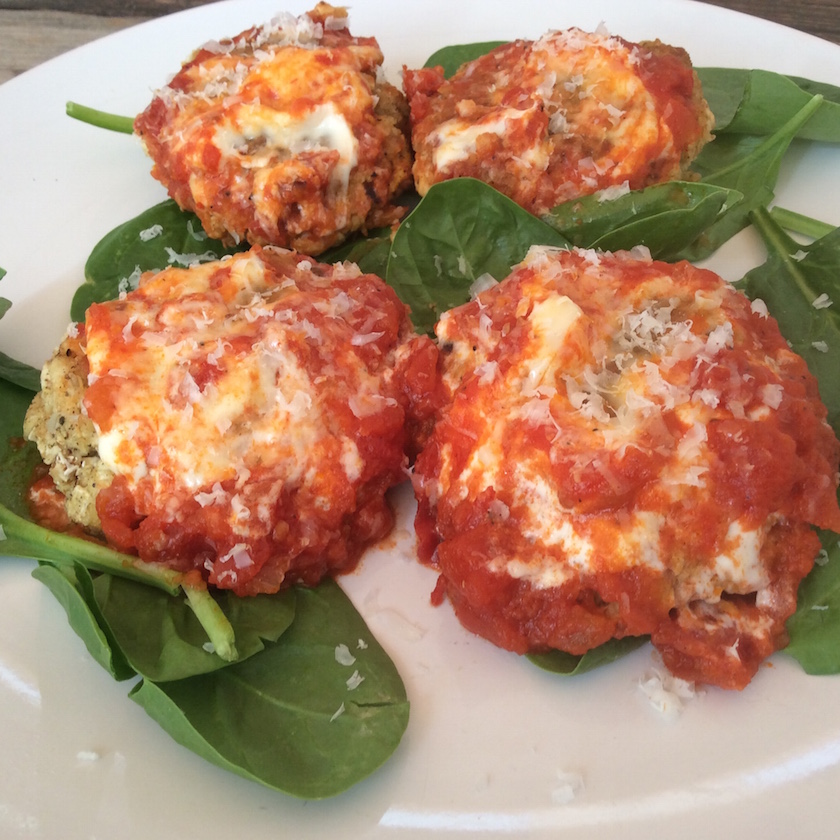 Here I've plated my croquets over spinach to get even more plant-based nutrients, but you can certainly pack in the spinach into these tasty bite-sized "burgers" (as explained in recipe below). I can never get enough veggies so I'm always happy to find ways to toss in even more leafy greens (either plated or as a lettuce wrap). ENJOY!!! The recipe is below: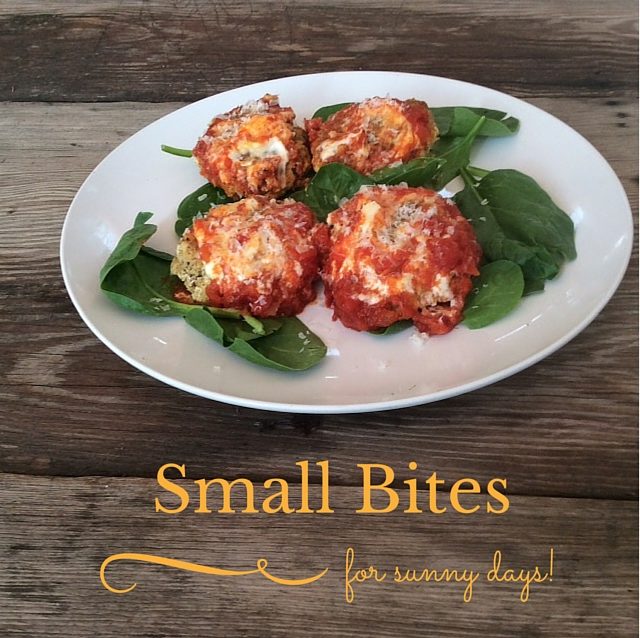 Mini Chicken & Mushroom Croquettes w/ Zesty Marinara
Mini Chicken & Mushroom Croquettes
Ingredients
1 cup chicken, cooked, chopped
1 cup chopped mushrooms, chopped
½ cup breadcrumbs, panko or crushed matzah meal
½ Tbsp Zaatar (or Italian seasoning)
1 tsp garlic powder
1 egg
2 Tbsp olive oil, divided
Special Zesty Marinara Sauce for topping.
Optional: 1 cup loosely packed spinach
Optional: Sprinkling of Pecorrino Romano (or Parmesan) Cheese
Instructions
Mix breadcrumbs (panko or matzah meal) with Zaatar and garlic. Set aside.
In a food processor, combine chicken (or firm, drained tofu) with mushrooms, egg, 2 tsp olive oil and breadcrumbs.
Optional: add in 1 cup loosely packed leafy greens such as spinach or kale.
Process until forms a paste.
Form into small patties (makes 4-6, depending on size).
Use remainder of oil in pan to cook patties until golden brown on both sides.
Remove from pan and top each patty with about 2 Tbsp of Special Zesty Marinara.
Optional: Sprinkle each with a bit of Parmesan cheese.
Check out these other "small bites" from the nutrisavvyhealth blog!
Special Zesty Marinara Sauce
Ingredients
½ cup marinara
½ tsp chili paste
1 tsp vegan mayonnaise
Instructions
Blend all ingredients until well incorporated or fold in loosely for a more textured appeal.
Dollop a Tbsp or Two onto the mini croquettes.
Q: How would you enjoy these croquettes or "mini burgers"?
In a bun? In a lettuce wrap? With a knife and fork? Your Ideas ____________?