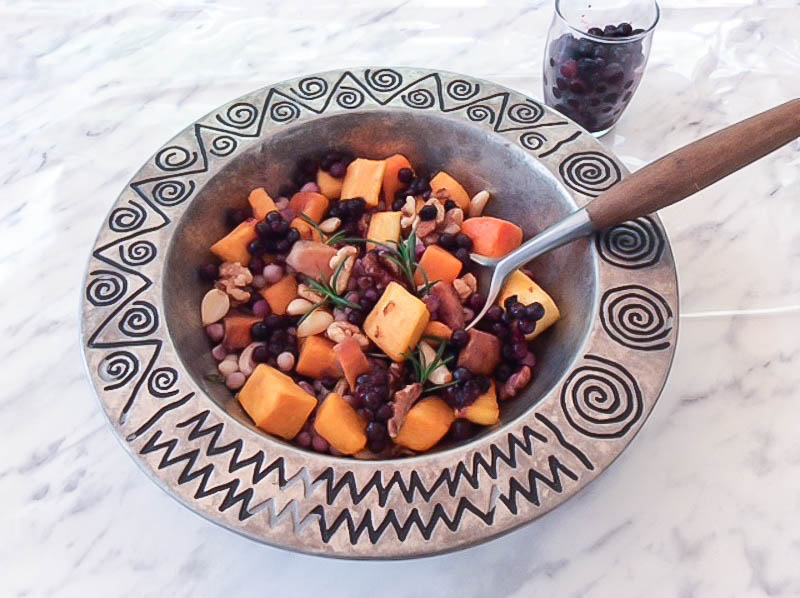 Disclosure: By posting this recipe I am entering a recipe contest sponsored by Wild Blueberries and am eligible to win prizes associated with the contest. I was not compensated for my time.
The Holiday Season is here! With our Halloween festivities coming to a close, it's now time to focus on Thanksgiving. And I've come up with a Butternut squash and Wild blueberries stuffing as a healthy option to add to our Thanksgiving cornucopia of dishes. And although I love the high-fat, buttery, 3-bread apple-sausage stuffing, it's nice to have something on the lighter side.
This stuffing pops with Wild blueberries and includes Butternut squash and pearl couscous to give it a starchier appeal. It's more nutrient-dense than traditional stuffings. The wild blueberries add an intense sweetness and plenty of good nutrients. Paired with lightly sweet butternut squash and complemented by the nuttiness of walnuts and a fun couscous pearl grain, it is satisfying, heart-y and delicious.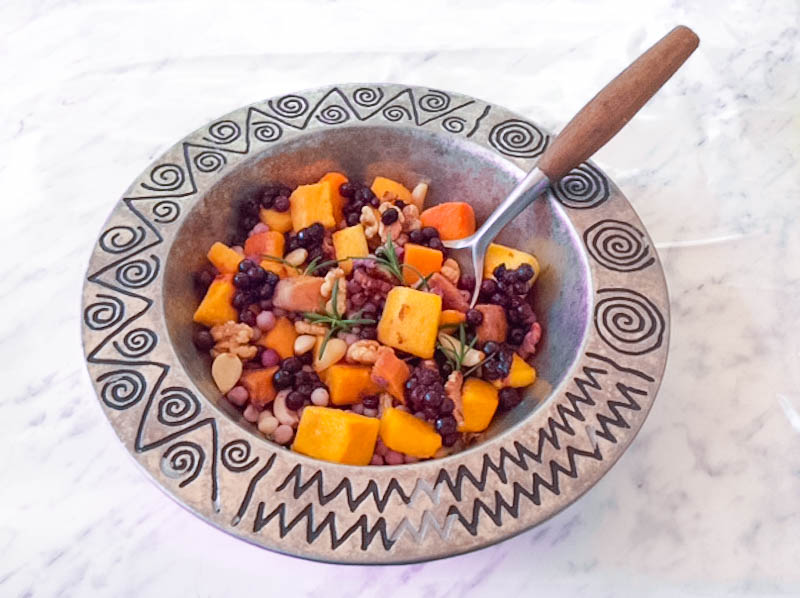 What makes Wild blueberries so special (and why did I feature them in my new stuffing)?
Wild blueberries are rich in antioxidants! With 2x the antioxidant capacity of regular blueberries, a growing body of research suggests potential health benefits including gut health, diabetes, cancer and brain health. I wanted to include more nutritional benefit to my stuffing.
Wild blueberries have more intense flavor (than regular blueberries)! These tiny berries have a complex sweet-tart flavor — rich from a genetic diversity of interlocking plants that spread across the fields. An intense sweet flavor complements the bland, starchiness of the whole grain and the nuttiness of the walnuts.
Wild blueberries are more nutrient dense! They contain 8x more manganese, 72% more fiber and 32% less sugar per serving than regular blueberries. I wanted a dish higher in fiber and lower in sugars to help to stabilize blood sugars.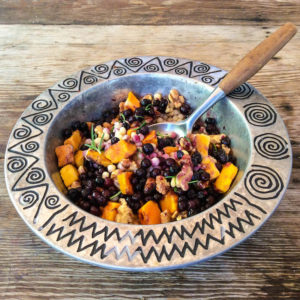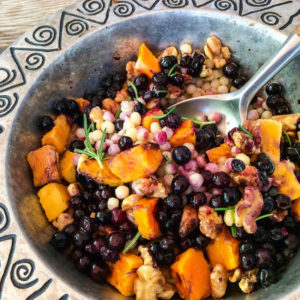 Butternut Squash & Wild Blueberry Dressing!
I'm loving how hearty and satisfying this dish tastes. It's not nearly as saturated with butter/fat as traditional Thanksgiving stuffings; and it's got such plant-based goodness. It's less processed and with the goodness of whole foods including butternut squash, wild blueberries and walnuts. Simple ingredients, colorful appeal and a wonderful blend of textures! Check out my recipe below.

Butternut Squash and Wild Blueberries Dressing
Ingredients
2 cups Butternut squash, cubed
1 sprig of Rosemary (3")
3 tsp olive oil, divided
10 small cloves of garlic
¾ cup Wild blueberries, frozen (defrosted)
2 cups cooked couscous (large pearl)
½ cup toasted walnuts
Instructions
Preheat oven to 350ºF.
In baking dish, coat squash with 2 tsp of olive oil and toss in garlic.
Be sure to coat well.
Toss in Sprig of Rosemary.
Bake in oven for 20-25 minutes, until garlic is lightly toasted and butternut squash is softened.
Discard rosemary; set aside.
Lightly pan-fry cooked couscous with 1 tsp oil for 5 minutes; set aside.
Toss butternut squash, couscous and walnuts in a serving bowl, reserve ¼ of couscous.
Gently fold in drained wild blueberries.
Toss in remaining couscous to add brightness (blueberries add in a colorful purple stain).
Optional: Garnish with fresh rosemary.
Thanks to Wild Blueberries for sponsoring this contest!