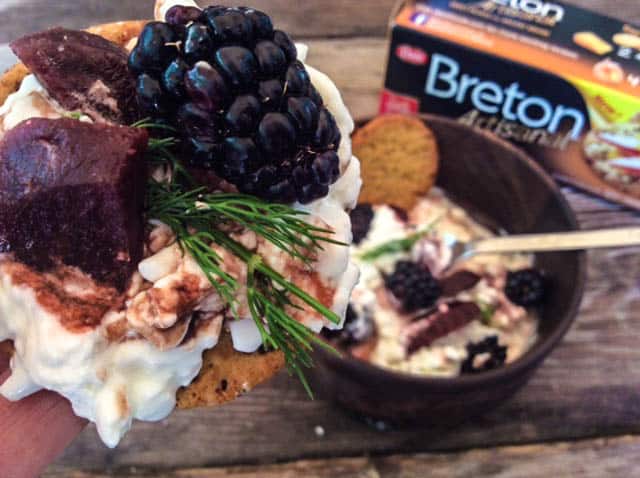 #AD   I received free samples of Breton Crackers mentioned in this post. By posting this recipe I am entering a recipe contest sponsored by Breton Crackers and am eligible to win prizes associated with the contest. I was not compensated for my time. 
When you've gotta have a crisp cracker, Breton's a great choice. There's no doubt that Breton Artisanal Sweet Potato & Grains crackers taste great on their own. Made with ancient grains like quinoa and rye, these tender crisp crackers have the goodness of sweet potatoes baked right in. But sometimes, you want to pair it up with something yummy, too…
So for a complimentary pairing, I put together a "double cream" cottage cheese spread with balsamic, beets and berries. Funny, but two of my favorite dishes at Thanksgiving are my roasted sweet potatoes and gingered balsamic beets — and I often eat them together, one bite after another. So this is quite fitting and deliciously paired.  Yeah, I know we've got month's 'til Thanksgiving, but this combo can be enjoyed anytime of year. With 4th of July coming up, I'd say this is a perfect hors de oevres to serve.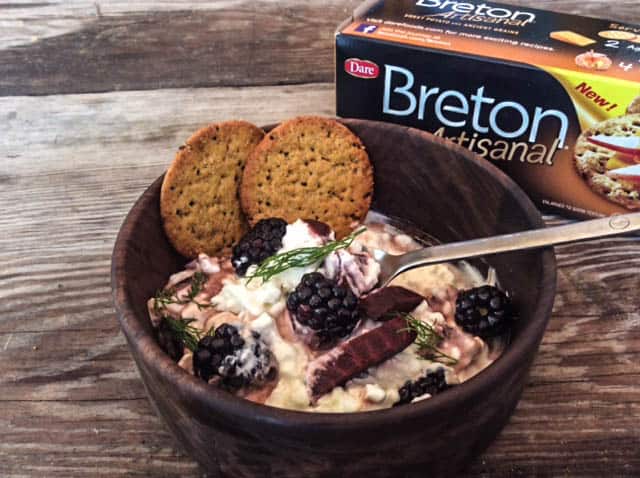 "Double Cream" Cottage Cheese, Beet & Berry Dip + Breton 
My "double cream" base is a combination of cottage cheese and sour cream. (If prefer Labne – a kefir cheese, you can substitute that for the sour cream.) The balsamic beets adds a delightfully savory component to the spread. And it's rich, creamy and heartily tasty. With 4g protein and only 5g carbs (4g Net Carbs) per serving, it's a great option. It's only got 2g fat per serving.
My simple combo is made with the goodness of dairy (cottage cheese), fruit (fresh berries) and veggies (beet is a root vegetable).  When you pair 2 Tbsp of this dip with 4 Artisanal Breton Crackers, you've got the goodness of quinoa, rye & sweet potato in the crackers served with a whole-food blend of cottage cheese, beets and blackberries. And the pairing is a delightfully, satisfying 150-calorie snack. So you can spread it on a Breton thick knowing your fueling up with heart-healthy nutrients.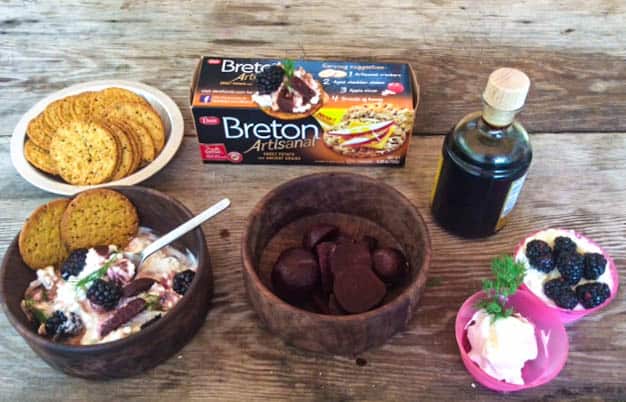 This "Double cream"  Balsamic Beet & Berry dip is simply prepared with just 5 ingredients, you can easily find at your local grocery store: 1) Cottage cheese 2) Sour cream 3) Balsamic Vinegar 4) Beets and 5) Blackberries
Whether its a special occasion or impromptu gathering, Breton crackers make eat bite better! You can Wow! Your guests with this impressive hors de oevre, despite it's 5-ingredient simplicity. In fact, his Savory "Double Cream" Cottage Cheese + Breton combo will be perfect for 4th of July or your next Summer gathering.
My kids enjoyed the Breton artisanal crackers so much, they nearly ate the whole box. They started dipping into my "Double Cream" Cottage Cheese spread. They loved the combo!! I'll have to prepare this simple combo for their next lunch box.

"Double Cream" Cottage Cheese w/ Balsamic Beets & Berries
Cuisine:
A fresh new take on cottage cheese with balsamic beets and berries
Ingredients
½ cup Cottage Cheese, low fat
2 Tbsp Sour Cream
¼ cup Blackberries
1 Beet, medium, roasted, chopped
2 Tbsp Balsamic Vinegar
Instructions
In a small bowl pour balsamic vinegar over beets; soak.
In another small bowl, blend sour cream into cottage cheese; set aside.
Take half the balsamic beets mixture and place at bottom of a small serving bowl.
Scoop cottage cheese/ sour cream mixture on top, to sit atop the delicious balsamic beet liquid.
Using slotted spoon, take remaining beets and gently fold into cottage cheese mixture so whiteness of cream shows through.
Toss on blackberries.
*Serve as a dip for Breton (4 crackers per serving).
Notes
1. Optional: Garnish with dill
2. When serving for many, I'd recommend making each bowlful separately rather than doubling or trippling the recipe. In nice, small serving bowls, it can be placed at different ends of the table for happy dippers.
3. *Serving suggestion: ¼ of recipe + 4 Breton Artisanal Sweet Potato & Ancient Grains Crackers = 140 cal, 4.5g fat, 15g carb, 1g fiber, 5g protein
Nutrition Information
Calories:
60
Fat:
2g
Carbohydrates:
5g
Fiber:
1g
Protein:
4g