Smoothie bowls have been around for a while. I've seen several delicious versions made by my foodie friends and often contemplate about ordering in one of the local vegan friendly cafes. But because I have plenty of ingredients to make a variety of combos, I have waited to make my own. Presenting my first Smoothie Bowl!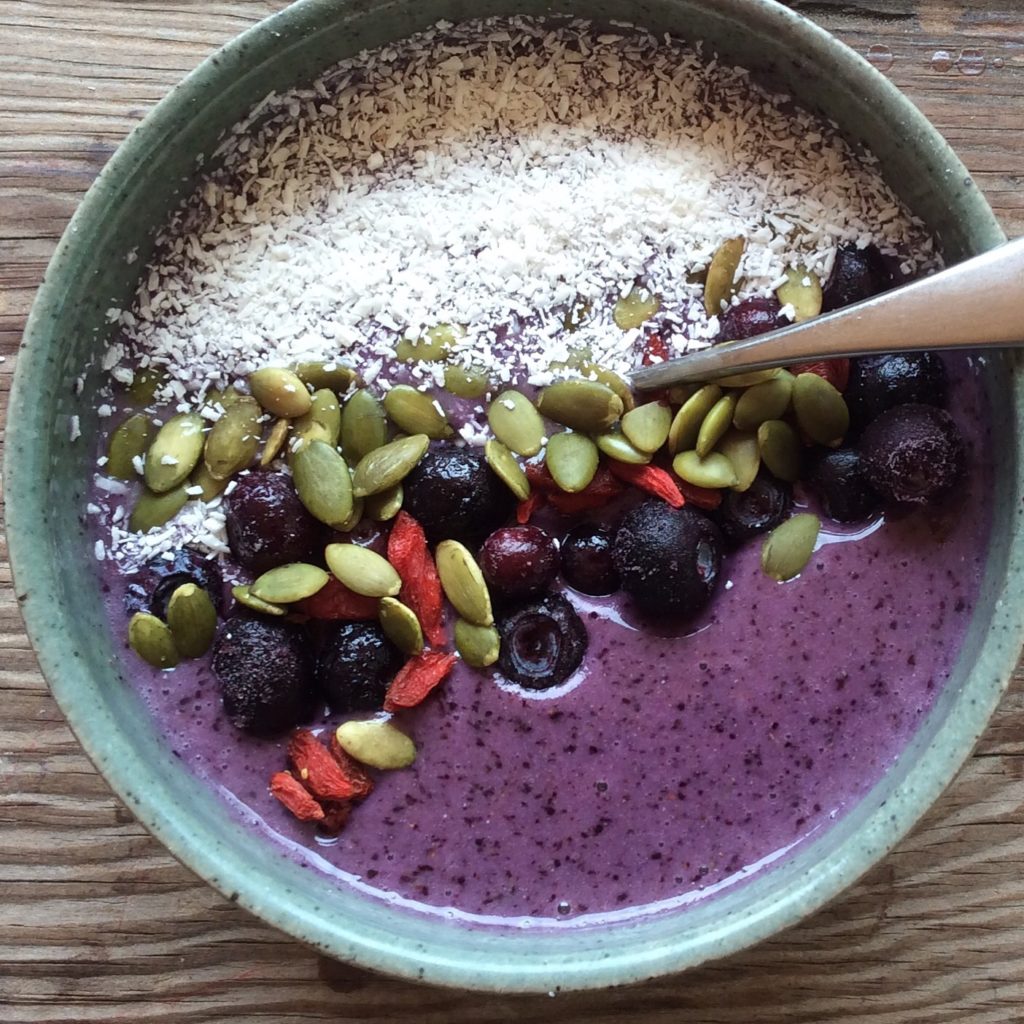 I finally decided to give it a go. And created a most delicious blend with blueberries, banana, vegan protein powder and some tasty toppings I had in my cupboard. I used this No-Fail Plan: How to Make a Delicious Smoothie Bowl from HelloGlow.com as a guide.

Blueberry Smoothie Bowl
Author:
Blueberry-licious Smoothie Bowl
Ingredients
½ cup blueberries (I used frozen)
½ medium banana
2 dates, small, pitted
2 Tbsp vegan protein powder (or a large handful of leafy greens like Romaine, Kale or Spinach)
½ cup milk alternative (unsweetened coconut or almond milk, coconut water, or your favorite vegan milk)
1 Tbsp unsweetened coconut flakes
1 Tbsp pumpkin seeds, raw or toasted
1 Tbsp Goji berries
Instructions
Blend blueberries, dates, soaked chia, vegan protein powder and "milk" in a Nutri-Bullet (or any high speed blender)
Pour into a bowl.
Top with coconut, pumpkin seeds and goji berries
Notes
Notes: Add a little more or less liquid for desired consistency
Vary with different topping choices (walnuts, almonds, cranberries, pomegranates, etc)
A Variety of Combos for a Yummy Smoothie Bowl
This is just one of a variety of ways to fix up a smoothie bowl. I could've used 1 cup blueberries and omitted the banana or topped with a combo of sliced walnuts, cocoa nibs and almond meal. And with summer here and strawberries in season, it could be a refreshing strawberry base. But for my first bowl, this refreshing tasty combo hit the spot!!