In a lunch rut? Bored with the same old salad or sandwich options? This month's Recipe ReDux challenge was to put an end to the boring lunch rut by opening the door to creative lunching.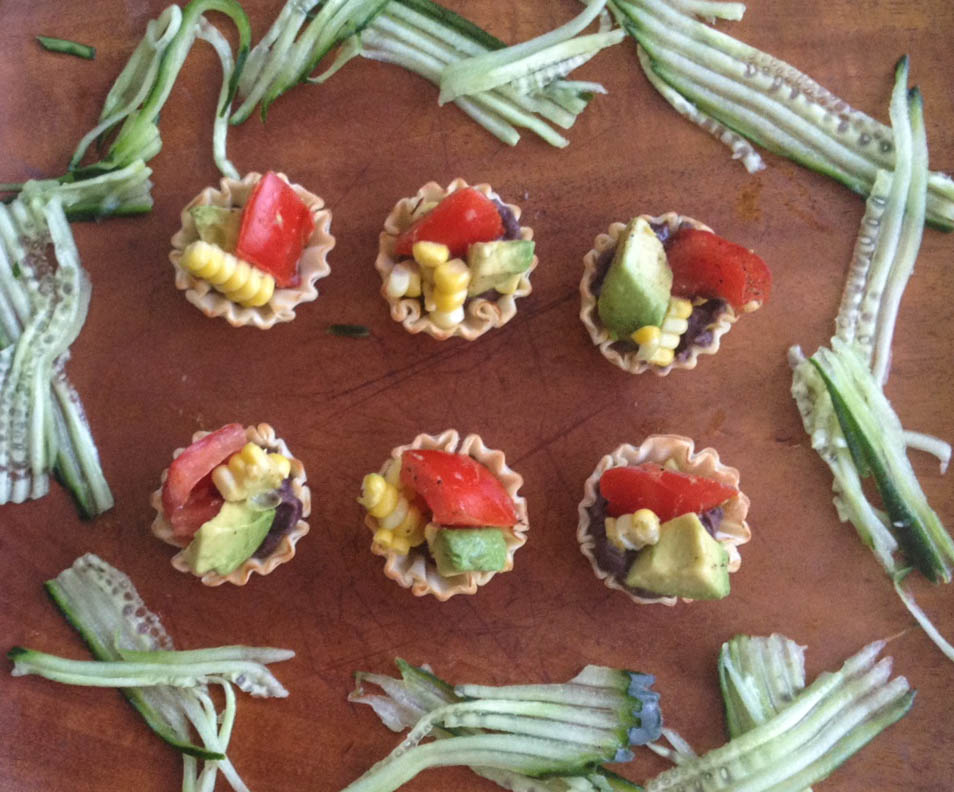 Here's a fun idea that you can easily pack into tupperware or a Bento-Box or enjoy at home. This "bento-friendly" lunch was inspired by 1) my Birthday desire to enjoy a little chocolate with each meal (mole is made with cocoa) and 2) my aim to use up my week's supply of fresh fruit and veggies so they have the best flavor/texture.
Packing it Up!: A Creative, Flavorful "Bento-Friendly" Lunch
This lunch box below packs in complete protein (1/2 cup black beans served with a side of rice) and fresh antioxidant-rich fruits and veggies that add both flavor and color appeal.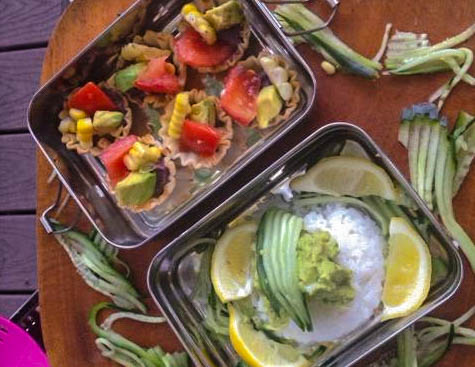 Ingredients for Assembly:
TIP: Make everything the night ahead and, when cooled, pack individually in tupperware and refrigerate overnight for easy assembly the next morning. (And so nothing gets soggy!)
FILO SHELLS: I toasted my Filo pastry shells at 300º F for about 7 minutes. I removed and set aside.
GARLIC SEASONED BLACK BEANS: I heated 1 Tbsp olive oil in a skillet and added 1 rounded tsp of crushed garlic for about 5 minutes on medium-low heat. I added a can of drained black beans and continued to heat on med-low until all warmed. I pureed half the mixture, then add to remainder of beans for a creamier texture.
CORN, TOMATO & AVOCADO SALAD: I diced up a fresh tomatoes and an med-ripe avocado. I added these to a bowl and added about 1/2 cup of corn kernels which came from two leftover cooked corn cobs from night prior. I seasoned the mixture with lemon juice and black pepper and set aside.
GUACAMOLE: The remainder of my avocados were very ripe, so I made guacamole by mixing in lemon juice and sea salt to taste and added a dash or two of paprika.
RICE: Although I generally advocate for brown rice, my 90 year old mother-n-law only eats white, so we keep this item stocked. I like to use a rice maker so I can set it up and walk away. It turns off by itself when all the water is absorbed and the rice is perfectly fluffy.
CUCUMBER: I use a special peeler for this stringy affect. It makes a nice garnish and my kids enjoy eating it this way.
MOLE SAUCE: see recipe below. Note: I save those mini jam containers you get at buffets or hotels to pack sauces or dressing for on-the-go. Note: If you don't have time — you can always use a zesty sauce or dressing you already have, instead.

Steps for Prep:
TIP: Place all ingredients onto a tray for easy assembly.  That includes your shells, beans, corn/tomato/avocado salad, guacamole, rice (reheat for 1 minute with a Tbsp or two of Water in a covered bowl in microwave), and specially sliced cucumber.
Line up shells on a tray.
Start by filling shells with bean mixture (That's about 1.5 Tbsp each).
Then add corn/tomato/avocado salad to top the shells.
Serve with a side of rice, a scoop of guacamole and cucumbers.
Drizzle mole mixture onto bean bites and rice when ready to serve.
Optional: Lemon wedges are an optional seasoning – I often add lemon juice to get the desired "salt" taste without the excess sodium.
Molé Sauce Recipe
Mole Sauce
Ingredients
1 Tbsp Extra Virgin Olive Oil
1 rounded tsp crushed garlic
¼ medium onion, chopped
½ cup Vegetable broth
¼-1/2 tsp of Red Chili Flakes
1 Tbsp Cocoa, unsweetened
1 tsp maple syrup
Juice of small lemon or lime
1 pinch sea salt
1 pinch black pepper
1 tsp Worcestershire sauce
Instructions
In a skillet heat olive oil on medium heat.
Add crushed garlic and chopped onion for about a minute, covered.
Continue to heat on medium and add ½ cup vegetable broth, cocoa, maple syrup, chili flakes, lemon or lime juice and Worcestershire sauce.
When onions are soft, remove and place mixture into cuisinart or blender to puree.
Season with salt and pepper.
**********
Check out all the other fun lunch creations by fellow Recipe ReDux members below!