Whether it's chicken cutlet or a heart-y combo salad, these mushrooms will add flavor and zest to your dish. Here they are layered over Spring greens, topped with low fat Ricotta and seasoned with red pepper flakes. Delish!!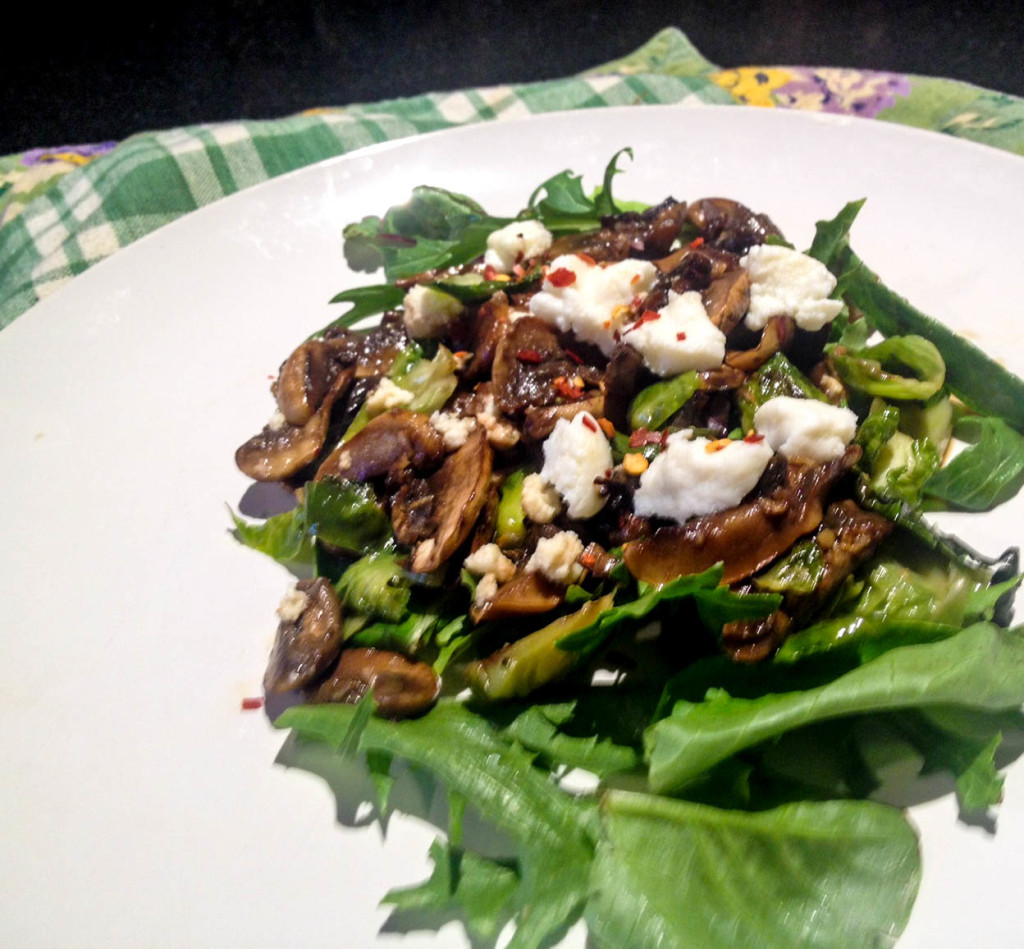 Balsamic Mushrooms
I love mushrooms! I eat 'em sliced, raw in salads and enjoy lightly sautéing them to add a vegetarian source of heartiness to my meals. Yep, mushrooms, like eggplant can give more 'body' to your meals without the heaviness of animal proteins. But that doesn't mean I don't enjoy them with poultry or lean beef. It just adds to the variety in my dishes.
Here's a simple recipe that adds a lightly sweetened balsamic twist to a simple mushroom saute´.

Balsamic Mushroom Saute´
Recipe type:
Side Dish or Garnish
Ingredients
1 package of fresh mushrooms, washed and sliced
2 tsp olive oil
1 tsp crushed garlic
2 tsp balasamic vinegar
1 tsp maple syrup
1 pinch of red pepper flakes (or to taste)
optional: 1 Tablespoons of low fat ricotta (to sprinkle on top)
Instructions
Heat olive oil in skillet over low heat, then add crushed garlic and continue to heat for about a minute.
Add sliced mushrooms and toss in pan with spatula to coat well.
Drizzle in balsamic and maple syrup.
Heat covered over low heat until mushrooms tender.
Serve over chicken, fish or incorporate into a heart-y salad.
Did you know?:
One cup white button mushrooms exposed to an hour of direct sunlight (b/w noon and 2pm) may provide as much as 400 IUs of Vitamin D.
Mushrooms are one of the few natural food sources of Vitamin D — daily rec is 600 IUs per day. Because they vary by mushroom variety and how they are grown, look for Vitamin D-rich Mushrooms such as Dole's Portabella mushrooms which have enhanced Vit D status due to exposure to UV light. OR expose them to sunlight yourself. According to this 2013 study (Phillips, KM), vitamin D content was enhanced by 25% DRI after 15 minutes of sun exposure.