Last Wednesday I received a case of fresh avocados from California Avocados. They arrived beautifully at my doorstep and I couldn't wait to get started on some delicious avocado eats. Of course I love to eat them right out of the peel, but with so many were perfectly ripe (and/or ripened in a day or two), I had to get to work and quickly.
I had a lot of fun ideas, including Meal Makeover Moms' Avocado Banana Frosty*. But since I was ready for some lunch, I decided to start with a simple and tasty salad. The spring onions would really help boost the flavor of the natural, whole ingredients I was using. In fact — the salad is only really four ingredients (avocado, tomato, spring onion and lemon juice). *I made the frosty for a yummy snack for my girls later that day.
Avocado, Tomato and Spring Onion Salad
Avocado & Tomato Salad w/ Spring Onion
Ingredients
3 Avocados, medium
3 Tomatoes, medium
½ Spring onion, finely chopped (or to taste)
½ lemon, squeezed
Pinch of sea salt (optional)
Pepper (optional)
Instructions
Chopped avocado and tomatoes into small squares.
Add finely chopped spring onion.
Squeeze lemon juice and add seasonings.
Toss well.
Nutrition Information
Serving size:
½ cup
Calories:
145
My girls don't always get a chance to assist with the meals I prepare, but they often enjoy the way I plate it up. Whether or not they assist in the process, they are often perfect little tasters for my eats. Here they are serving up my salad: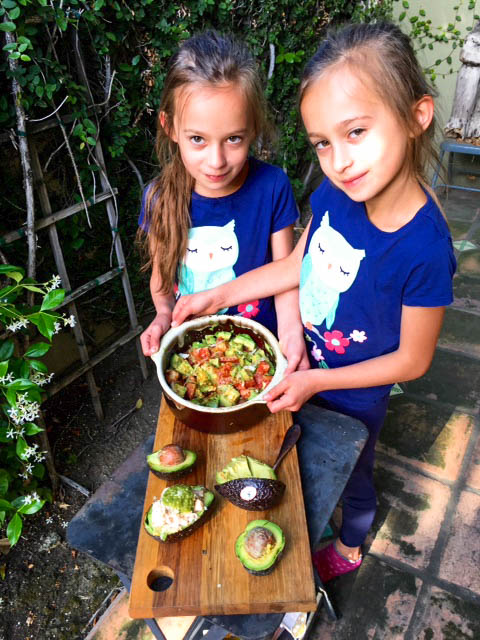 Enjoy!
Disclaimer: Although I was not monetarily compensated for this post, I did receive a full case of avocados to enjoy and test out some avocado-inspired recipes. While I did receive free product, my opinion of avocado remains unchanged. I truly do love this fruit!