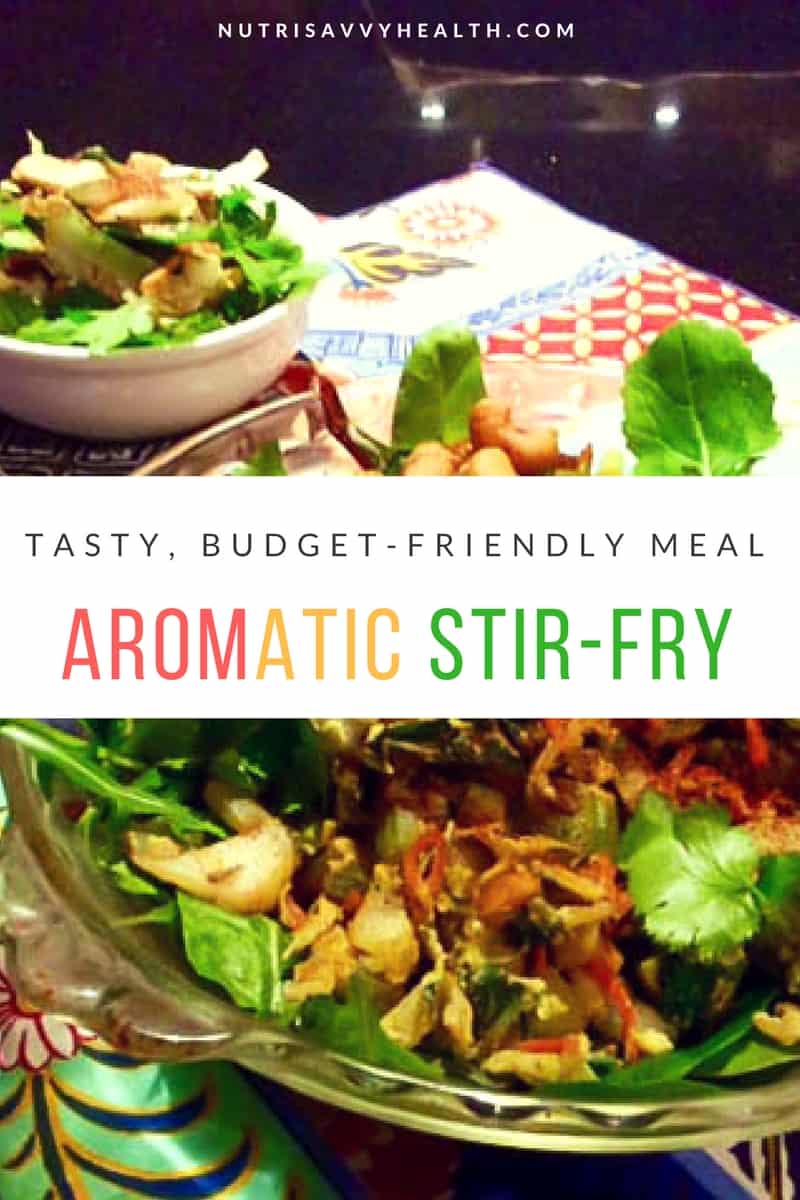 Budget-Friendly Eats — "How low can you go? Can you make a meal for less than $3 per serving? Whatever your budget, show us your healthy entrée recipe to help keep food spending in check in 2017."
I took on this latest Recipe Redux challenge and decided to go with a vegetable stir-fry. And why not?! It's flavorful, easy to cook up and budget-friendly. And there's plenty of variations for serving it up.  Do you like chicken? – Toss in some chicken. Got some eggs? – Scramble them up. Looking for something vegan? – Add in some chopped tofu or serve it with a side of beans. What ever you choose, this is a cost-saving meal, you can serve up in minutes.
Presentation and Variety are Key!
A Stir-fry may be most typically served up with all the ingredients tossed together. But you can enjoy your stir-fry veggies with a delicious portion of slow cooked eggs and a side of wild rice (or whatever type of rice you choose). Alternatively, you can also vary the types of veggies you use. You can still prepare with the same types of aromatics and veggies (as done in the above and below dishes), but use a different combo of crunchy veggies. In the dish above, I chose to leave it open for my kids family to decide whether to mix it up or serve each alongside the other. Below I mixed it all up. The complete stir-fry meal serves 4.
Alternatively, you can mix up the protein and veggies and serve over rice (as shown here in this dish made to serve 4). Or toss in the rice as well for more of a chop-suey or "fried rice" type of dish. Either way, same type of ingredients (stir-fried veggies, protein, whole grains).
Your Guide to a Tasty, Budget-Friendly Meal
Save on Veggies!
Choose a variety of crunchy veggies – and chop them up! Find in-season low-cost veggies at your supermarket or, even better, at your local farmer's market. If you're lucky, you might even find a convenient package of "stir-fry veggies" on SALE – 2 lbs for $5.00.  If I divide that by 4 servings, it's just $1.25 per plate.
Get Low Cost Grains
Rice never cost an arm-and-a-leg. That's probably why in many Asian restaurants serve up plenty of rice, much more than the veggies or protein. For all the servings you'll get with a big bag of rice, you'll find this staple quite budget-friendly. You might find a large 1 lb bag of brown rice for less than $6.00 or go to your store's Bulk Bin to get more bang for your buck. That serves up a lot of rice. In fact, by the time you plate it up, it's just cents per serving.
Pick a Simple Protein
Your protein can vary. To stay budget-friendly, I often look to my leftovers (chicken is a safe bet), but I'll generally have a can of beans or carton of eggs on hand. Even if you have to buy a can of beans – you can find a decent brand between  $1.00 – $2.00/can, which means you can serve 3 or 4 for 50 cents tops! And eggs – well, $5.99 is the most I've ever spent. You get 12 eggs per carton, so 1 egg is no more than 50 cents.
Use a good combo of Flavors
You still can be budget-friendly given the variety of seasonings you have in your cupboard (and some of which you may have in your veggie drawer of your fridge). The flavorings, the oil, spices and aromatics: Well, chances are you have some bottle of vegetable oil in your cabinet, along with a range of herbs/spices. I really don't count the cost of these things because I generally don't have to buy when I've got plenty in stock already. For this recipe, I had my olive oil, low sodium soy sauce, turmeric root*, ginger*, garlic cloves and green onion on hand. But even if I had to pick up a whole garlic or green onions, they are pretty inexpensive.
*Although I prefer to grate direct from the roots for freshness and generally more enhanced flavor, I also have the spices along with plenty more flavor-enhancing seasonings in my spice cabinet.

Aromatic Stir Fry
Recipe type:
Budget-Friendly
Ingredients
1 Tbsp olive oil
1 Tbsp Kikkoman Less Sodium Soy Sauce
½ tsp Turmeric
½ tsp Ginger
5 cloves garlic, chopped
¼ cup green onion
2 lbs Stir -Fry Veggies*
4 eggs
2 cups cooked rice (or rice blend)
Instructions
In a large skillet or wok, heat olive oil and garlic for about 1-2 minutes until garlic starts to turn golden.
Add soy sauce, turmeric, ginger and green onion and continue to heat medium for another minute or two.
Mix in stir fry veggies and coat well.
Heat medium-high for about 7 minutes until veggies desired texture.
In a separate pan on low heat, scramble eggs - stirring continually at low heat until just barely set. Turn off heat and cover.
Serve up veggies with rice and eggs, either completely mixed together like "fried rice" or plated up separately.
Notes
You can use typical "stir-fry" veggies such as a combo of carrots, snow peas, mushrooms and broccoli or more of a "chop suey" type blend of shredded carrots, cabbage and celery. Choose any combo!
---
Check out some other Budget-Saving recipes from my fellow Recipe Reduxers.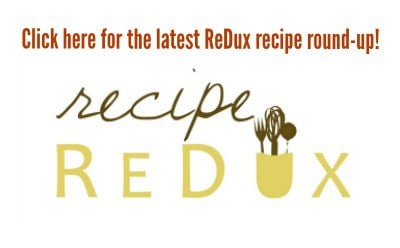 ---